Ask DadPad, Long Read, Parenting Advice
Ask DadPad: How do I keep my baby safe in the sun?
Posted on 2nd July 2021
As we move towards the summer holidays, with the days (hopefully!) becoming hotter, it's important to know what to do to keep our babies and little ones safe from harm – especially from the sun.  Whether we're on holiday or at home, summer weather can definitely cause additional challenges for parents, so we've pulled together the best advice and ideas from across the internet for today's 'Ask DadPad' blog post.
Skin Safety
One of the most important things to protect in the summer is your baby's skin. RoSPA (the Royal Society for the Prevention of Accidents), the NHS and the American Skin Cancer Foundation all advise that babies younger than six months of age should always be kept out of the sun.  This is because their bodies don't yet contain sufficient melanin – the pigment which gives our hair, skin and eyes their colour – to offer protection to their skin from the sun's rays.
If you are outside with baby in their first few months of life and the sun is shining, then you need to ensure that they are protected from the sun.  As the Skin Cancer Foundation do not recommend using sunscreen on young babies, this means keeping them in the shade at all times – e.g. lying them under the cover of a parasol, or in a shade-covered pram (more about this later) – and wearing loose, lightweight clothes that cover their arms and legs.
Even after your baby reaches six months, you should still keep them away from direct sunlight as much as you possibly can, and the NHS recommends being especially strict on this during the summer months and during the hours of 11.00am-3.00pm, when the sun is highest in the sky and at its strongest. As with tiny babies, you should continue to use clothing and shade as the first line of defence from the harmful effects of the sun, although obviously as they will now be more mobile, you will need to be even more vigilant.
One essential is a hat, and one with a wide brim and/or a flap at the back to protect their neck is the best idea.  Using a hat from an early age is a great suggestion from the Skin Cancer Foundation, as it means that baby will get used to it sooner.  Babies' and children's neck, head and shoulders are especially high-risk areas for sunburn – especially when they're sitting up and playing outdoors – so really focus on making sure these areas are always protected and out of the sun as much as you possibly can.
The British Skin Foundation also suggest the use of sunglasses – ideally those with wrap-around lenses, or with wide arms – which carry CE and British Standard marks, to protect baby's eyes.  Specialist sunglasses for children and babies can be found relatively easily now and are a great idea: after all, how comfortable would we feel going out in the sun without a pair of shades on?
You can – and, indeed, should – also start using sunscreen on your baby now.  Although different websites offer different suggestions as to the minimum SPF (sun protection factor) that you should use, the British Skin Foundation advise using a minimum of SPF 50, and you should always check that the cream you are using offers protection against both UVA and UVB rays.  You should also ensure that the cream is not out-of-date, as it will not be as good at protecting the skin if it is.  If in doubt, buy new! The NHS suggests looking out for sunscreens made especially for young children, as these are less likely to contain additives that could irritate your baby's skin.  The Skin Cancer Foundation also suggests, especially if you have concerns about your child's skin sensitivity, that before using a new sunscreen you first dab a small amount of sun cream on the inside of their wrist and check this for any signs of irritation for potentially up to a couple of days.
The British Skin Foundation recommends that sun cream should be applied:
generously: aim to use about 5 teaspoons-worth to cover the whole of your child's body;
early: apply the cream around 15-20 minutes before you go outside;
frequently: add another layer of sunscreen every two hours, or immediately after swimming; and
even in cloudy weather, as UV rays can penetrate the clouds and reflect off surfaces such as sand, water, snow and concrete.
However, as any parent will tell you, actually applying sun cream to a wriggling, writhing toddler can often be a monumental challenge!  The Skin Cancer Foundation suggest experimenting with different forms of suncream – sticks, creams, sprays – to see what works best for you and your child.
Obviously, if you follow these rules, then sunburn – which can increase the risk of developing skin cancer and therefore should be avoided as much as is possible – won't ever be an issue. However, in the event that your baby or child does accidentally burn in the sun, then the NHS website has a great advice page all about sunburn – what to do and what not to do, and when to seek further help from either your GP or by calling 111.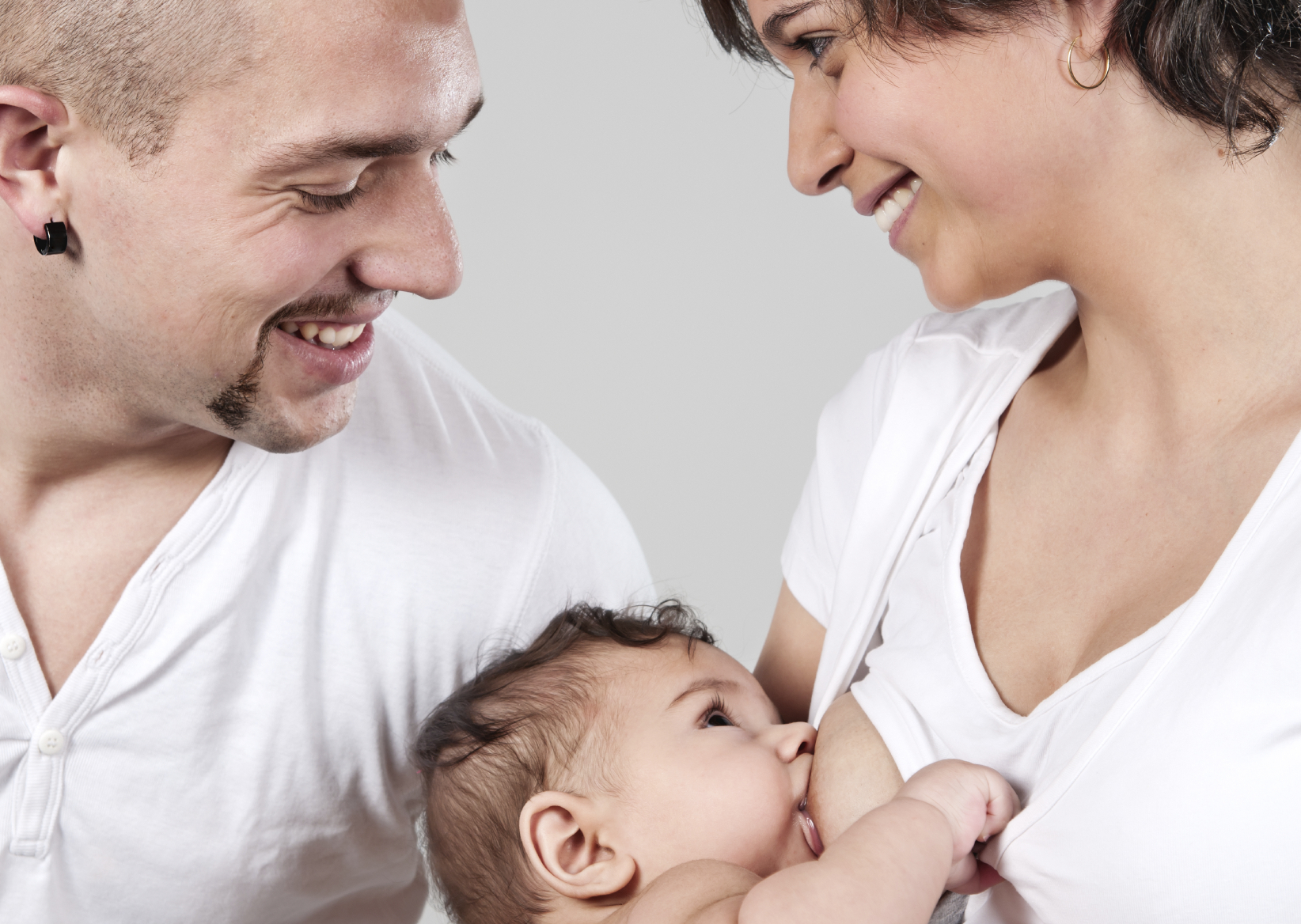 Dehydration
Another potential risk during hot sunny days is dehydration, when our bodies lose more fluids than we take in.  Just like the elderly, babies and children are at greater risk of dehydration and, as their parents, we need to take responsibility for ensuring that this does not happen.
The first thing to note is that, if baby is being breastfed and is not yet eating solid foods, then there's no need to worry about offering additional fluids; instead, baby may want to feed more than normal (or mum might want to offer baby the chance to feed more often).
If you have a bottle-fed baby, though, you might want to offer them some cooled water that has first been boiled, in addition to their usual feeds.  Your Health Visitor will be able to advise you on the best way to do this, and how often.
Once baby has started to eat solid foods, though, you should be offering them sips of water from an appropriate container with their meals, and also at other times of the day when it is especially hot – although their milk (whether from the breast or bottle) should still remain their main source of drinks throughout their first year.
After baby's first birthday – in addition to their milk and water drinks – the NHS suggests also keeping them hydrated in hot weather by offering them frozen lollies made from either plain water or very diluted fruit juice, and feeding them lots of fruit and salad (as appropriate to their age) will also help fluid levels.
You can find more information on how to spot whether your child is dehydrated on the NHS Dehydration advice page, and the NHS also has really useful information on the different types of drink that you should and should not be offering to your baby or toddler, and the different cups and beakers that should be used at different ages (the risk here is primarily in relation to potential tooth decay and development).
In the garden
As well as drinking, water is also a great way of helping to keep babies and children cool on hot, sunny days, but also of course brings risks of its own.
A paddling pool in the garden should be kept in the shade and an adult should be present at all times to supervise at all times, as a child can drown in just a minute, even in only a few centimetres of water.
As you will be outside more in the summer, and as this might be the first year that you've had a small person in your (or a friend or family member's) garden, it's also important to check for hazards with fresh eyes.
Firstly, is there a pond or even a swimming pool in the garden?  If so, RoSPA recommends fitting a locking fence around it or – for ponds – fitting a rigid grille, to prevent children from falling in.  However, you might also want to consider filling it in, and turning it into something safer, such as a flower bed or sandpit.  Did you know, for example, that five children drown every year in garden ponds?
Even without water, there are still lots of dangers in the garden to be on the look-out for.  These include:
tools and equipment: lots of garden equipment – such as shears, lawn-mowers, saws, etc – has the potential to do a lot of damage to a small, inquisitive child, so make sure that this is all kept safely locked away after use;
chemicals: again, things like weed killer, slug pellets and plant food could cause a lot of harm (and possibly even death) and should therefore also be locked away in a safe place, such as a shed; and
plants: don't forget that some of the plants that will look most colourful and inviting to small children may also potentially be the most deadly.  The Royal Horticultural Society have a useful webpage on the 'school gardening' part of their website which provides further information on potentially harmful plants.
Lots of family gardens today will also have trampolines, but RoSPA advises that children under 6 years should not be using them, due to the fact they're not yet sufficiently developed to be able to control their bouncing. Obviously, any trampolines being used by children should be protected by a safety net, and RoSPA also advises against adults sharing a trampoline with small children, as the latter could get crushed if the adult falls.
Finally, one other risk in a summer garden to watch out for is the barbecue – clearly, there's a real danger of burns here, so keep the barbecue away from children, and keep children supervised at all times when the barbecue is being used or is still warm.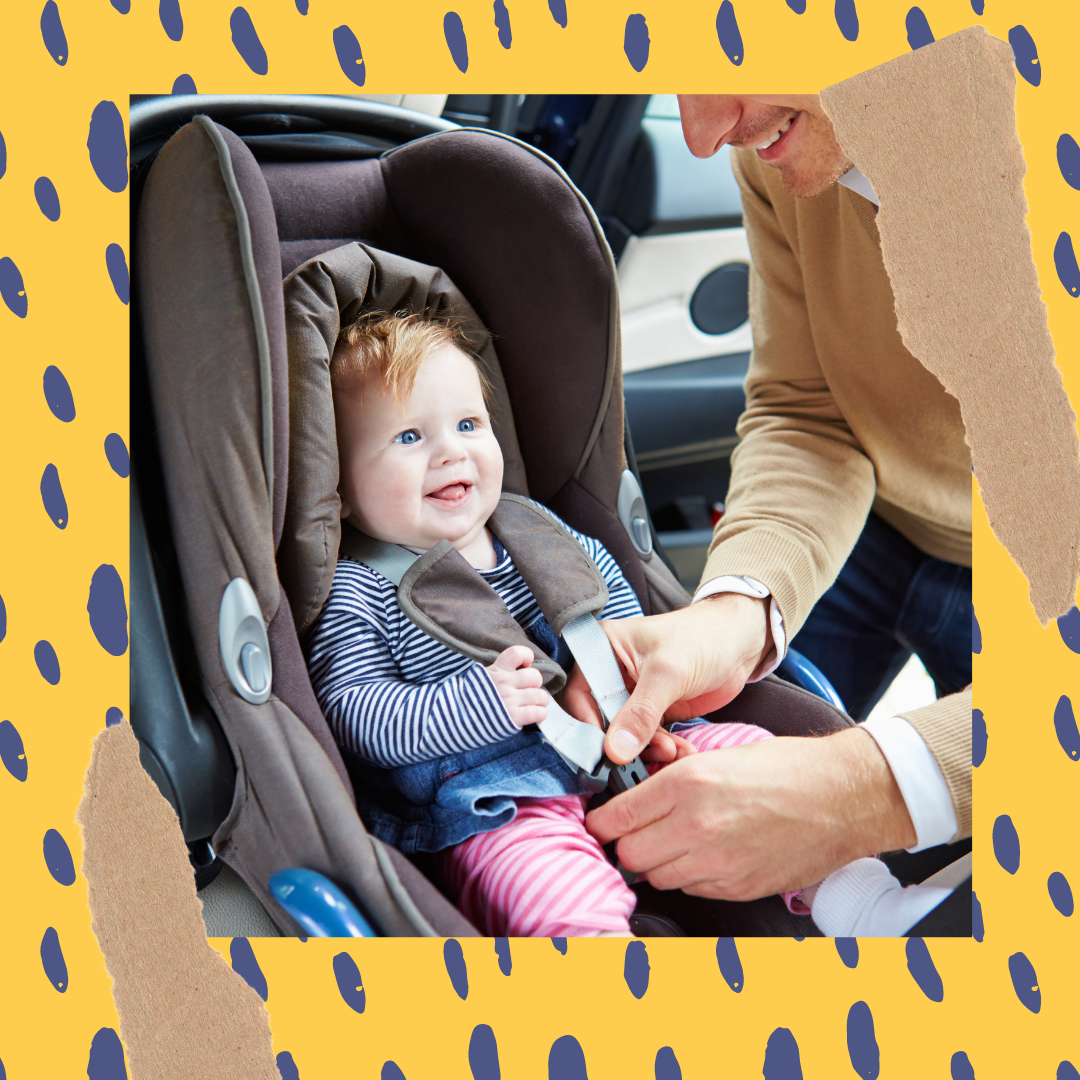 Travelling away from home
One thing that many of us will be looking forward to this summer is a holiday – or even just a day out – away from home.  Whether we manage to get abroad, to a UK beach, or just to stay with friends and family, there are important safeguards to be aware of.
First of all, it's worth having a look at our blog post from last summer, Out and about with baby, which covers all aspects of heading outside with your baby, including packing for, feeding and changing whilst on a day out.
When you travel to your destination, your baby or child will obviously need to have been strapped securely into an age-appropriate car seat that has been fitted properly in the vehicle.  This in itself, though, will not be enough to guarantee their safety, especially on longer journeys, so it's worth also noting the following, as advised by The Lullaby Trust:
take regular breaks in your journey, to allow baby to be taken out of their car seat for a stretch and a bit of a move around;
ideally have either a second adult sitting in the back with baby or – if this is not possible – fix a mirror in your car that allows you to monitor baby from the driver's seat.  In particular, you need to be alert to the possibility of baby slumping forward in their seat whilst sleeping.  If this happens, they should immediately be taken out of their seat and have their position adjusted back to upright again before you carry on with your journey, to minimise the risk of them suffocating;
making sure that baby is dressed appropriately for the temperature as there is an increased danger of baby overheating when they are sleeping in a car seat; and
avoid using car seats for baby to sleep in unless you are actually on a car journey, as baby should always ideally sleep on a firm, flat surface.
You might also want to fit some sort of window shade (there are lots of purpose-designed shields available to buy) on the window(s) affecting baby, to keep them out of direct sun.  Not only will this stop the sun aggravating them (e.g. shining in their eyes) and hopefully also keep the heat off them, it will also further reduce the UV rays – some of which are able to penetrate glass – harming baby's skin.
Whether on holiday or not, you will hopefully also have more opportunities in the summer to take baby for strolls in their pram or pushchair.  RoSPA recommend that babies up to six months should always travel flat on their backs, until they are old enough to support their heads by themselves, and also remind us to always ensure that babies and toddlers in pushchairs are securely strapped in at all times, to stop them falling out.
In terms of sun protection, it's common to see parents draping blankets, muslin cloths or other pieces of fabric across a pram or pushchair hood, but this is very dangerous and should be avoided at all costs.  The reason for this, as explained by The Lullaby Trust, is that the cover will prevent air from circulating around baby, leading to the risk of baby overheating as the temperature inside the pram rises, and this increases the risk of SIDS (sudden infant death syndrome). The cover also makes a visual barrier between parent and baby, so it is less easy for parents to keep an eye on their baby, notice if the baby is becoming too hot or distressed etc.
Instead, baby's face and body should be protected from the sun via a clip-on sunshade or parasol, and parents should check baby's chest or the back of their neck regularly to ensure that they are not becoming too hot.
If you are carrying baby in a sling, again, the usual precautions should be taken to ensure that you can see baby's face at all times, that their chins do not flop forward onto their chest and that baby does not get too hot.
If you're at a holiday resort or near the sea, then again you will need to be mindful of the risk of drowning.  RoSPA recommend checking in advance the safety arrangements in place at your hotel (etc) before you travel – investigate in particular whether the pool is fenced off and whether lifeguards are in place.
If you're going to the beach, planning ahead is again advised. In the UK, aim to visit a beach that is staffed by RNLI lifeguards, for example; the RNLI website also has a really useful page all about Beach safety, covering a whole range of essential information. One service that it's particularly worth being aware of is the children's safety scheme that many RNLI-lifeguarded beaches run, where children can be issued with wristbands on arrival at the beach, and told where to go to find a lifeguard if they get lost.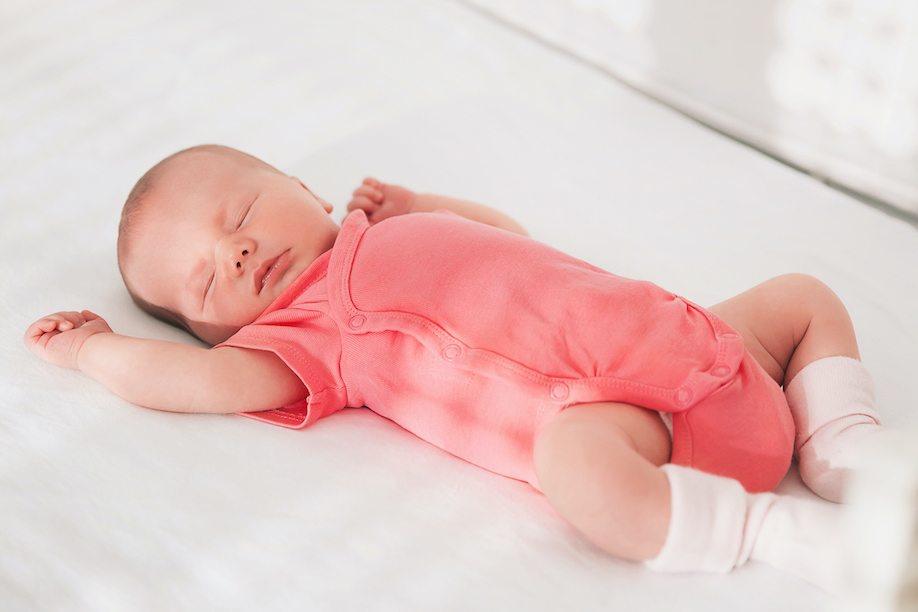 And so to bed…
We all know how difficult it can be to get to sleep on a hot, sticky night, and your baby or young child will be no different.  Again, there's lots that parents can do to help keep baby cool and safe whilst they're sleeping, which will also reduce the risk of SIDS.
We've written a couple of blog posts in the last year, all about safe sleep – Every sleep counts and How do I keep my baby safe while they sleep? – both of which are worth a quick read to remind parents of the key advice on baby sleep safety.  In particular, though (and especially during the hotter months and/or when you're away from home with baby):
make sure that baby is always placed to sleep on their back in a cot or Moses basket in the same room as their parents or carers during baby's first six months – this rule should be used for every sleep, daytime or nighttime, wherever you are (this is where the 'every sleep counts' phrase comes from);
try and keep the room that baby is sleeping in at a temperature of between 16-20 degrees Celsius. Use a nursery thermometer to monitor the temperature, keep blinds or curtains closed in the room during the day to help keep temperatures down, consider using a fan (but obviously make sure that the wires and the fan are nowhere near, and also that it is not pointed directly at, baby), and also keep the bedroom door and/or window open at night, if this is safe to do;
make sure that the bedding and baby's night clothes are appropriate to the conditions.  If baby uses a baby sleep bag, for example, check the tog guide to make sure it's a summer-weight one.  In really hot weather, though, The Lullaby Trust remind us that just a nappy and no bedding will be fine; and
giving baby a cool (but not cold) bath just before bedtime can also help keep them cool.
Finally, if you and baby are sleeping in a different room than usual (whether that's in a hotel, a villa or a friend's house), always check for hazards – things like blind cords within reach of baby or cots placed in direct sunlight – and also check on the safety of the 'bed' provided for baby.  Whilst the mattress in a travel cot might will often be thinner and feel harder than baby's usual cot mattress, don't be tempted to add blankets or quilts under baby to make them 'comfier' as this will again increase the risk of SIDS.