Ask DadPad, Parenting Advice
Ask DadPad: How do we wean our baby?
Posted on 30th July 2021
The issue of when and how to start moving your baby onto solid food – sometimes also referred to as weaning or complementary feeding – can be a complex and worrying one for many parents. Key questions might include:
When do we start baby on solids?
What foods are safe to feed baby?
How do we ensure that baby doesn't choke?
What if baby has an allergic reaction?
The good news is that there is lots of helpful information and advice out there!
When to start
Obviously, the best places to start for advice on this – and all aspects of raising and caring for your baby – are the NHS and NHS Start4Life websites.
They repeat the current advice of waiting until your baby is at least six months old before introducing solid foods.  This advice has changed from what it might have been when you were a baby, and it's therefore important to be aware of this, as your parents/other older relatives or friends might question why you are waiting and/or suggest introducing solid foods earlier.  The NHS explains some of the key reason why it's best to wait until six months, including that:
baby will generally be getting all the nutrients etc that they need from breast or formula milk until this point;
baby will be developmentally better able to cope with/adjust to solid foods by this point – including being able to sit up and hold their head steady, and being able to move foods around in their mouths, chewing and swallowing; and
exclusive breastfeeding until six months gives baby protection against illnesses and infections.
The websites importantly remind parents that baby wanting more milk feeds or waking more often in the night are not signs that baby is ready for solid foods, but normal baby behaviours.  They also remind us that starting on solid foods won't lead to baby sleeping more, either.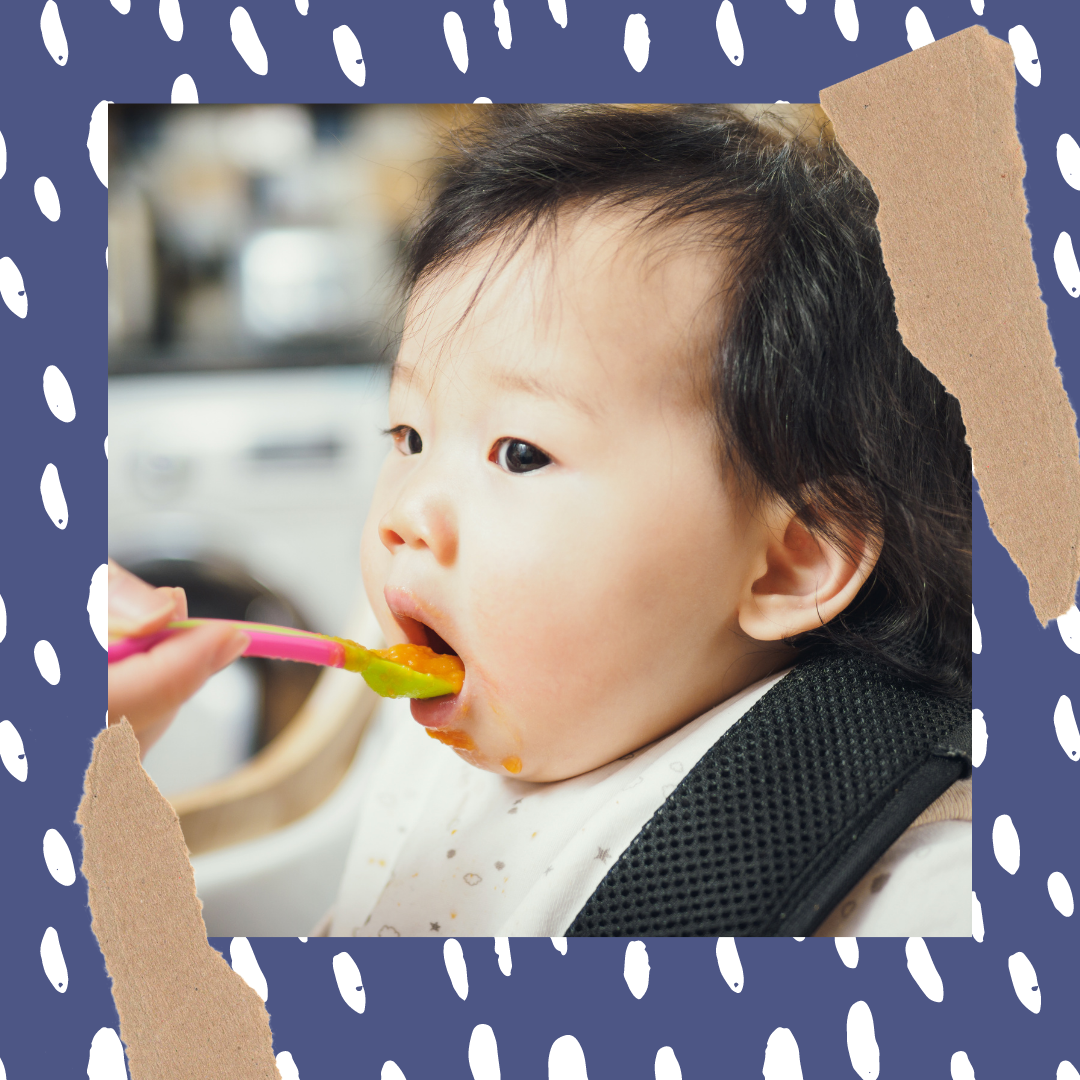 What to offer
Knowing what to offer baby when he first moves over to solid foods can also be fraught with worry for parents, and so it's good to know that there's loads of good websites and books out there to refer to for guidance and inspiration.
Firstly, the NHS Start4Life What to feed your baby page is an excellent starting point, as it gives you options to select relating to your baby's age (Around 6 months – 7-9 months – 10-12 months – 12+ months) and also lists suggestions for first foods from the main food groups of Vegetables, Fruit, Starchy foods, Protein foods and Dairy.
The same website also has a fantastic range of healthy recipe ideas for baby, again grouped according to age and also meal type (you can choose from breakfast, dinner, finger-foods, first-tastes, lunch and snacks).
Sources of inspiration
Away from the NHS, there are a good number of helpful websites and social media accounts (links given below to their Instagram accounts) that are also worth reading and following, including:
You can also find weaning recipes via the BBC Good Food website.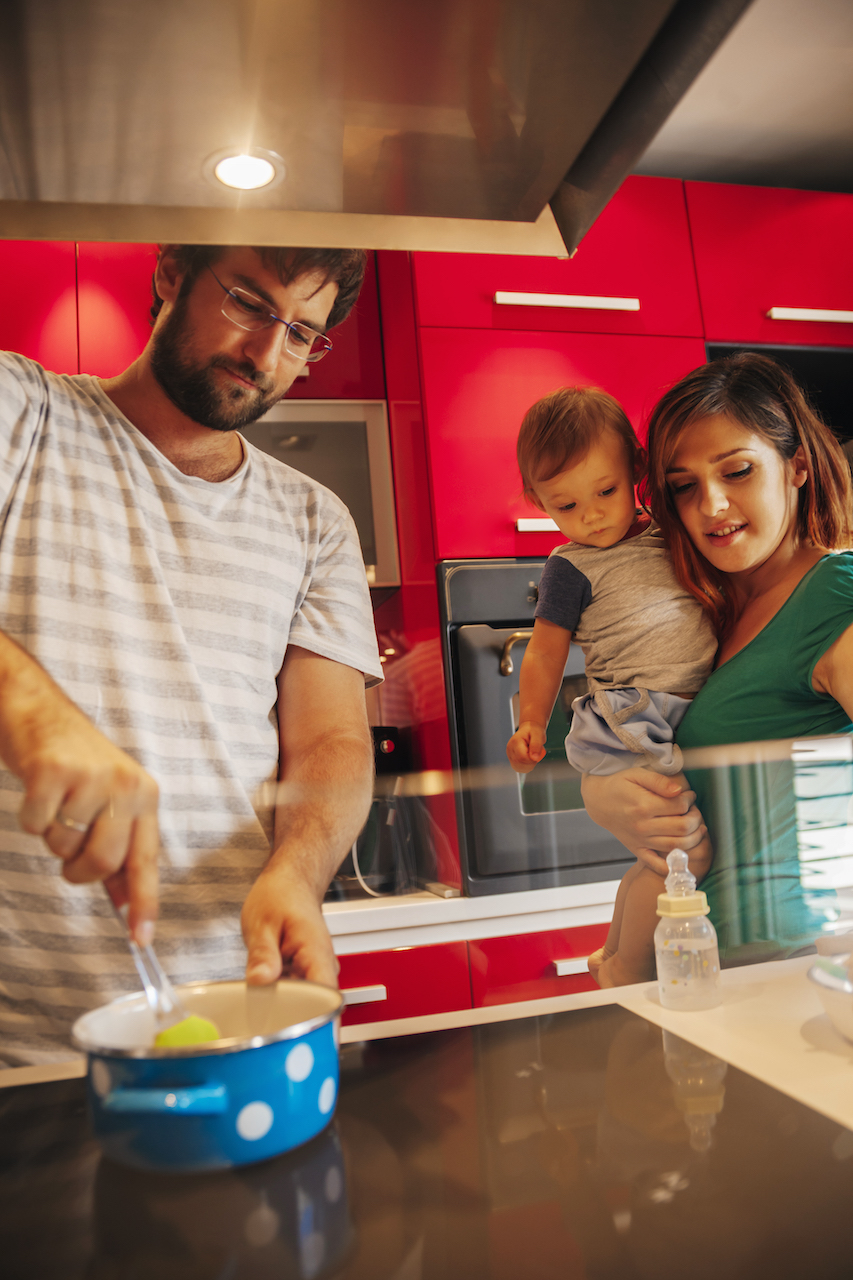 Baby-led weaning
Baby-led weaning (or BLW) is something of a new phenomenon when it comes to introducing solid foods, but – if social media is anything to go by! – it's definitely becoming more popular.
The NHS website describes it as:
…giving your baby only finger foods and letting them feed themselves from the start instead of feeding them pureed or mashed food on a spoon.
You'll need to decide for yourselves what is best for you and your family, and many parents choose to do a combination of both.  The NHS website emphasises that "there's no right or wrong way", as what matters most is ensuring that your baby eats a wide range of goods and gets all the nutrients that they need.  The NHS also flag up the fact that the risk of choking is no greater when baby is feeding himself than if a parent is feeding them with a spoon.
Again, you can find out more about BLW online (including via a number of the Instagram accounts/websites listed above), and the NHS webpage on Your baby's first solid foods contains a list of suitable first finger foods.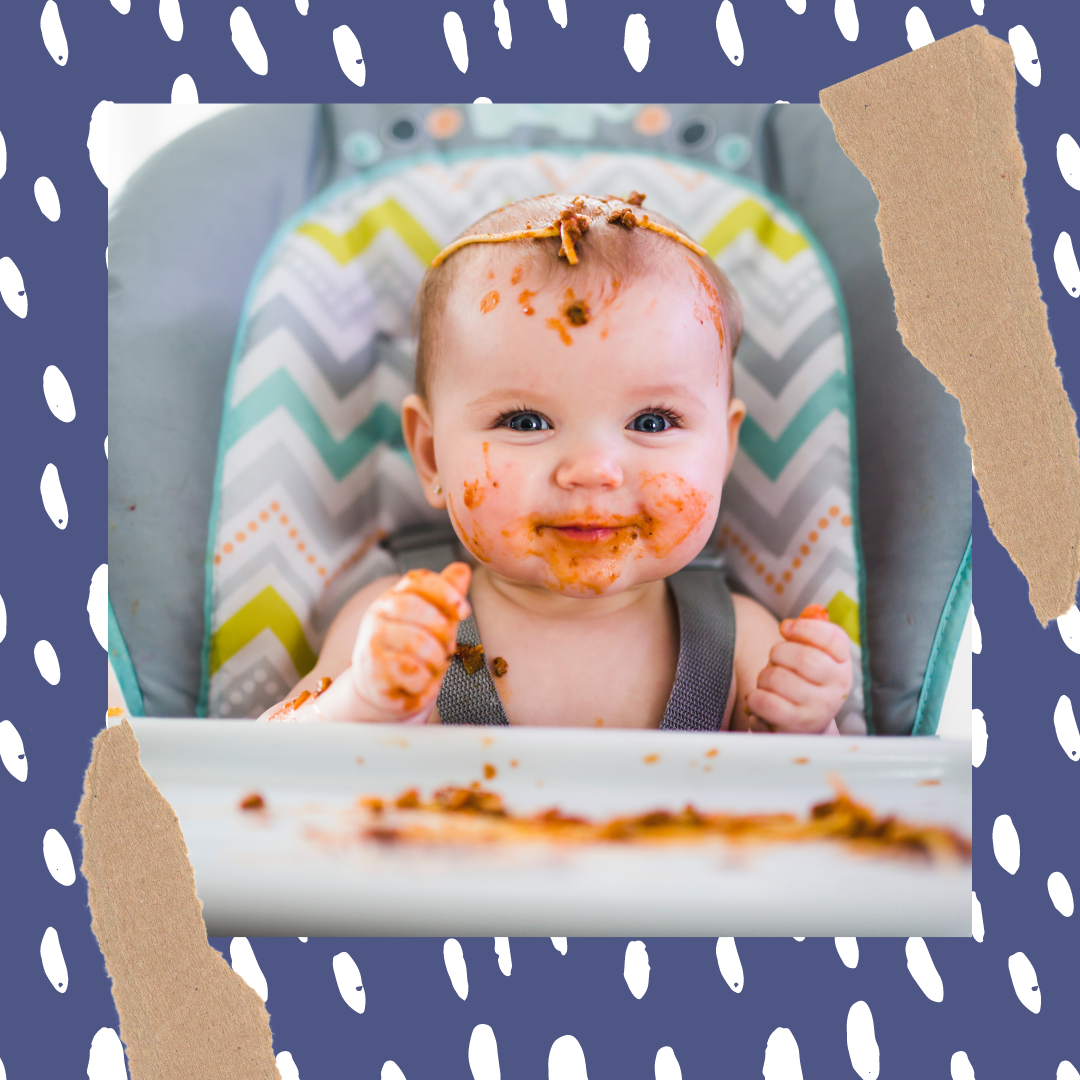 Allergy and safety worries
A major concern for many parents is that their baby or child will have an allergy to foods that they give to them.
The NHS and NHS Start4Life websites have excellent advice on foods which could cause an allergic reaction, foods to avoid, signs that your baby is suffering an allergic reaction, and what to do if the latter occurs.  It's definitely worth having a thorough read of these pages before you start weaning, and to check back regularly as your child gets older and experiments with different foods, to ensure that your knowledge is up-to-date.
Choking – as mentioned above – is also something that many parents worry about when introducing solid foods, and the NHS Start4Life Safe weaning webpage is a great source of information here, explaining the difference between gagging and choking, foods which may cause a choking hazard and how to prepare them safely, and what to do if your child starts to choke.  There's also information on how to minimise the risk of choking in a baby or child via the RoSPA website.
The DadPad® app also has information, within the Home Safety section, on how to keep your baby safe from choking, and includes a list of high-risk foods for choking, including:
Small, round food items, such as: sweets, including lollipops; popcorn; grapes; cherries; and cherry tomatoes – the round shape heightens the risk (and the pips can also get stuck further down the throat);
Hard fruit and vegetables, such as: apples, pears, peas, celery and carrots;
Hot dogs/frankfurters/sausages, burgers, chunks of cheese and meatballs – again, the round shape increases the risk;
Bananas, when cut round-shaped or if too soft, can mould to and obstruct the airway; and
Peanut butter (which, like a banana, can mould to and obstruct the airway), nuts and seeds.
Don't forget that the DadPad® and the DadPad® app also contain information from our friends at Mini First Aid about what to do if your baby or child chokes on food. There's also a really useful blog post on their website, all about how to deal with a baby who is choking, as well as useful products in their online shop which can help prevent choking in babies and young children (such as a Choke Tester Tool and a Grape Cutter).
Finally, of course, this stage in your baby's development might be a good time to go on a baby first aid course – such as those run by Mini First Aid – so that you would know exactly what to do if the unthinkable was to happen.
Milk and drinks
Of course, starting to introduce solid foods does not mean that your baby will no longer want or need his milk drinks.  Importantly, baby will continue to get most of his energy and nutrition from his breast or formula milk, and this should continue to be their main drink throughout their first year.
Water drinks at meal times can, though, be added in to baby's diet from six months, using an appropriate cup or beaker.  There's more information on Drinks and cups for babies and young children on the NHS website – getting this right is important for baby's future good dental health.
And don't forget that baby shouldn't be offered cow's milk as a drink until he is at least a year old.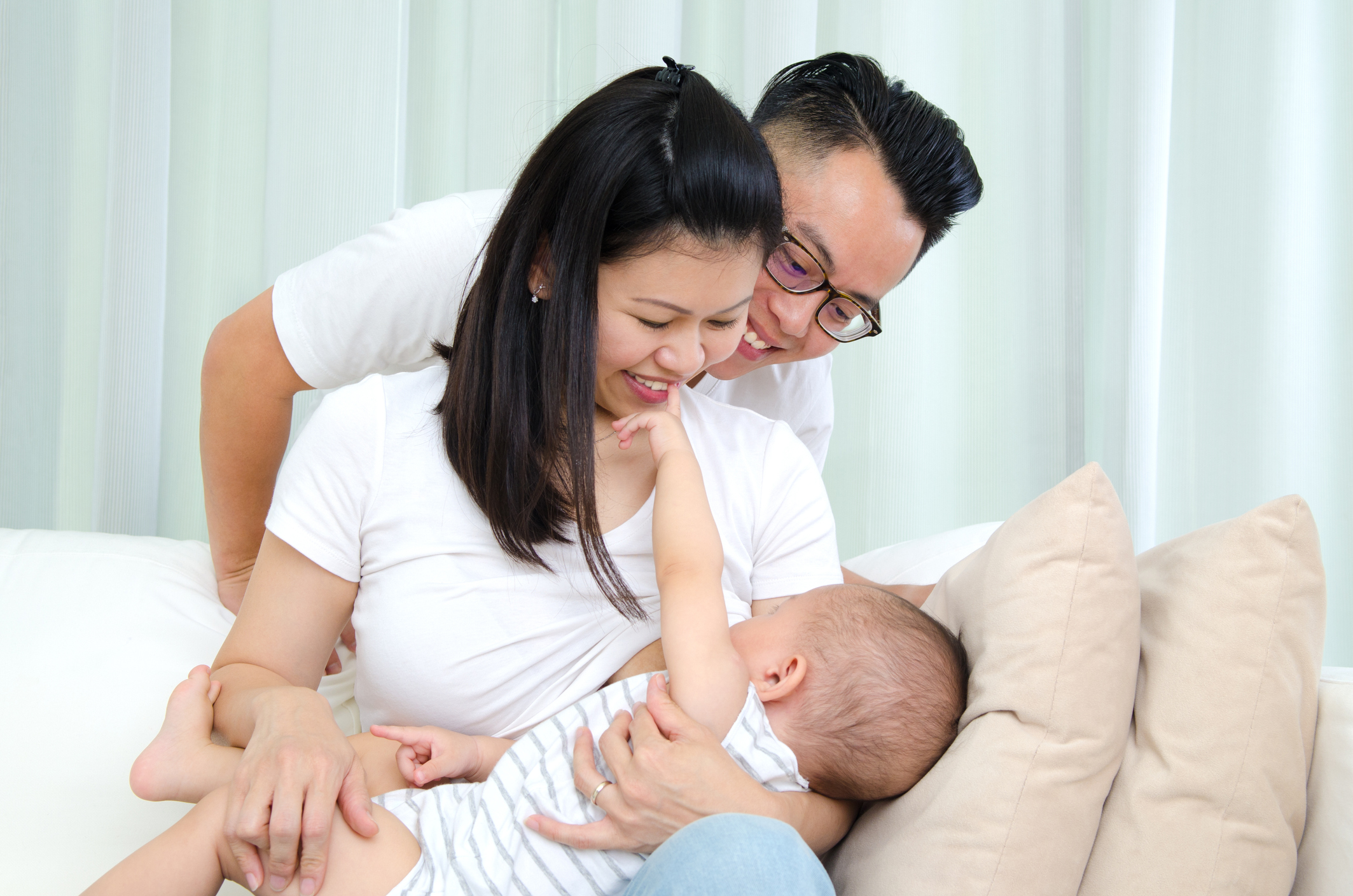 Equipment
Obviously, if baby's mum has been exclusive breastfeeding up until now, you probably won't have any (or very little) 'feeding equipment' in the house!  The good news is, though, that you won't need much to start with, and a lot of what you do require is easy to get hold of.
Perhaps most importantly, baby will need to be securely sitting in an upright position in order to be fed solid foods, so – for most families – this is where a highchair will be needed.  You'll also want a soft, first spoon (much gentler on baby's gums than a metal spoon) and some bibs.  A great idea are wipeable, plastic bibs – and these will be especially useful if you're going to try baby-led weaning, as that can get very messy!
For the same reason, you might want to think about where you place baby's highchair for mealtimes, and whether some sort of wipeable mat (or even some old newspaper) placed under the chair and in the potential 'danger zone' might be necessary to protect your floor covering.
Whilst you can use any food bowl if you are feeding baby from a spoon, it's worth investing in some small plastic bowls with a suction base (to prevent baby flinging it his dinner all over the floor) and/or some of the really beautiful sectioned baby-led weaning plates/bowls, if you're going to let baby take the lead.
In terms of equipment for preparing baby's food, there's again a lot of kit out there, but your existing plastic food containers (the smaller, the better, especially when baby is still young) and ice cube trays are great for freezing and storing food that you've batch-cooked.
Will my baby need to have any supplements?
Although the most important thing is to be giving your baby or child a good variety of healthy foods, the NHS do currently recommend that babies and young children take the following vitamin supplements:
For breastfed babies: a daily supplement containing 8.5-10.0 micrograms of Vitamin D; and
All children aged 6 months-5 years should have daily supplements containing Vitamins A, C and D.
It's important to note that babies consuming at least 500ml of formula milk a day do not need the Vitamin D supplement, as their milk will already contain this and other nutrients.
There's more information on vitamins for babies and children on the NHS website.
And don't be afraid to ask your Health Visitor!
Finally, as always with anything related to your baby and his development, don't forget that your Health Visitor will be more than happy to chat over any concerns that you may have with any aspect of your baby's feeding or weaning.  No question is too silly to ask, and they'll only be too happy to help you out.  They might also be able to tell you if there are any local or online courses for parents to help them learn more about this next stage in your baby's journey.