News: DadPad launches in lockdown
Posted on 29th June 2020
One of the (many) difficulties of lockdown has been that we haven't been able to get out and about to support the launches of DadPad in new areas.  This is an aspect of the job that Julian always greatly enjoys. Being able to meet health professionals and dads is important as it enables us to continue to gather feedback and find out how the resource is being received and used in practice.  It's also a great opportunity to be able to share with others the ethos and evidence, aims and intentions behind the product.
However, the last few months have meant that it's been even more important to ensure that new versions of the DadPad app are being launched and released across the country; now, more than ever, dads need the additional support that the resource provides.
We're therefore delighted to have been able to support four more launches this spring, albeit via digital means only.  We are looking forward to potentially being able to visit some or all of these areas later in the year. In the meantime, we hope to bring you – over the summer – some more blog posts which help to explain the evidence and research behind the DadPad in a little more detail.  Here, though, for now, is a quick round-up of the 'lockdown launches' that have taken place so far…
Surrey Heartlands DadPad
First off the mark was the DadPad app for Surrey Heartlands.  Here, we have been commissioned by the Surrey Heartlands Health and Care Partnership, who form part of the NHS Guildford and Waverley CCG.  We worked with individuals from within the Local Maternity System team to help develop and the content of their app, which has been split into four sub-apps to provide specific local information for their hospital trust areas:
Ashford & St Peter's Hospital NHS Foundation Trust
Epsom & St Helier University Hospitals NHS Trust
Royal Surrey NHS Foundation Trust
Surrey & Sussex Healthcare NHS Trust
As part of their online DadPad launch, which took place on 4th May, a local dad – Kevin Baulcomb, dad to two-year old Bertie and four-week old Mabel – has been asked to trial the DadPad app.  Kevin said:
DadPad is a great help for new dads. The information, guidance and tips cover a huge variety of topics and situations that all new and experienced dads will benefit from. So much of the parenting information out there is aimed at mothers and sometimes us dads can feel left behind. DadPad really helps with all manner of situations the new dad will find himself in.
Dr Paul Crawshaw, Clinical Lead for Women and Children's Transformation at Surrey Heartlands, said:
We are delighted to be launching this app for fathers across Surrey. New dads can often feel anxious and unsure, and it's particularly important at this current time of social distancing that dads feel supported. DadPad gives them a trusted source of information to help them care for their baby, and their partner, with confidence and understanding. The practical skills will help dads to meet their baby's needs and give them the best start in life, which is what every new parent wants.
We especially love the graphic that Surrey Heartlands created to support their DadPad launch: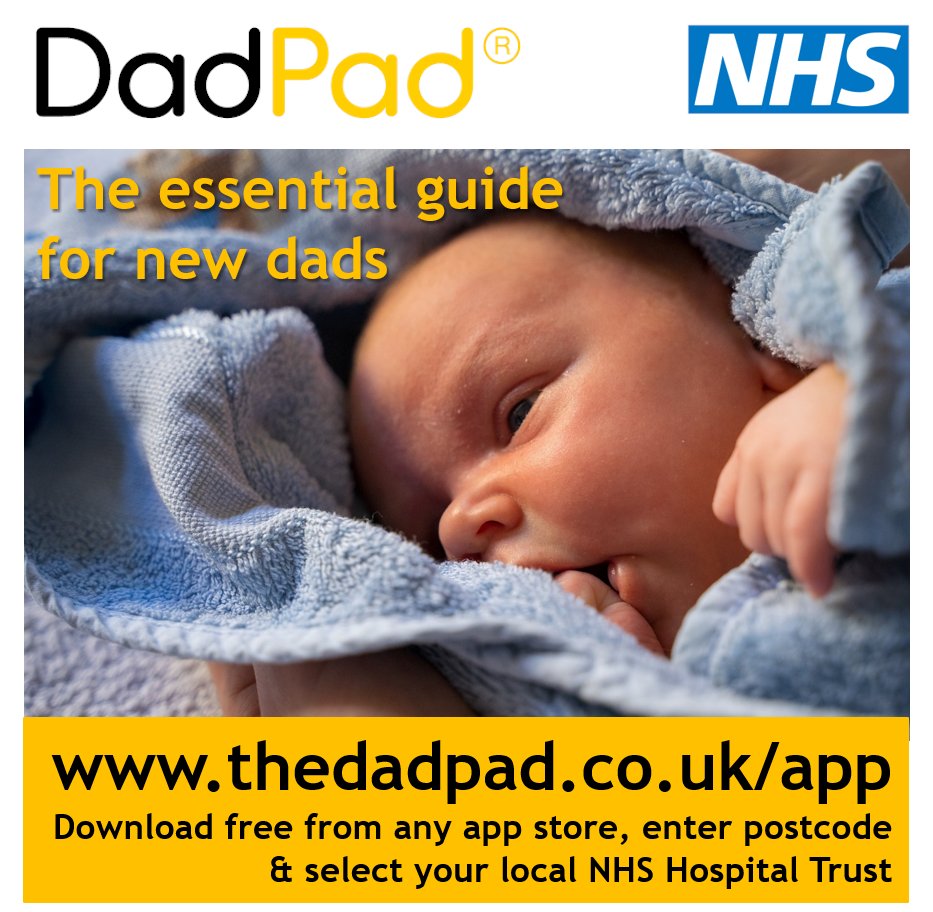 https://twitter.com/SurreyHeartland/status/1257223169384935424/photo/1
West Yorkshire and Harrogate DadPad
Our next area to launch was the West Yorkshire and Harrogate Health and Care Partnership, which covers Bradford, Airedale, Wharfedale, Craven, Calderdale, Harrogate, Kirklees, Leeds and Wakefield.  The launch here took place on 11th May and was supported by a really great short video by Leeds TV which featured two dads from the local area.
Errol Murray, Partners Peer Supporter at the Leeds and York Partnership NHS Foundation Trust commented:
We know that positive parenting has a significant effect on families, so the idea of dads being active is really important.  There isn't the same access to parental education classes, midwife appointments, things like that at the moment, because of the Coronavirus, so it's important to find a way to get access to that sort of information and a lot of that can be gained from the DadPad. Some dads have got their families around them.  They've asked their own parents: "What's it like when you're tired and the baby's crying? What do you do?". And some dads don't have that, they don't have that wider community around them – maybe they've moved, maybe they didn't have close family in the first place – so having that source of information at hand gives them an idea as to what to do and how to address being a dad.  There's no manual – but there is a DadPad!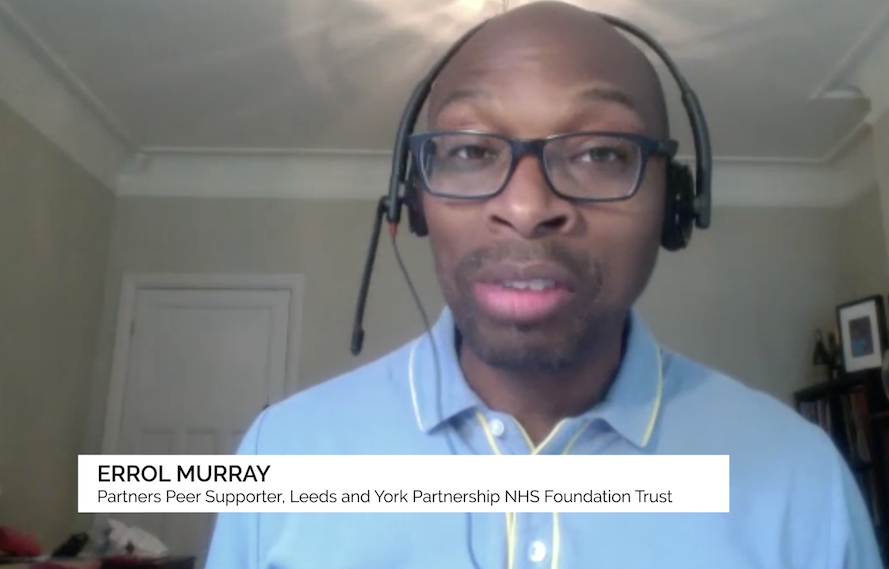 Errol Murray speaking with Leeds TV (@LSLocalTV) about the DadPad launch for the West Yorkshire and Harrogate region.
Simon Gaskell, Senior Communications Officer at NHS Wakefield CCG added:
It was just really reassuring to find information aimed at dads who – similar to myself – were probably a bit nervous about practical elements and wondered about things like breastfeeding and holding the baby and also about the role that we can play.  Obviously, there's a strong bond between your child and the mother in the first few weeks and months, and it's really about how I can support my wife and child to develop that bond and what active role I can play.  Having those little 'life hacks' I suppose you'd call them, just to be able to soothe her a little bit quicker, is crucial really - so that's been helpful.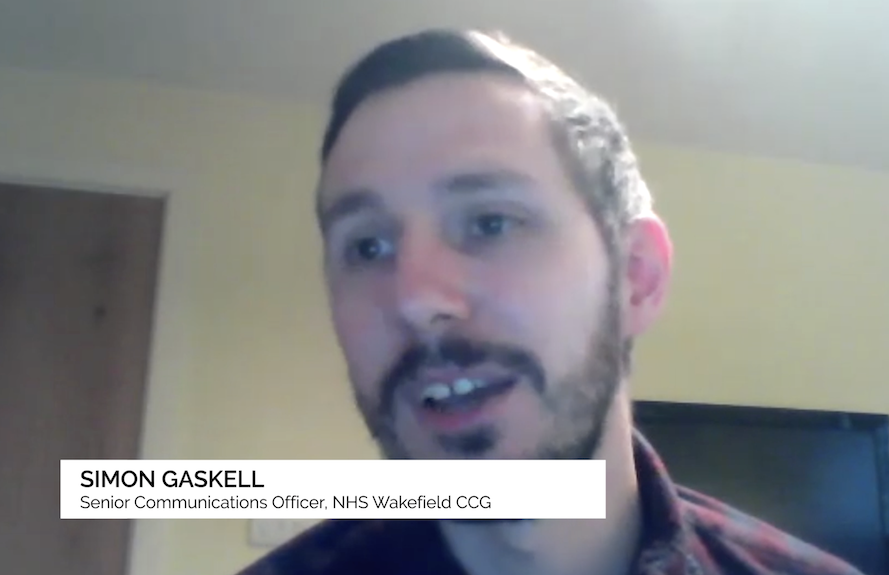 Simon Gaskell speaking with Leeds TV (@LSLocalTV) about the DadPad launch for the West Yorkshire and Harrogate region.
As part of the press release supporting the launch, Dr Sara Munro, Chief Executive of the Leeds and York Partnership NHS Foundation Trust and leader of the West Yorkshire and Harrogate Health and Care Partnership Mental Health, Learning Disabilities and Autism programme said:
Evidence-based research demonstrates that positive parenting by fathers has a significant impact on the family dynamic and now more than ever it is important that parents have access to information that they need quickly and easily. This app enables new fathers to find information on their hand-held devices and gives them the opportunity to record and store any questions they have. These can be saved and discussed later when talking with their baby's mum, family, friends, or their health professional. We expect that it will enable new dads to play an active role in helping improve the health and wellbeing outcomes of women, children and families.
Gloucestershire DadPad
As May drew to a close, we were able to get the DadPad app for Gloucestershire launched.  This app has been funded via a collaboration between Better Births Gloucestershire and two local charities: the Gloucestershire Gateway Trust and the Peter Lang Children's Trust. The Trusts explained why they supported the purchase of the app for their area:
Young new dads sometime feel isolated as they step into the new world of parenting . We know the value of getting people connected to local support options. That's why we've been delighted to support the DadPad.
[Mark Gale, Chief Executive at Gloucestershire Gateway Trust]
The Peter Lang Children's Trust is pleased to be associated with the launch of DadPad in Gloucestershire. The Trust has always encouraged those we support in the voluntary sector to engage with fathers as much as possible, recognising how important they are to the social and emotional development of their children.
[Peter Lang Children's Trust]
We've worked with professionals from within both NHS Gloucestershire CCG and the Gloucestershire Hospitals NHS Foundation Trust to compile, edit and bespoke the app content for dads in their county. Consultant Obstetrician and Senior Responsible Officer for the Local Maternity System, Dhushy Mahendran, said:
We are committed to continually improving the maternity experience for families in Gloucestershire so that every child gets the best start in life, so we are delighted to support this fantastic new resource. Traditionally, lots of information, advice and support is female-focused, but partners can feel equally unsure or overwhelmed. DadPad is designed to reduce anxiety in a number of ways, for example, by helping dads gain confidence by getting involved with their baby's care, as well as learning how to create a strong bond and build stronger family relationships. It also provides links to trusted sources of information and advice. We expect that it will enable new dads to play an active role in helping improve the health and wellbeing outcomes families in the county.
We're delighted to have worked with @dadpaduk to launch this fantastic resource for new dads in Gloucestershire today. The FREE app covers a range of issues and hands-on advice #DadPad #supportingparents More: https://t.co/8ZYwtYnEmz pic.twitter.com/Shl9iWM5rV

— Better Births Gloucestershire (@glosbetterbirth) May 27, 2020
Tees, Esk & Wear Valleys DadPad
Our most recent 'virtual' launch has taken place just this month, in our most northerly outpost yet – the Tees, Esk & Wear Valleys NHS Foundation Trust area.  We were delighted to work with the team at the Trust to get their DadPad app up and running.
Dr Ahmad Khouja, medical director at the Trust, said:
We are delighted to be able to offer people living in the Trust area free access to this fantastic app which aims to support new fathers and improve outcomes for children and their families. From changing relationship dynamics to money worries and the stress of additional responsibilities, new and expectant dads have a lot to take on board which can leave them feeling overwhelmed, stressed and low in mood. Having ready access to accurate, helpful advice can make a real difference to how they experience parenthood and their overall wellbeing. Apps such as this also help to raise awareness around perinatal mental illness.  With one in five mothers experiencing mental health difficulties in pregnancy or following birth, educating fathers on trigger points and signs that someone is struggling can help to make sure women receive appropriate support, when they most need it.
The Tees, Esk & Wear Valleys app has been designed for three local areas – Durham & Darlington, North Yorkshire & York, and Teesside – with each separate app containing specific, localised information for dads within that area, alongside all the usual DadPad content.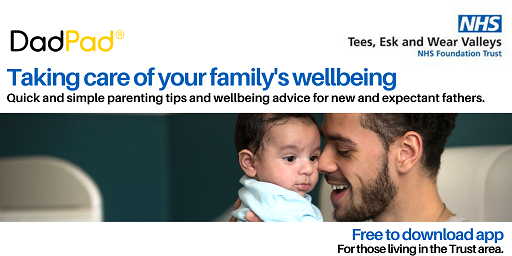 The next steps…
Going forward, we are looking forward to continue to develop our relationships with these new teams, alongside all our existing DadPad teams, in order to keep the app as relevant, useful and accessible as possible.  We'll be working to raise awareness of the app's availability in each area, so that as many new dads and dads-to-be as possible know about it (e.g. via our Twitter and Facebook pages), and – above all – looking forward to being able to visit each area once restrictions are lifted to help the health professionals promote the resource to local families.
Finally, if you're in one of these areas – or know someone who is – and want to be able to download the DadPad app onto your tablet or smartphone, just visit the app download page on our website.
References:
Surrey Heartlands: https://www.surreyheartlands.uk/new-app-launched-to-provide-online-support-to-dads/
West Yorkshire & Harrogate: http://www.airedale-trust.nhs.uk/blog/dadpad-app-launches-in-west-yorkshire-and-harrogate/
Gloucestershire: https://www.gloshospitals.nhs.uk/about-us/news-media/press-releases-statements/dads-gloucestershire-can-now-prepare-parenthood-new-free-app-called-dadpad/
Tees, Esk & Wear Valleys: www.tewv.nhs.uk/on-the-go-wellbeing-support-for-dads/