Guest Blog, Mental Health
Guest Blog: Fathers' mental health in the workplace
Posted on 27th November 2020
Today's guest blog has been written for us by Karen Lothian, a life coach with a background in HR, who is working to support organisations to create an inclusive culture for dads and equal parenting. Following our chat with James Millar from workingdads.co.uk back in August, we've been thinking about the difficulties dads face at work – yes, there are policies, benefits and entitlements for dads to be able to be present and more 'hands on' during the perinatal period, but they're often not being taken up due to deeply-ingrained cultural expectations surrounding the dads' role, both at home and at work.  The issue was mentioned within Mark Williams' Fathers' Reaching Out report in September, and came up again during the Raq Ibrahim's presentation to the AIMH Annual Infancy Conference the same month (Raq considered the various challenges faced by those working to engage dads in parenting programmes, and these were noted to include: cultural expectations as to gender roles; ingrained attitudes as to dads' role ("babysitting", rather than caring for his children); work commitments, which often prevent dad from being available to attend groups, appointments and meetings taking place during weekdays; and images and language used around dad – in the workplace, on the internet, across social media, etc.  
We've asked Karen to explore this a little for us, and have interspersed her words with related quotes and statistics which help to support the points that she is making.  
Family dynamics have changed considerably over the past few decades, with dads wanting to play a more active role in raising their children.
According to a Deloitte and Daddilife report published last year, fathers are much more involved in raising their children than ever before: 58% are fully involved in their children's upbringing, while an additional 29% consider themselves "mostly involved".
What's happening in the workplace?
Unfortunately, the "macho" culture in many organisations means that men often struggle to open up, saying they need help and support.  They also find it difficult to ask for time off for childcare or for work flexibility.
Some of this is driven by their own beliefs, where they have been brought up to believe that they must:
achieve and succeed
provide for their family
take control
be a strong leader
not display emotion
In a 2019 survey by PowWowNow it was reported that one-third of men said that they career had suffered as a result of taking time off to care for children, while one in four said that they had become victims of verbal abuse or mockery.
Similar findings by Bright Horizons outlined that:
Roughly one-third of both US and UK dads have faked being sick to care for their families
A quarter of US dads and a third of UK dads have lied to employers about family responsibilities
A third of dads in both countries are afraid to be upfront about family responsibilities
What is the impact on their mental health?
Work-related stress is the most common, and it can lead to the dads affected being less engaged, less motivated and less productive.  It can also have a devastating effect on their personal lives where they struggle to find work/life balance and get involved with hands-on childcare, leaving it instead to the other carer.
According to research findings published in Personnel Today, almost one-third (29%) of men who work full-time have suffered a work-related mental health issue of some sort, with almost half never seeking professional help for their condition.
On top of work pressures, new dads can also face:
sleep deprivation
additional responsibility
perinatal mental health issues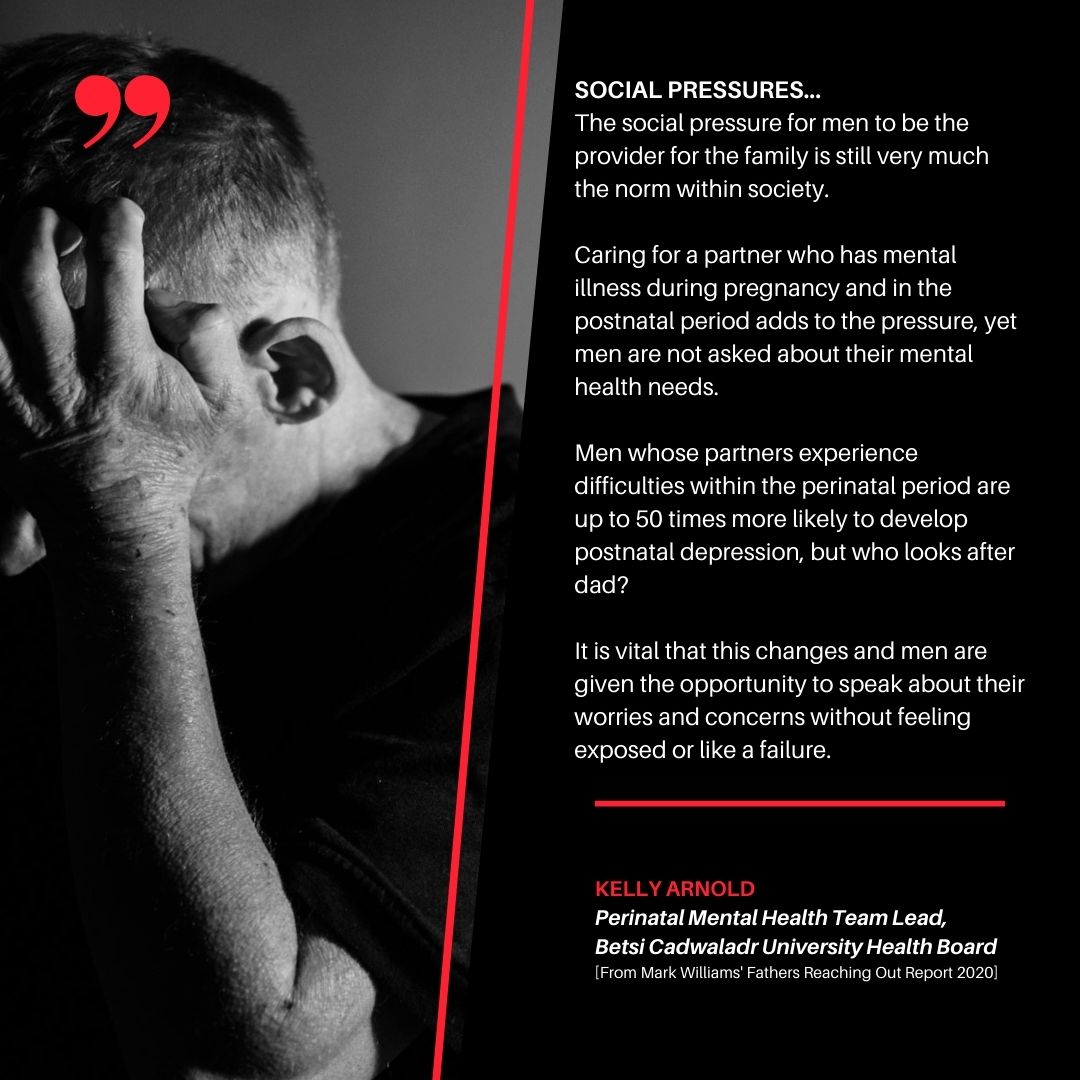 What needs to happen next?
Most organisations have family-friendly policies – such as paternity leave, shared parental leave and flexible working – and, more recently, more are offering enhanced leave and pay entitlements to encourage dads to spend time with their newborn in order to grow and develop a strong bond with them.
However, even with these measures in place, nothing will change until the culture of the organisation shifts to become a dad-friendly workplace.  For example, dads are more likely to seek support for their mental health with services they feel comfortable with and confident to access.
Along with addressing the cultural stigma around working dads, removing presenteeism ["the practice of being present at one's place of work for more hours than is required, especially as a manifestation of insecurity about one's job"] and identifying key male role models who work flexibly, there are many ways in which organisations can look to support dads' mental health in the workplace, including:
creating a safe space for them to talk
offering a variety of wellbeing support to suit both genders
providing parental coaching that includes mothers and fathers
making flexible working the norm for all
educating fathers as well as mothers on leave policies