Being a Dad, Mental Health
MH: International Fathers' Mental Health Day 2019 – PND in men
Posted on 17th June 2019
Today is International Fathers' Mental Health Day (IFMHD). First started in 2016 by the inspirational Mark Williams, this annual event aims to give "voice to issues unique to men as they transition to fatherhood – their strengths, difficulties and needs". One of the things that Mark and his team have challenged supporters to do today is to write a blog post or share a story on social media relating to mental health issues in fathers – so that's what we're doing!
We're delighted that DadPad is now in its seventh year, and we're hopefully going from strength to strength. Since the very beginning, though, DadPad has had its roots in perinatal mental health, as we aim to be a source of guidance and support for dads experiencing mental health difficulties either themselves and/or in their partner.
What's amazing is the amount that has changed in these last seven years with regard to men's mental health issues; it seems as though every week brings a new piece of research or news article focused on men's mental health, and we're always doing our best to share these across our social media accounts, as a way of raising awareness.
Change is coming…
Yesterday, for Fathers' Day, it was especially encouraging to see – alongside all the pictures and messages from those celebrating their dads – an almost equal number of posts acknowledging how hard this day would be to so many. It's so important that we don't forget those men who:
No longer have their dads in their lives
No longer have their children in their lives
Struggle, following the miscarriage, stillbirth or death of their child
Struggle with childlessness, as they long to become fathers
Struggle to adjust to fatherhood, perhaps as a result of having had a difficult childhood themselves
Struggle with mental ill health – either their own or their partners
Despite all this, though, much, much more still needs to be done, which is why events such as IFMHD are so important.
Fathers Network Scotland 2019 Survey
Fathers Network Scotland chose Fathers' Day to release the findings of their 2019 survey, and the full results – which show that much work is still needed – can be found on their webpage. 25% of the dads surveyed stated that they couldn't cope and did not consider themselves to be a good dad.  58% believed that their mental health had suffered following the birth of their latest child, and 62% felt that their mental health got in the way of their ability to form a good connection with their children.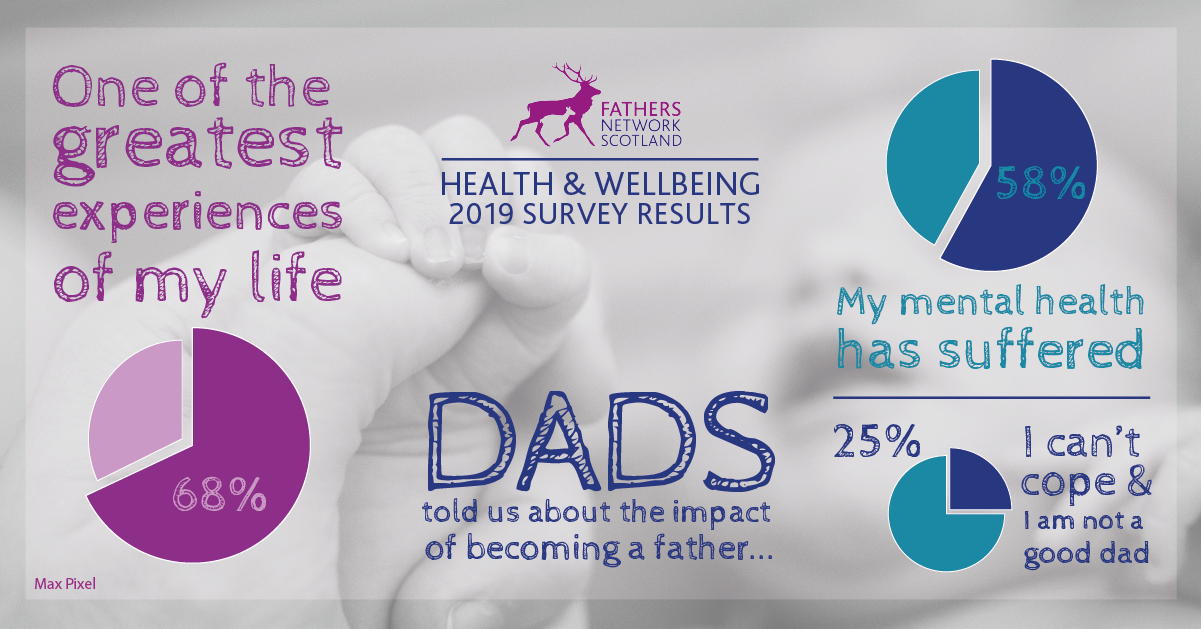 From: http://www.fathersnetwork.org.uk/mental_health_support_for_new_dads_is_crucial
Post-natal depression in men
Research results vary as to the prevalence of post-natal depression (PND) in men; the NHS indicates that it's around 10%, but other research suggests that the figures could be much higher.  Despite this, many people are still reluctant to believe that dads could have PND and many men continue to feel that they will be judged to be a failure or 'not a real man' if they admit that they are struggling.  Dr Andrew Briggs, a consultant child psychotherapist, has been quoted as having said:
"…PND in men is often met with thinly-veined ridicule. It's deeply ingrained within the cultural psyche that men should just pull themselves together."
Undoubtedly, then, society's views on the role of the father are having an impact here.  An article in Happiful picked up on research which found that 38% of the men interviewed (all of whom had become dads in the last two years) had been 'dad-shamed' as a result of taking a hands-on role in parenting their baby (anyone remember Piers Morgan's attempts to mock Daniel Craig for 'emasculating' himself by carrying his newborn baby in a sling back in October 2018?!).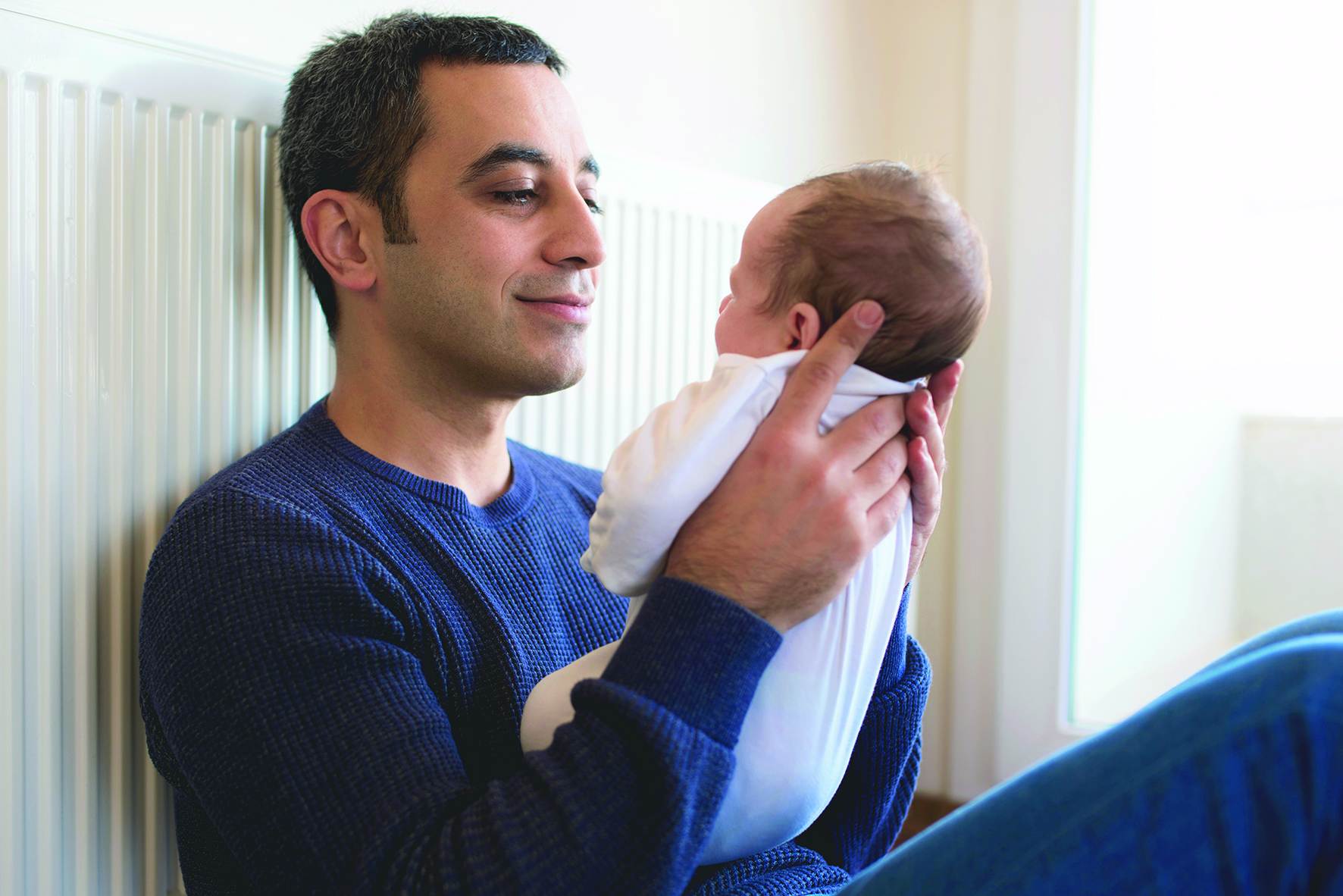 Other problems that new dads have found to be struggling with include:
Adjusting to their new roles and responsibilities, with especial difficulties caused by coping with their baby's crying, an increased workload in the home and/or their own lack of sleep;
Supporting baby's mum with post-natal depression; and
Personally experiencing anxiety, depression, trauma, OCD and sometimes even PTSD, perhaps as a result of witnessing – helplessly – a traumatic pregnancy and/or birth experience for their partner.
Seeking help
We know that men, in general, are reluctant to seek help in these situations.  Research has found that lots of new fathers reported feeling judged, and 55% of those questioned admitted that they hadn't spoken to anyone about the difficulties they were having in adjusting to their new role. University of Surrey research also indicated that men were finding it hard to communicate to others and/or seek help for their own worries or concerns, for being judged a failure, with traditional views of the masculine role – the stoic, strong, provider for his family – once again really exacerbating this difficulty.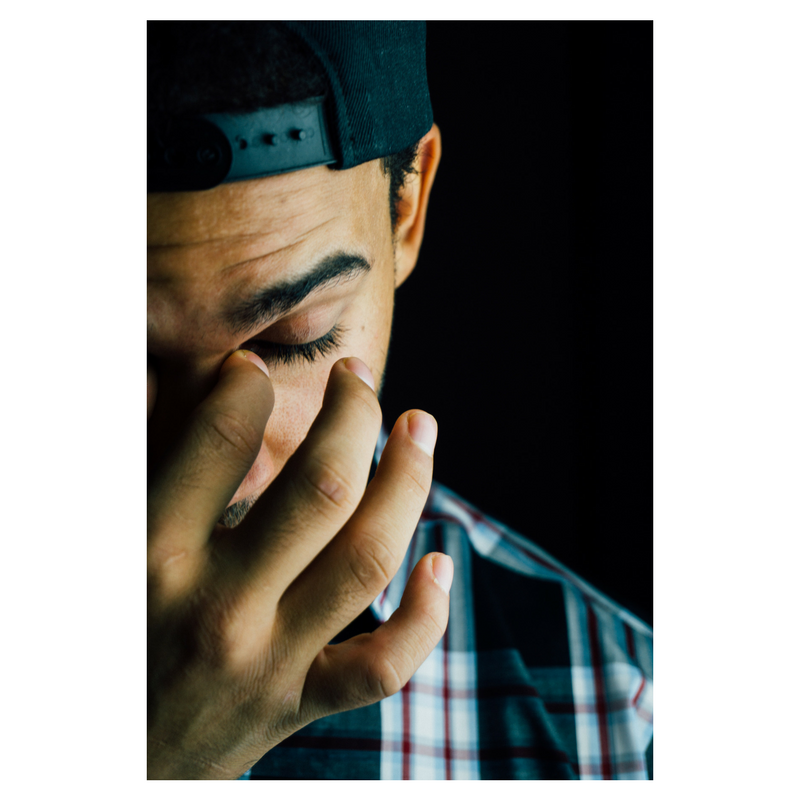 What is the effect of these men continuing to suffer in silence and not seeking help or support for their problems? Figures which indicate that suicide is the biggest cause of death in men under 50 in the UK cannot be ignored, and The Mental Health Foundation suggests that one of the reasons "that men are more likely to complete suicide may be because they are less likely than women to ask for help or talk about depressive or suicidal feelings." Even at a less severe level, a dad suffering from depression will have an impact on his children and his partner, in his ability to bond, support and interact with his family. It is therefore imperative that dads are helped and encouraged to seek help for their difficulties as early as possible.
A solution?
So what can we do? Evidence from the different research and articles seems pretty clear that perinatal mental health policies must invest in initiatives which will inform "men about the challenges fatherhood may pose, the possibility of mental health struggles and how to find support".  Although NHS England announced, at the end of 2018, that "mental health checks and support" would be introduced for new dads – which of course is to be welcomed – the headline did not tell the full story: only partners of mums who have or are experiencing mental health difficulties themselves will be offered this screening.  This means that dads who are struggling with their own mental health independently will be overlooked: men are still being let down.
Support groups and networks are also needed. And support needs to be in place for those who seek it – in the Fathers Network Scotland survey, 83% of dads who looked for professional help reported that it was difficult to find.
How DadPad can help
What we will continue to strive to do at DadPad is to get the resource available to as many dads-to-be and new dads as we possibly can.  Certainly, prevention is being increasingly recognised as the way forward.
We are reassured that researchers – such as those at the University of Surrey – have identified the very things that DadPad contains is exactly what is needed to help overcome some of the difficulties currently being faced.

DadPad provides basic practical information on a whole host of key skills and knowledge that dads will need to get to grips with their new role, including advice on how to cope with some of the more challenging aspects, such as crying and lack of sleep. We also highlight core information on potential mental health difficulties which could be suffered by the dad himself and/or his partner, together with suggestions on where to go to seek help, and the importance of seeking out assistance at the earliest possible opportunity. Further, the intention is that the DadPad will be used by health professionals as a tool through which to engage and build a relationship with the dad-to-be, as well as the pregnant mum, which should increase the likelihood of the dad feeling confident enough to trust the medical profession when a worry or concern arises.
The next steps
We're really looking forward to today, for the awareness raising that will take place across all forms of the media and for the inspiration for continued innovative working together that will undoubtedly come from the day's "Talking Dads" event up in Blackpool.
If you've read this far, thank you! Please now head over to your social media account to like and share lots of the posts and articles that you find; you never know who, on your friends and contacts list, might need to hear one of those messages.  Follow and use the key hashtags #dadsmhday #TalkingDads and #HowAreYouDad – and, if you'd like to share this blog post as part of the day's activities, we'd be honoured. 💙