MH: World Mental Health Day 2019 – Take #40Seconds…
Posted on 10th October 2019
Today is World Mental Health Day, and this year the World Health Organisation (WHO) are focusing on raising awareness of the scale of suicide around the world.  The main figure quoted on the WHO website is fairly shocking: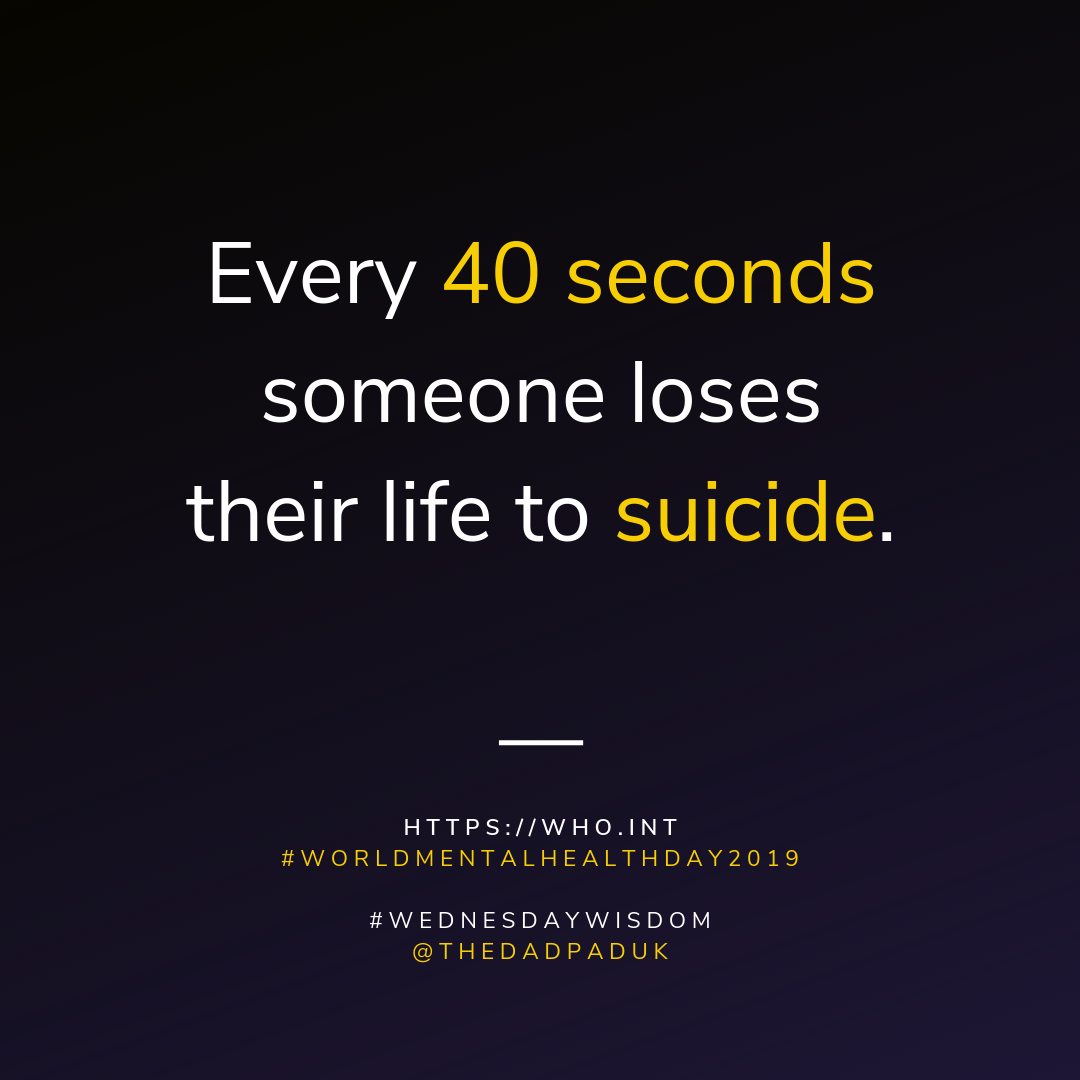 However, there are other statistics also worth considering, including:
Deaths by suicide rose by nearly 12% in the UK in 2018
Men in the UK are three times more likely to commit suicide than women
The group with the highest suicide rate in the UK is males, aged 45-49
Suicides amongst young men in Scotland, aged 15-24 years, increased by 52.7% in 2018
Suicide rates amongst the u25s has increased in recent years
World Suicide Prevention Day was observed on 10 September, and WHO have been continuing – over the past month – to not only raise awareness of the statistics relating to suicide, but also to inform as many people as possible of the role that we can each play to help prevent more suicides from happening.  They are doing this by:
Improving awareness of the significance of suicide as a global public health problem
Improving knowledge of what can be done to prevent suicide
Reducing the stigma associated with suicide
Letting people who are struggling know that they are not alone
WHO also offer suggestions of both private and public actions that we can undertake – especially today – by taking just 40 seconds out of our lives.
In school or the workplace…
If you are an employer, a manager, a teacher or a lecturer, you could take 40 seconds to put together a positive message of support to your employees or students; let them know about the resources that are available to them in the workplace, your school/college, or the wider community to help them if they are currently experiencing a time of mental distress.  WHO's website includes links to a number of animated short videos, giving advice and ideas on how best you could help. They are also have a number of useful leaflets available to download.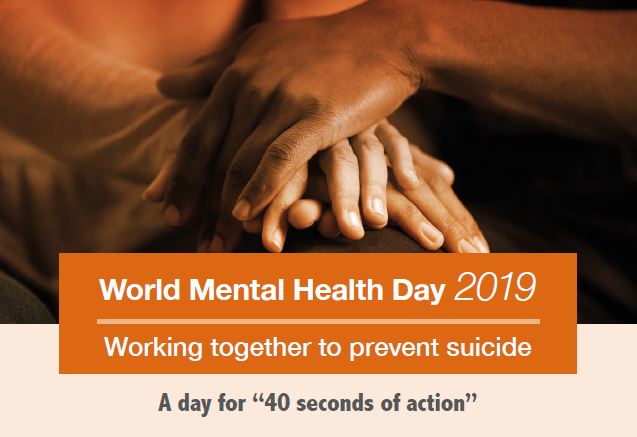 In the media or social media…
If you work in the media, or have some other platform for communicating with a wide audience (e.g. if you have a social media following), take 40 seconds to highlight the 40-second statistic, and/or share mental health stories and messages. Use the hashtags #WorldMentalHealthDay and #40seconds in your posts, but remember to never share anything of a personal nature, and to always respect the privacy of anyone who may be struggling.  You should certainly never share any information about a person's mental health in a public setting without having first gained their informed consent.  Some key Twitter accounts to follow today, to get you started, include: @WMHDay, @Samaritans, @Mind, @MentalHealth, @AnxietyUK, @NSPA_UK (the National Suicide Prevention Alliance) and @NHSuk.  For those with a specific interest in good mental health in men and fathers, we also recommend the Twitter accounts of our good friends Mark Williams (@MarkWilliamsFMH) and Dr Andy Mayers (@DrAndyMayers).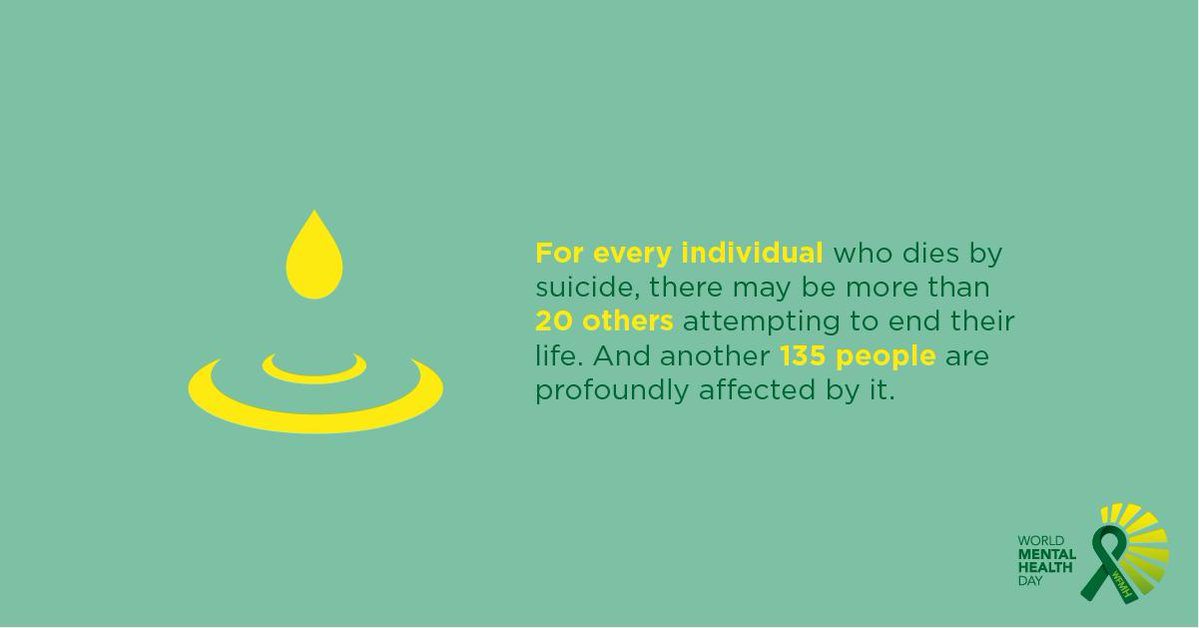 From Twitter – @WMHDay
Reaching out to those around you…
Closer to home, you could take 40 seconds to initiate a conversation or some other form of contact with a person that you are worried about.  The Samaritans have some great advice on their website for this situation – what signs and situations to look out for, and what you could do in response.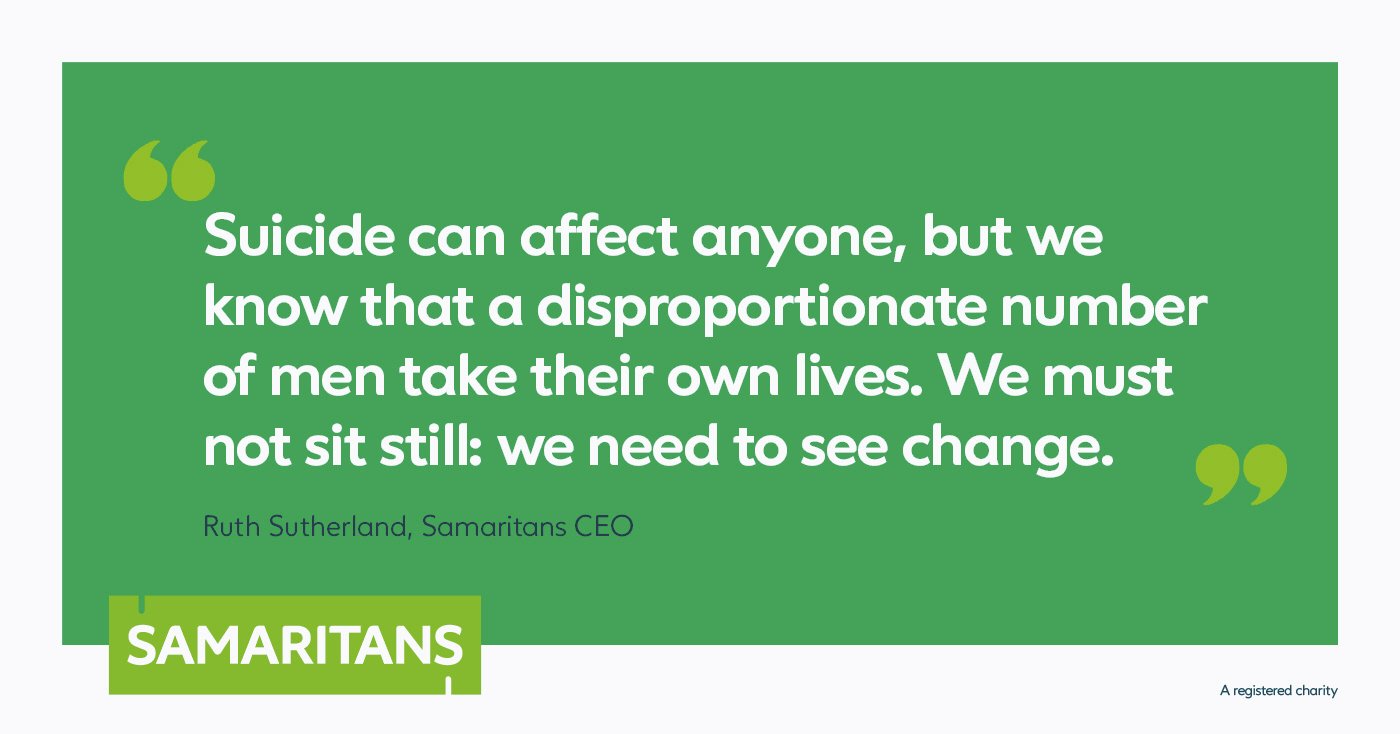 From Twitter – @samaritans
We'd also advocate that anyone who knows a new dad takes the time to check in how they are doing – we regularly promote Mark Williams' #HowAreYouDad campaign, to remind friends, family members and health professionals not to overlook the fact that fathers' mental health can be affected just as much as mums' in the perinatal period. And, as well as asking #HowAreYouDad, don't also forget to #AskTwice: after all, how many of us have automatically replied 'Fine!' when asked how we are, rather than risk disclosing how we truly feel? Give that new dad the chance(s), the space, the time and the safety to feel that he can chat to you.  Let him know that #It'sOKNotToBeOK and that you are there, when/if he wants to talk. You can find more information on post-natal depression in dads via MIND, and on Mark Williams' Reaching Out website – his book, Daddy Blues, is also worth a read if you or someone you know has post-natal depression.
[You could also think about getting hold of a DadPad for someone who is about to, or has recently, become a new dad; there's a good section on mental health for both dad himself and things to look out for in the new mum.]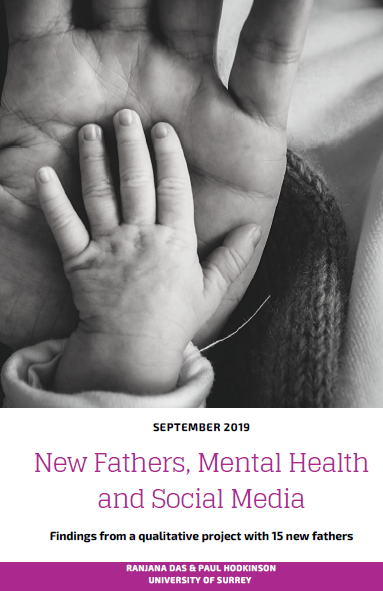 A recently published report from Dr Ranjana Das and Dr Paul Hodkinson from the University of Surrey also gives some great advice on how social media might help us identify dads within our friendship groups currently struggling with their mental health.  Their research findings highlight five ways in which this might happen:
Disconnecting from social media in order to better cope with their current struggles – have any of your friends recently taken themselves off Facebook, for example, or not posted anything for a while?
Seeking information online – have you spotted anyone on your timeline interacting with other people's mental health disclosures or requests for advice?
Sending out 'coded' messages in the hope that someone else will spot what they've done and get in touch – have you seen anyone starting to share, like, or re-tweet posts or articles about mental health recently?
Talking openly about how they are struggling with their mental health – remember that they will have done this for a reason, and not simply to 'seek attention'.
Supporting others online or taking steps to raise awareness about mental health issues – again, think through recent social media posts and see if you can spot anything of this nature that might ring an alarm bell with you.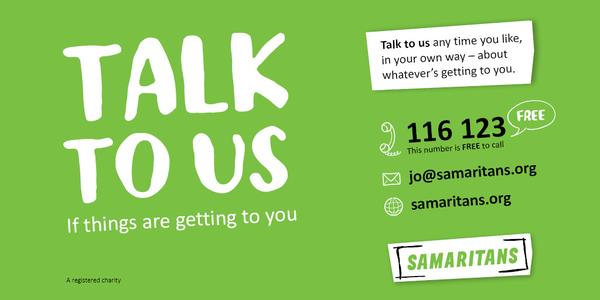 I'm struggling…
Finally, if you yourself are struggling, then perhaps today is the day that you take 40 seconds to start a conversation with someone that you trust, in order to talk about how you are feeling.  Don't be ashamed – your mental health is no different to your physical health. Would you be worried, for example, to talk to a friend about having broken your wrist, or having had to have your appendix out?  Remember that #It'sOKNotToBeOK and that #It'sGoodToTalk. Sometimes, taking the simple step of sharing your worries with someone else, or letting that person know that you are having difficulties, can be enough to ease the pressure a little.  And if you can't think of anyone within your friendship group that you feel comfortable talking with, don't forget that the Samaritans are there for you, all day, every day, at no cost – just pick up the phone and dial 116 123.
As well as the Samaritans' website, it's also worth checking out the National Suicide Prevention Alliance's page which contains links to a whole host of sources of advice on topics including:
Starting conversations
Taking time to listen
Creating supportive workplaces
Helping people find support
Supporting people bereaved by suicide
So, what will YOU do with your #40Seconds…?
And, as a little 'PS' to this piece, we couldn't think of anything better – for anyone who's really struggling today – than to post this, from the brilliant @matthaig1's Twitter account: today it might feel impossible to carry on, but the impossible happens via living. Stay.