News: Cornwall DadPad app launched
Posted on 17th March 2019
March 2019 has been a busy time at DadPad HQ, with our second new app launched in the space of two weeks! The introduction of the Cornwall DadPad app follows the unveiling of the Devon app earlier in the month.
Cornwall was, in fact, where the DadPad was 'born'. Our first ever commission, for hard copy DadPads to be distributed to first-time dads under the age of 25, came back in 2012.  The product was developed in close partnership with an amazing team of enthusiastic and knowledgable health professionals within the county.  We were therefore particularly delighted to now have our first ever re-commission, this time adapting our existing app content to suit the needs of our home county.
Working closely with Cornwall Council, NHS Kernow commissioned the new app as part of their child and adolescent mental health service (CAMHS) transformation funding.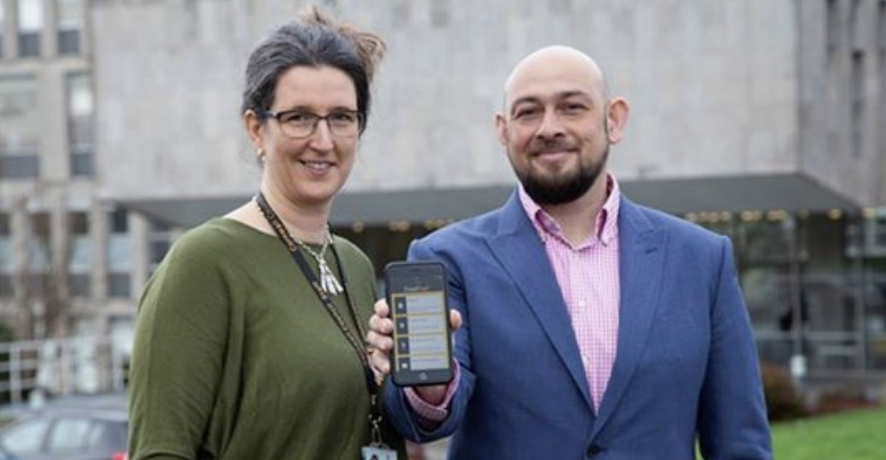 Jo Lewitt, Public Health Commissioning Manager at Cornwall Council, with Julian, at the launch of the Cornwall DadPad app (picture from Cornwall Council)
Portfolio Holder and Cabinet Member for Children and Wellbeing, Sally Hawken, said:
"Dads need to realise just how important they are within their family – right from the very start of their child's life – and the real impact they can have on their baby's development. It's important that new dads feel as informed and confident as possible in their role, in order that they can give the very best support to both mum and their new baby.

"This is the first time that all of this information has been available for Cornish dads in a mobile app, which is excellent for using on the go.  As well as gaining skills and knowledge on caring for their baby, themselves and their partner, using the app also allows dads to access contact details for local family services together with up-to-date health information and guidance. It's great from our point of view, too, as we're able to get content revised at the push of a button, as information or advice is updated."
Cornwall Council also contacted, Tom Matthews, who had just become a dad, to find out what he thought of the DadPad.  Tom said:
"Like most people, I hadn't really thought much about all the practical, 'nitty gritty' of becoming a dad until we started getting closer to the due date.  As our little boy arrived nine weeks early, this meant I actually felt quite unprepared when it all became real.

"The DadPad was absolutely fantastic; it explains everything in a really clear way, without being patronising. However many different books you read on parenting, you will get that many different opinions on everything, so it was great to have a 'definitive' guide, with links to further information."
All DadPad content is continuously reviewed and evaluated, and feedback received from dads helps inform its future development.
The Cornwall DadPad app is available for free download on both Apple and Android devices. Once downloaded, dads simply need to enter their postcode to gain access.