News: The DadPad app winter launches
Posted on 29th March 2020
Over the last six months, we've been a bit quiet on here, but that doesn't mean we've not been doing anything.
In fact, we've been very busy, with new developments, new team members, and lots of new DadPad apps. We'll share updates on all of these things on these News pages and via our social media over the coming weeks and months but, for now, here's a quick catch up on the areas that we've launched over the winter…
Flintshire Flying Start – Wales
Way back in November 2019, we were delighted to be able to launch our first DadPad for Wales, with the gang at Flintshire Flying Start.  The team there is quite a small one, but they were determined to be able to provide copies of the DadPad to the dads in their area, and Julian was equally determined that he was going to make the epic trip to Wales to support their launch!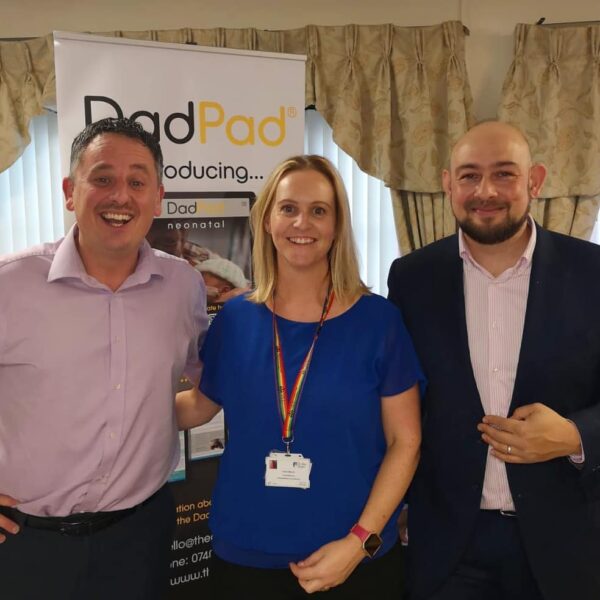 L-R: Fathers' mental health campaigner, Mark Williams andFlintshire Flying Start Health Visitor Katie Moore with Julian at the Flintshire Flying Start DadPad Launch on 12 Nov 2019.
The launch took place as part of their Communication is Key Mental Health Awareness Open Day, which focused on all aspects of healthy living as part of achieving good mental health.  It was great to also get the chance to hear once more from the always-inspiring Mark Williams about the importance of helping new dads achieve good mental health.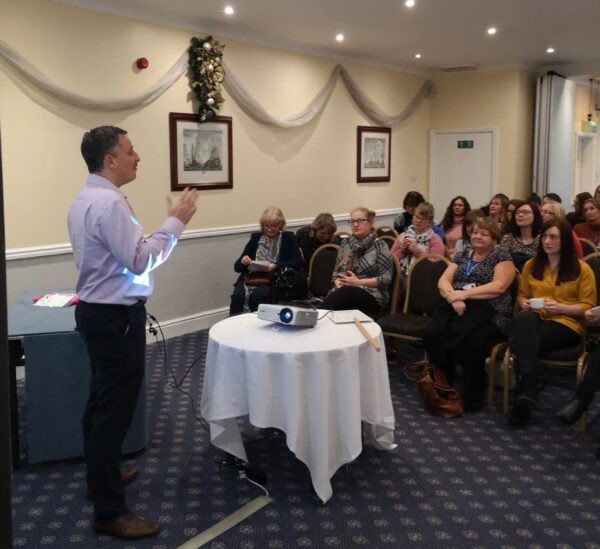 Mark Williams addressing the Communication is Key Mental Health Awareness Open Day in Flintshire: 12 Nov 2019.
Oliver Fisher Neonatal Unit – London
Our final launch for 2019 was in London, when the Oliver Fisher Neonatal Unit at Medway Hospital launched their purchase of DadPads Neonatal.  Although Julian was unable to get to this one, the team held a very special 'PrematuriTEA Party' on 17 November – World Prematurity Day – to raise awareness of the challenges faced by premature babies and their families.  We're delighted that future dads on the Unit will be even better supported and informed by getting their own copy of the DadPad Neonatal.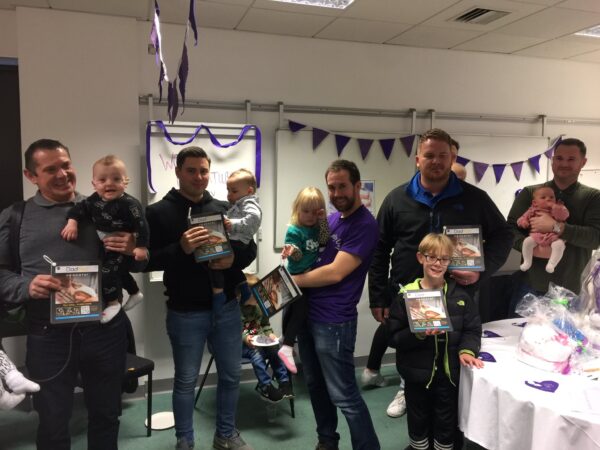 Neonatal dads with their DadPads Neonatal at the Medway Hospital Oliver Fisher Unit's PrematuriTEA Party for World Prematurity Day : 17 Nov 2019 (shared with permission – via Dr Helen Gbinigie).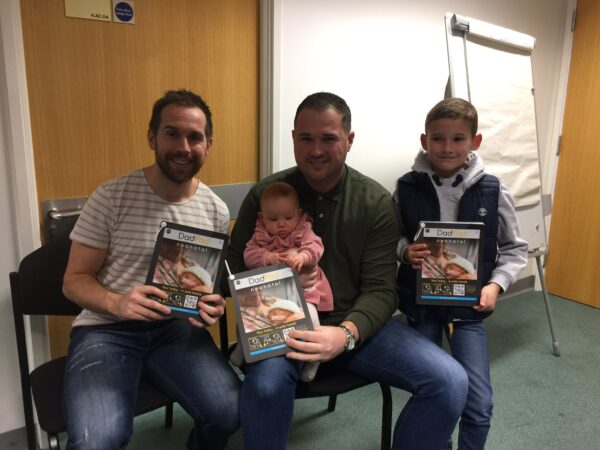 Neonatal dads with their DadPads Neonatal at the Medway Hospital Oliver Fisher Unit's PrematuriTEA Party for World Prematurity Day : 17 Nov 2019 (shared with permission – via Dr Helen Gbinigie).
Somerset
Early 2020 saw a real flurry of launches, and lots of travel for Julian! On 25 January, we launched in Somerset, then a month later we did the same for the Herefordshire and Worcestershire area.
In Somerset, Julian had a great time with the local Maternity Voices Partnership team at their Dads' Breakfast Club, and was especially grateful for his bacon butty!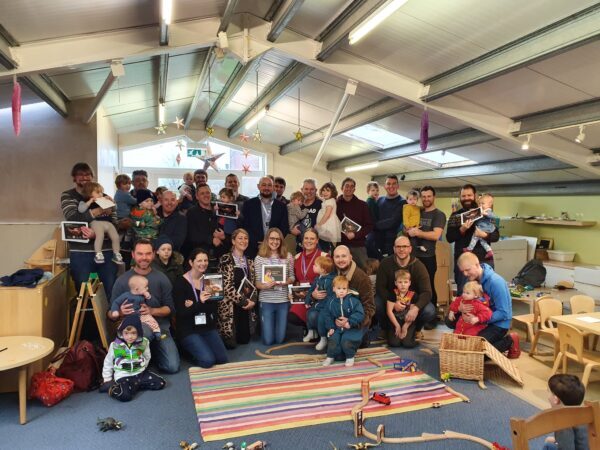 Attendees at the Somerset Dads' Breakfast Club with their DadPads (shared with permission – via Gaynor Woodland).
Steve, a dad and regular at the Breakfast Club, said:
This is a great resource for new dads to help them understand the essential information and support available and ensure dads are included from day one. The important role dads play in supporting their children and mums is often overlooked, so it's great to see tools and resources which address this issue and encourage positive parenting.
Donna Butland, Chair of Somerset Maternity Voices Partnership, said:
New dads or partners often feel left out when a baby arrives, even if they don't live with the mum; they can feel like a 'spare part' and find it difficult to ask for help. They may not have had the support and information offered to new mums by maternity services, but DadPad can give them the knowledge and confidence to help them play a more active role in raising their child, and advice on how to develop an important strong bond with their baby.
Becky Applewood, Deputy Director of Women's and Children's Health with Somerset CCG said:
Becoming a parent can be an anxious time and dads can often feel overwhelmed and unsure because they don't know what to do. As well as giving clear and practical advice on feeding, changing and bathing new babies, the DadPad helps new parents to learn how they can take care of themselves and their own mental health and emotional wellbeing, which is so important for everyone in the family. It also provides information on how to get support when they need it – which many of us do at some stage.

All in all, this is a super guide – and it's not just useful for dads…
Herefordshire and Worcestershire
In Worcester – after battling his way through the floods which were affecting that part of the world at the time – Julian attended and spoke at two of the Perinatal Mental Health Team's Perinatal Mental Health Roadshow Masterclasses as part of their DadPad launch.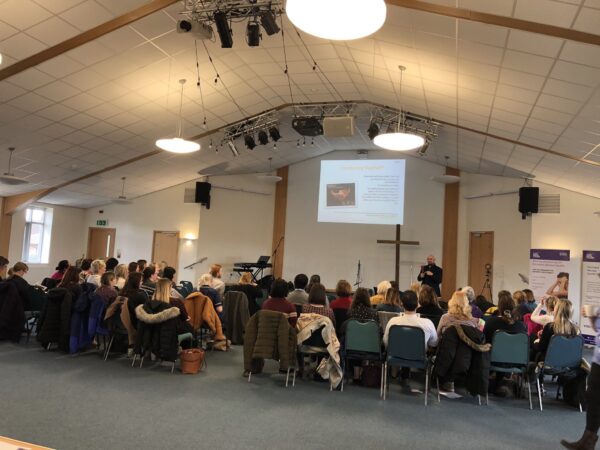 Julian addressing the Perinatal Mental Health Roadshow Masterclass at St Peter's Baptist Church, Worcester, as part of the launch of the Herefordshire and Worcestershire DadPad (shared with permission – via the Worcestershire PMHT).
Christobel Hargraves, Chair of the Herefordshire & Worcestershire Local Maternity and Neonatal Sytem (LMNS) said:
We want to continue to improve the maternity experience for women and their families, and give every child the best start in life – so we are delighted to have commissioned their fantastic new resource which complements this aim.

There is traditionally lots of information, advice and support available for new mums, but often dads can feel equally unsure or overwhelmed.  DadPad will help reduce anxiety for new dads in a number of ways – for example, by helping them get involved with their baby's care and gain confidence; learn how to create a strong bond; and build stronger family relationships, as well as providing links to other sources of information and advice.
It was great to see that the Team had also commissioned their own DadPad banner to help advertise the app's availability across Herefordshire and Worcestershire.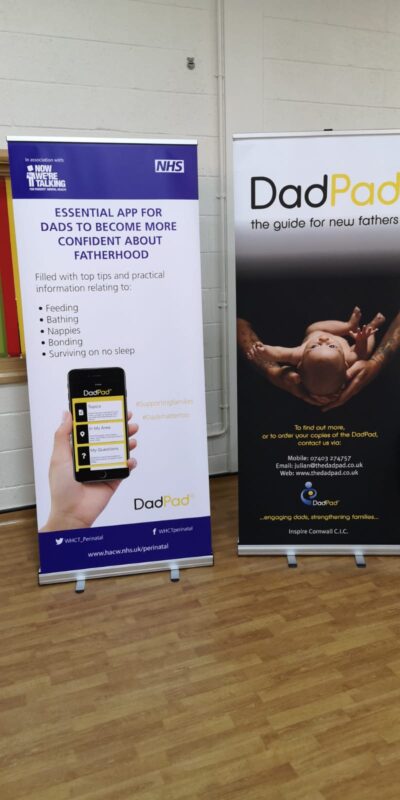 DadPad banners at the launch of the Herefordshire and Worcestershire DadPad app.
Hampshire
Our final 'real' launch for the winter – which we managed to squeeze in just days before lockdown – was in Hampshire, our biggest area so far!  We have greatly enjoyed working with Dr Cindy Shawley, who is the Quality Improvement Lead for Maternity at Hampshire Hospitals NHS Foundation Trust (HHFT), and her team in getting this DadPad developed and produced.
Dr Shawley, who is also the Postnatal Lead/Better Births Midwife for Southampton, said:
DadPad is an excellent resource for partners and families, and is a great addition to the excellent care and support that is provided by staff at HHFT.

It is easy-to-read, informative, gives clear guidance and support on many subjects, and complements the many services and initiatives we already provide to help and support families.

Staff are able to use the hard copies of DadPad and the app when giving care, and can signpost parents to look at and read information about how to care for their new family.
Dr Shawley added:
The advantages of having a tailored, local DadPad app is that it is full of relevant local information for dads – for example, where and when dads' groups/get togethers usually take place across our local area.

There are also links to mental health support to improve emotional wellbeing and ideas about how to support infant feeding.

We have already had many dads who have downloaded the app and most of our community staff teams use the app to signpost dads and highlight areas to inform discussions.

We are extremely fortunate that SHIP LMS (Southampton, Hampshire, Portsmouth and the Isle of Wight Local Maternity System) have supported us in this local project to introduce our own local version of DadPad, which will be continually updated.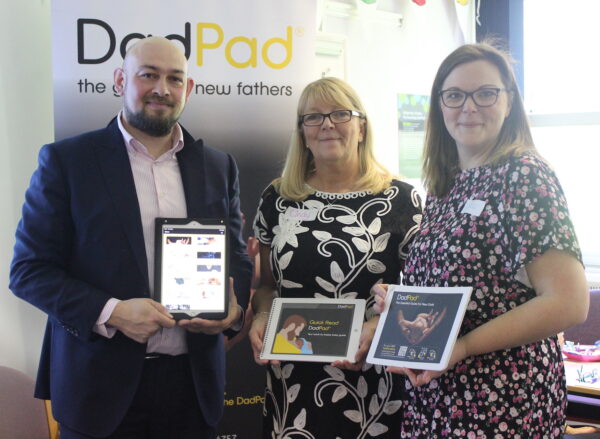 L-R: Julian; Dr Cindy Shawley, Quality Improvement Lead for Maternity at Hampshire Hospitals NHS Foundation Trust; and Vikki Pragnell, community midwife matron, at the launch of the Hampshire DadPad.