News : Parenting during a pandemic
Posted on 26th March 2021
Last Tuesday, 16th March, saw the publication of the Maternal Mental Health Alliance-commissioned Central for Mental Health's Report of their rapid evidence review – Maternal mental health during a pandemic ("the MMH Report") – which looks into the impact of Covid-19 on the mental health of expectant mothers and mothers of newborn, as well as on maternal and perinatal mental health services across the UK nations.  The Report also considered the extent to which there is data available on the impact of the pandemic on the wider family, including babies and partners.
This Report joins the Working for babies – Lockdown lessons from local systems ("the Working for Babies Report") – written by Jodie Reed with Natalie Parish from the Isos Partnership for the First 1001 Days Movement – in providing some really useful, initial insights into parenting, not just during the pandemic itself, but also in the twenty-first century in general.
The findings of the MMH Report are perhaps not surprising:
The pandemic has posed mental health challenges for women during pregnancy and early motherhood
The impact has been unequal
Perinatal mental health services had worrying gaps even before the crisis
Informal support has been detrimentally impacted
Changes to labour and birth because of the pandemic have increased stress and anxiety
Concern for infants and babies has increased stress and anxiety
There have been missed opportunities for understanding or fully responding to what being classed as 'vulnerable' really means in the perinatal period
Whilst still awaiting data, significant concerns exist for women with pre-existing mental health conditions
Despite increased need, services supporting women and families were impacted detrimentally 
The workforce supporting women and families in the perinatal period is facing its own wellbeing challenges and needs support
There is increased demand for voluntary and community services, which themselves have been impacted
Virtual contact has massively increased, with mixed potential consequences and a need for evaluation
The 54-page full Report contains a huge amount of interesting data, comment and conclusions, and it would be impossible to adequately summarise it all here.
What we are going to do, though, is to focus in on the elements of the MMH Report which relate to the impact on and/or role undertaken by dads and partners of women who became mums over the past year.  We feel that the findings all go to further demonstrate just how essential the role of a supportive dad/partner is throughout the whole perinatal period, and therefore how essential resources like DadPad are in seeking to provide these men with the support and information that they need.
Pandemic-related restrictions
One of the main themes – across the MMH Report – was the restrictions that were imposed upon pregnant, birthing and recently-birthed families throughout lockdown and beyond. Citing another report – Make Birth Better – from 2020, it was noted that (along with less face-to-face appointments, lack of continuity of care and support with breastfeeding, the suspension of maternity services, and less access to pain relief and maternally-requested caesareans), particular challenges for pregnant women included:
Restrictions for birthing partners to attend appointments. Pregnant women reported it was difficult to process information and make decisions on their own, and to not have support from [their partners] if there was difficult news
Birth partners being unable to support women during labour due to Covid-19 restrictions.  A survey (Pregnant Then Screwed) of over 4,000 pregnant women who gave birth in October and November 2020 also found that 7% of those giving birth in a hospital (excluding induction or elective C-section) had to give birth without their partner present. [p11]
Impact of restrictions on mum
The MMH Report identifies that these restrictions – either actual, in practice; or uncertainty beforehand about what would/would not be allowed – resulted in some:
mothers experiencing anxiety and/or stress – and those women with a history of mental illness (or sexual assault) have found these restrictions even more challenging, given that their partner is usually the one person best able to understand their symptoms, their emotions and their need for support.  The Working for Babies Report also cited another pandemic-focused research paper, which reported that: "Virus-related anxiety was ubiquitous sometimes leading to self-enforced lockdown, an increased sense of sole responsibility, a sense of feeling cheated of the joys of pregnancy, guilt around a number of associated things (infant feeding decisions, care for older children, feelings around partners being excluded from scans etc), and a bleak feeling about the future." [p15];
women and families having more negative experiences in relation to statutory care (such as giving birth);
increase in women reporting traumatic birth experiences, potentially due to either their partners not being allowed in the same room as them, and/or women in labour delaying coming to the hospital in order to avoid the situation of not being permitted to have their partner with them (when they were not permitted to be present during the early stages of labour); and
increase in partners feeling disempowered and/or frustrated with their lack of involvement/engagement in the perinatal period, and therefore less able to provide good support to mum.
Further, the Report also notes the importance of receiving support – both from partners and from others, such as friends and extended family – during the perinatal period.  The pandemic-related restrictions, preventing partners from attending all manner of antenatal and postnatal appointments (including scans and subsequent appointments where decisions have had to be made in relation to the pregnancy) has had a devastating impact on many.  The Report even cites an example of a mother being "asked to make a decision as to whether to terminate a pregnancy, and had her request for her partner to join her declined." [p24]
It's also been suggested that reduced support from partners – perhaps because of increased pressures to work longer hours, due to fear of redundancy or to make money whilst he can – has also impacted on the number of women unwilling to attempt breastfeeding.  We've looked before at how important it is for dads to support mums in getting breastfeeding off to a good start – for example, in this blog post from last summer.
One other – interesting – observation from the Working for Babies Report was that: "Well documented pronounced gender inequalities in domestic responsibilities during lockdown are likely to have exacerbated [general stress] for mothers." [p15]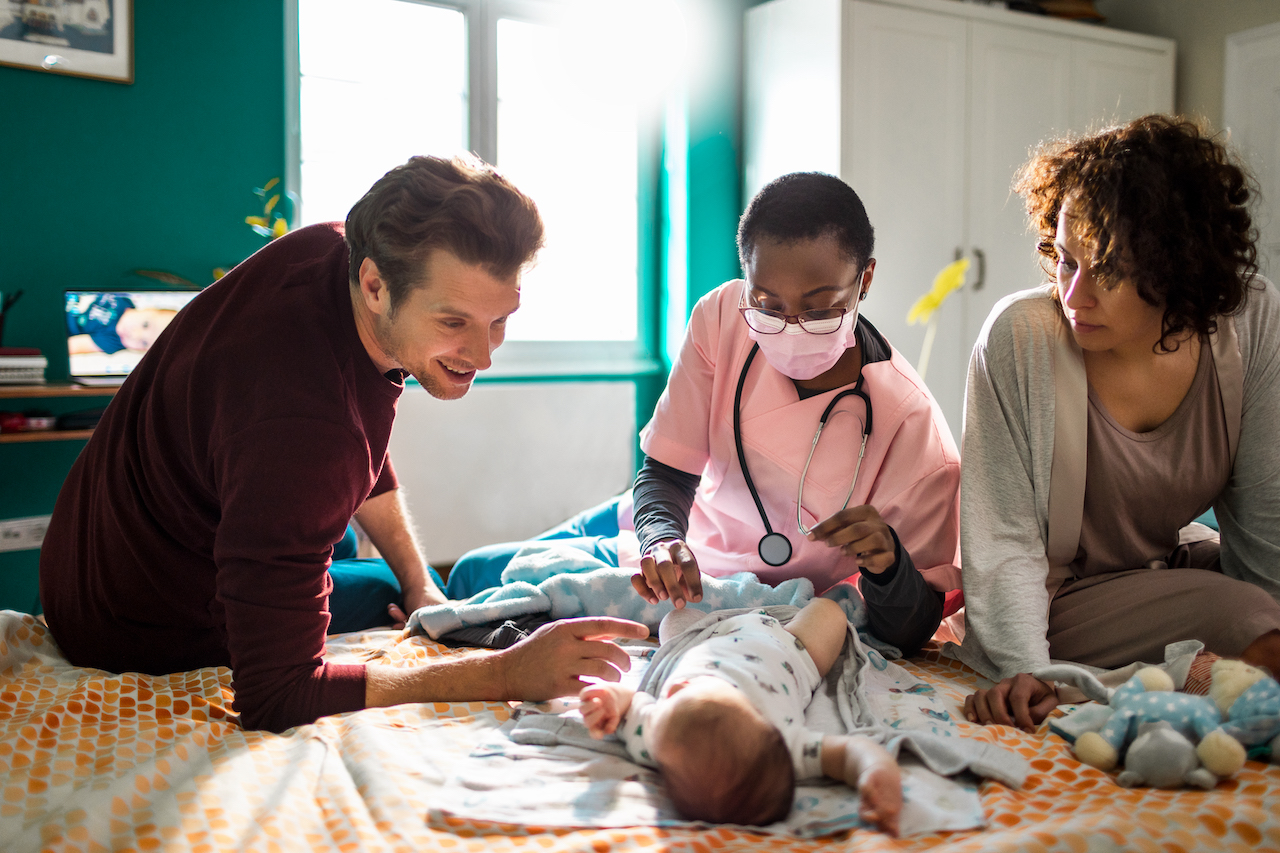 Impact on access to support services
The MMH Report noted that, where services continued (for example, post-birth support and 'visits' from the Health Visiting Team), these were often reduced in terms of number and/or carried out virtually, via online methods, which again restricted the extent to which those professionals could do their jobs to the best of their ability.  For example:
for a variety of reasons – which might include an inability to afford the correct technology or to operate the relevant device, living in a rural location with a poor internet connection, or having a controlling partner – some women have struggled to access that support;
difficulty in carrying out a proper safeguarding risk assessment – interactions are reduced; the ability to pick up on nuances and body language, and to be able to see and take in 'the whole room', are limited; and the cover that masks can provide – leading to an increase in risk, especially when the increase in domestic abuse during the pandemic has been widely reported.
Impact on dads and partners
It's important to note that the MMH Report's writers acknowledge [at p5] that:
The evidence we received on the impact of fathers' and partners' mental wellbeing appears very limited, and this may need further exploration in its own right, including how their wellbeing can impact on expectant or new mothers' mental health (and vice versa).
However, the MMH Report does still contain some comments relating to partners and the wider family.  One of these is in relation to bonding and interaction; where the partners felt excluded from both antenatal and postnatal appointments and visits, there was a concern that they would not be as easily able to bond with their baby.
The Report also acknowledges that: "It can be hard for partners to achieve the level of engagement they would like, even in normal times" [p26].  However, an inability to attend scans, be present throughout labour and birth, and/or miss out in being involved in hands-on care during the early days of life – especially where mum and baby may have to have an extended stay in hospital, perhaps following complications during birth – has led many partners to feel as if they are little more than "spectators" [p26], as opposed to involved, active partners and parents.
There's also another report out next week – this time from the Fathers' Network in Scotland – and the initial summary of their findings notes that:
...lockdown two has had an even greater impact on fathers' wellbeing and the relationships with their partners and children. Dads have had enough of the strain of being pulled in all directions; they are going to be asking for flexible working, greater engagement with schools and services, and are looking for new employment that allows them to spend more time with their children.
Support for dads' perinatal mental health
For so many reasons – including the potential increase in traumatic births (see above), where partners who witness the events are put at risk of developing PTSD, together with the more widespread pressures of the pandemic, including job losses and insecurity, reduced income, and increased time 'stuck indoors' with family – support for partners' mental health is needed more now than ever.  It is therefore disappointing to read that progress in rolling out the 'new' mental health screening available for partners of mums with perinatal mental health difficulties (introduced by the NHS Long-Term Plan in 2019) has been "set back" [p26].
Some silver linings…
Despite all this, the MMH Report also includes some positive points.  For example, for some families, the pandemic has led to partners being furloughed from work, enabling more extended time at home with a new baby, which would have enhanced opportunities to forge a positive, solid bond between dad and baby, to support mum around all aspects of baby care, and to adapt more naturally to patterns of disrupted night-time sleep.  Although not being able to receive visitors to the house clearly has many negative outcomes, it has also meant that there was less pressure on the new parents – for example, to "maintain usual standards of home management" [p26], or to 'dress up' in order to welcome people into their home.  Further, this "reduction in pressures and expectations experienced by some women enabled them to concentrate better on breastfeeding" [p26], although this was not universal.  Being unable to receive visitors whilst in hospital also had some positive impacts being reported by the staff themselves.
These benefits were also noted within the Working for Babies report, which noted at p5:
For some families with babies, Spring lockdown brought some broad benefits, for example around increases in quality family time, father/partner involvement, protected time to establish breastfeeding specifically, and potentially some reduction in premature births. However, these have not been evenly distributed. Babies in families already experiencing disadvantage appear less likely to have seen many of these benefits.
And, of course, there's also the eagerly-anticipated findings of the Fathers' Network Scotland 2021 dads' survey, which seems to suggest that the pandemic may have spurred dads to demand better of the system – for themselves, for their partners and for their children – which, of course, can only be a good thing.
Conclusion
So, what does this all tell us, then?  We would argue that, devastating as this period of time has been for so many families, the reviews and research further demonstrate the importance and value of engaging with and involving dads and partners throughout the whole perinatal period, from Day 1 of pregnancy, through to birth, and beyond.
We would argue the following causes and effects: firstly, excluding dads/partners from antenatal appointments, labour and (on some occasions) birth has:
put additional pressure on mum to have to handle everything herself.  This is challenging for all mums, but especially so for those with pre-existing vulnerabilities or when life-changing decisions have had to be made.  It is therefore essential that health professionals continue to appreciate the importance of forging a solid engagement with dad from the very start, so that he feels valued, involved in and engaged with as a co-parent; he also needs to take responsibility for becoming educated and informed as an individual, and not to add to the pressure on mum to take the lead and 'train' him on all aspects of baby care; and
made many dads/partners feel sidelined, and not an equal partner in the perinatal process.  Some have suggested that being unable to attend at scans, be present for the whole labour, and be able to be with mum during the initial hours and days of the baby's life, has impacted upon their ability to bond with their baby.  Established research supports the importance of establishing a strong and solid positive attachment between father and child, for all sorts of good reasons (have a look at our blog post for more on the benefits of bonding), so any situations which put this at risk should be addressed immediately.
Whilst further research on this specific aspect of the pandemic's effect on new families is still required and awaited, we can be fairly certain that the past year will also have had a detrimental effect on dads' mental health (indeed, the Fathers' Network Scotland 2021 survey will show that "64% of dads told us that their mental health had deteriorated") and therefore, again, this area of parenting support cannot be overlooked.
Further, the fact that some parents were able to report such positive outcomes as a result of having unexpected (a) "quality family time and increased father/partner involvement" and (b) relief from the pressures of receiving visitors (both personal and professional) during the early days of the new family further demonstrates that the current system – of limited paternity leave, of pressure to 'keep up standards' and of pressure to 'return to normal' as swiftly as possible – is not perfect.  Yes, there are definitely good reasons for wanting to have visitors when there's a new baby around: for grandparents and family members to see, hold and cuddle the new baby; to offer emotional and practical support; and for health professionals to support the family – however, the advantages of having had 'a lockdown baby-moon' for many families should not be ignored.
It feels fitting to end with a soundbite from the team at the Fathers' Network Scotland who comment that their upcoming report "demonstrates why now – more than ever – we need to challenge the structures that get in the way of dads' ability to engage meaningfully with their children… [as well as recognising the] impact of family and work pressures on fathers' mental health and wellbeing."  We believe that having DadPad as an embedded part of a perinatal team's toolkit can only assist in supporting dads, supporting parents and supporting families.