Being a Dad, Neonatal, Q&A
Q&A: Lee Pedley
Posted on 9th June 2019
We're excited to be starting a new monthly feature within our News section – a Q&A with connected in some way to the work and aims of DadPad, parenting and fatherhood in general… Our first interviewee is Lee Pedley (@leespeds) a Specialist Nurse within the Cornwall Special Parenting Service and former health visitor here in Cornwall.
Hi Lee.  We'd love to learn a little more about you – we presume you're a dad?
Yes, I have two girls, aged nine and four.  I'm very lucky: I was training to be a nurse when my oldest was six months old so, although I was very busy studying and on placements, the fact that I was a student probably meant that I was around at home more than I would have been.
I was 27 when I started my nursing degree.  I'd never attended university before, instead going straight out to work after finishing college, and was working in sales when unfortunately my mum passed away from cancer. She was a nurse and it was always something I greatly admired so, after gaining some care-work experience and doing an access to nursing course, I applied and was accepted to start the degree. It was a very challenging course but I was thrilled to come out with a first class honours degree.
Tell us a little bit about your current role within the NHS…
I am currently a Specialist Nurse in the Special Parenting Service. This is an exciting new role in a psychology-based service supporting parents with identified learning disabilities in Cornwall.
The children of parents with a learning disability are more likely than any other group of children to be removed from their parents' care.  The Special Parenting Service exists in order to give every opportunity to parents to be supported to parent to the best of their ability. It's a hugely rewarding role that I am really excited to be a part of.
The unique aspect of the role is the direct work we do with dads with learning disabilities. Unlike a lot of other parenting support that focuses heavily on the role of the mother, our service can dedicate resources to working with fathers exclusively where there is an identified need.  This is especially exciting for me, as I get to really support fathers of all ages using the skills and resources I have gained over my years of working in this area.
Before this you were a health visitor, though. That's quite an unusual job for a man, I guess?  How did you end up choosing that role?
Yes, I was the only male health visitor in Cornwall and there aren't too many in the UK!
I had been a recipient of the health visiting service as a new, young (ish!!) dad not long before beginning my degree. Unfortunately, although my wife found it largely positive and supportive, I had the opposite experience. I had attended as many appointments as I could but I was largely ignored. I had made the effort to be there, as I was excited about becoming a dad and wanted to learn what I could, so it was disappointing to not be included.
Health visiting was never on my radar as a possible career choice when I began my nursing degree. It all came about during my first-year nursing placement with the health visiting service in Cornwall.  It was a placement I had very little expectations of; I honestly thought it would be boring and all just "weighing babies and drinking tea"!!  How wrong I was…
I was hooked from day one. My mentor sent me on a new baby-led weaning course. My own daughter was just getting into weaning so it just felt so relevant. After it had finished, I went home and totally changed the way we were weaning our baby. Over the three-month placement I witnessed, first-hand, the complex and challenging role that a health visitor has and, most importantly, the positive impact that you can have on a child's life.
I left the placement knowing that I wanted to be a health visitor.  The opportunity to support parents make positive life choices for their child, and to ensure that their family is given the best support to enable their child to be given every opportunity to thrive is an amazing privilege.
In order to become a health visitor, you have to complete a further education course based around public health and child development. This is done via a mixture of academic work and work experience.  I was extremely lucky to be accepted to complete this course straight after my nursing degree.
I was also lucky enough to work as a family nurse in the Family Nurse Partnership (FNP) service for two years before it was unfortunately decommissioned, due to funding cutbacks. This was a service dedicated to supporting teenage parents with their first child. The internationally-renowned training for this role afforded me a whole new skill set in communication and change behaviour. It was especially exciting for me as there was recognition within the programme of the importance of engaging and supporting young fathers.  This gave me the opportunity to work closely with young dads and really gave me an insight into how the younger generations view their role as a father.
What sort of reaction did you get, as a male health visitor?
Being a male health visitor was never an issue; in fact, I would go as far as saying that it was an advantage. I was lucky enough to receive a lot of positive feedback about how refreshing it was to have a different perspective. Some of the feedback included mums feeling less "judged" by a male health visitor.
One of the areas I assumed I may have had issues with was breastfeeding support. However, this was also never an issue. Although, obviously, I have never breastfed personally, I had supported my wife with feeding. As I gained more experience, I felt that I could again bring another perspective to breastfeeding support which was inclusive to fathers. Fathers can play a vital role in supporting breastfeeding technique in those early days when things can be particularly tough. They are in the unique position of not only being able to provide emotional support for mums but can also see the whole picture, and so can help with positioning and latch. I always tried to include as many dads as possible when discussing breastfeeding; it's so helpful if they, too, know what a good position and latch looks like.
My colleagues were always extremely supportive. My original student nurse mentor backed my application for the health visiting course. She was so supportive throughout and even became my boss when I first qualified. My health visiting mentor was also fantastic and really gave me the confidence and skill-set that prepared me for this challenging and complex role.
What insight have your jobs given you into the role of the father today, and as to where additional support/change is needed, both within the health service and society in general?
The role of the father has changed dramatically over the last 20 years, and probably even more so during the time that I've been a health visitor.  On the whole, I believe fathers are becoming more and more involved in parenting. Gone are the days where men go out to work and women do the parenting; the balance in parenting roles is now edging more and more towards 50/50. As such, the support and services available should start to reflect this change.
In Cornwall, we are lucky to have services like Wild Young Fathers and great progressive apps and resources like the DadPad. However, more could be done within services to be more inclusive of fathers. I have been encouraged by the meetings and training that I've attended over the last few years. They are really bringing the importance of fathers in parenting to the forefront of practitioners' and commissioners' minds. Having these conversations and generating ideas on how this can be reflected in front line maternity, health visiting and family support services will hopefully lead to more father-inclusive services.
I am keeping an eye on the research based on identifying postnatal depression in fathers. This is a long overdue, and vitally needed, area of research. Recognition of the effect that PND can have on new dads – as they take on more and more of the parenting role in those early weeks and months – is vital, so that fathers can be supported appropriately.
What inspires you to get up and carry on in your job each day?
As cheesy as it sounds, it's the opportunity to make a difference in a child's life. This could be doing something as small as helping a parent to understand the importance of a healthy diet on a child's growth and development. This change could literally affect the child's whole life: a child that eats a healthy, balanced diet is less likely to suffer obesity later in life. They are also more likely to have better brain development, increasing their chances of succeeding both educationally and socially.
I count myself lucky to have such a privileged role.
We've sent you a copy of the current version of the DadPad, and you've also had sight of the new DadPad app (Cornwall version). We'd love to know what you think of these resources!
I must start by saying how impressed I have been, during my time working in Cornwall, by the development of the DadPad. It's such a great resource for fathers, and provides the opportunity for other services to utilise it in order to be more inclusive towards fathers.
I hadn't seen the new DadPad Neonatal until you sent it to me. WOW – what a resource! Having spent 11 days in neonatal with my first child and experienced first-hand the terror that this can induce, I only wish I had had this resource at that time.  Every father (and mother!) should have the DadPad Neonatal made available to them as soon as their baby is admitted to the neonatal ward. I particularly like the way that the medical equipment has been photographed and explained.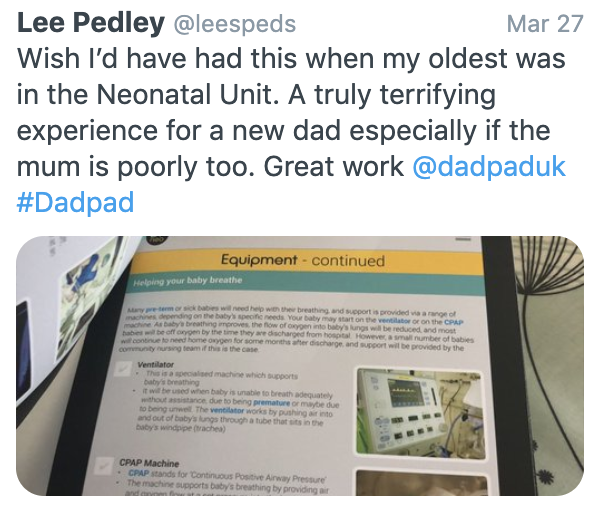 For me, putting the DadPad into an app makes it so much more accessible and is a great idea. I have it on my phone and show all the dads that I am working with.  I love the links to local services; a really useful resource. My favourite part is the "Getting to know your baby" section, with so many great tips on how important it is to interact and play with your baby from day one!
I like how the DadPad uses practical aspects of parenting – holding a baby, for example, is a skill that so many new dads are quite worried about. The DadPad has clear advice on what to do and what not to do.
In terms of making the resources even better, it would be useful to see links made between the advice on holding your baby and the ways in which you can bond with your child and enhance their brain development.  It would also be really great to see an easier-read version* of the DadPad being made available, too. With around 300 families in Cornwall having a parent with a learning disability, there's an opportunity to provide a really focused and unique resource that would be highly beneficial.
* We're delighted to report that we are already working with local service providers to get an easier-read DadPad developed! We will be liaising with Lee to ensure that this resource meets the needs of the families with which he works.  We've also taken on board his suggestion to link the practical advice on holding with the section on bonding and are already looking into how we can achieve this in the app.
Thanks to Lee for such a fantastic first interview!