What is the DadPad?
It's the essential guide for new dads, developed with the NHS.
Why do you need it?
As a new dad you will feel excited, but you may also feel left out, unsure or overwhelmed. The DadPad can help by giving you the knowledge and practical skills that you need.  The resource will support you and your partner to give your baby the best possible start in life.
Introducing DadPad Neonatal
Being the parent of a child in neonatal care can come with lots of additional emotions and problems. DadPad Neonatal offers help and support in these situations. Find out more.
Download a 10 page sample here
Download the first 10 pages of The DadPad for free
Complete this form and then check your email for your download link. After receiving your download, we may email you from time-to-time with hints, tips, news and resources to further help you be dad ready.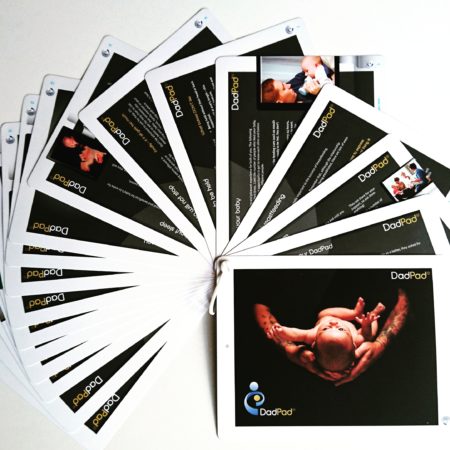 Reduce your own anxiety by getting involved and gaining in confidence
Learn how to create a strong bond and healthy attachment with your baby
Build stronger family relationships by sharing the load and learning how to parent together
Recognise the signs of postnatal depression in both yourself and your partner, and learn how to get help early
To buy your own 38-page wipe-clean DadPad for just £10.00 (including 1st class postage to a UK address):
To order bespoke DadPads which meet the needs of your business and to find out more on how the DadPad can work for you, your patients or your employees:
Young dads find it difficult to ask for help, particularly where their partners can become expert in the practicalities quite quickly and they don't. [The DadPad] is about Dads being prepared for some of that tension and strain of being a new parent, but without being overwhelmed and knowing that it's not just mums who can access the help and advice that's available, even if they don't live with their partner.
I was a bit scared when we found out we were having a baby, obviously happy, but a bit scared and in the beginning I was a bit clueless. The child development part is my favourite bit, but there's things in there, like things about mental health, that I didn't know about and that I didn't know you needed to know about.
The DadPad gives support to new fathers who can often feel left out and unable to help when they're needed most, and this can put a strain on both parents.
Sign up to our newsletter for all the latest Dadpad news