Find out more or buy your 32-page wipe-clean DadPad for just £10.00 (including first class postage and packing to a UK address).
To order bespoke DadPads for your business's needs and to see how the DadPad can work for you, your patients or your employees
The DadPad is for fathers who want to provide the very best start for their child. Whether you are about to be a first-time dad or want to ensure you can still cover all bases for your next child, the DadPad is the resource you want within arms reach throughout.
The DadPad is best utilised as early as possible during pregnancy, around birth and beyond (in particular during paternity leave, if you take it), and provides guidance to the age of 2. Fathers who make use of the DadPad need to be engaged with the content, and distraction free, to learn and put the skills into practice to have the biggest positive impact.
Gain the essential mindset and practical skills necessary, even if you have no experience
Developed in conjunction with the NHS
Low cost, high value resource –  you will use it lots!!!
Save time by quickly getting to grips with your new responsibility of being a father
Reduce anxiety, become confident to offer the help needed
Provide the best support you can for the child and mother
Your DadPad will contain pages on the following topics:
Health Visitor Team Feeding: Breastfeeding
Feeding: Dad's role in breastfeeding
Feeding: Bottle-feeding
Holding: Holding and handling your baby
Holding: How babies like to be held
Crying: Caring for a crying baby
Crying: When the crying will not stop
Sleeping: Safe sleeping
Sleeping: Surviving without sleep
Changing: How to change a nappy
Cleaning: Washing your baby
Cleaning: Bathing
Getting to know your baby: Bonding
Getting to know your baby: Communicating
Getting to know your baby: Play and learning
Getting to know your baby: Baby massage
Child Development
Supporting each other: Relationships and sex
Supporting each other: Getting through the first months
Supporting each other: Supporting your baby's mum
Supporting each other: Looking after yourself
Legal information: The basics
Legal information: Access and contact
Parenting advice and support
Further information
Julian Bose is the developer involved in co-writing the DadPad with the NHS in Cornwall and Cornwall Council's Public Health team.
If you have any questions, you can contact Julian by emailing julian@thedadpad.co.uk or calling 07403 274757.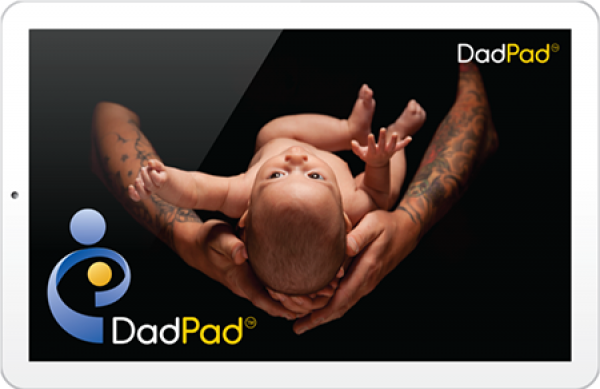 Product description
A practical guide to gaining the confidence and skills necessary to be the very best dad you can be.
1st Class UK postage included
I was a bit scared when we found out we were having a baby, obviously happy, but a bit scared and in the beginning I was a bit clueless. The child development part is my favourite bit, but there's things in there, like things about mental health, that I didn't know about and that I didn't know you needed to know about.
Young dads find it difficult to ask for help, particularly where their partners can become expert in the practicalities quite quickly and they don't. [The DadPad] is about Dads being prepared for some of that tension and strain of being a new parent, but without being overwhelmed and knowing that it's not just mums who can access the help and advice that's available, even if they don't live with their partner.
The DadPad gives support to new fathers who can often feel left out and unable to help when they're needed most, and this can put a strain on both parents.