About DadPad, Parenting Advice
About DadPad: DadPad Animations
Posted on 14th August 2020
This Wednesday, we released the first in a series of new, short animations and we've been delighted to have already received so many positive comments and 'likes' on social media.  We'll be releasing a new video each month, on the second Wednesday.
[We're hoping to have the video embedded right here very soon! In the meantime, we've added the link to viewing it via our Facebook page at the bottom of this post…]
We spoke with our DadPad CEO, Julian Bose, about the animations.
Q: Hi Julian.  Tell us about the animations…
We've commissioned a series of eight animations which – topic-wise – mirror the contents of the 'Bonding' section of our Quick Read DadPad, as well as covering a few aspects of baby care.
We're hugely fortunate to have benefitted from a second follow-on grant from the amazing team at Smartline, part of which has been used to fund these animations.  The remainder is going towards the development of some exciting new versions of the DadPad – which we'll tell you more about at a later date!
Q: Why have you commissioned these?
Our aim for the animations is to bring the instructions from the Quick Read DadPad to life.  This is therefore another component of our plan to get our dad-focused resources available in as many formats as possible, to ensure that they are as accessible to as many people as possible, whatever their learning style.  We started this endeavour when we commissioned the Quick Read DadPad, which is an image-rich, back-to-basics version of our original 'essential guide' DadPad, aimed at those who respond more positively to illustrations and/or a more 'easy read' type format, and the animations are just further developing that idea.
It's also all part of our ongoing mission to show positive male-dad images within a perinatal setting.  By doing so – as in our guides – we get men seen performing basic baby care tasks and understanding why it is so important for them to bond with their baby and be involved.  It is our hope that this series of animations can be used more generally, to normalise such imagery, and compliment our current suite of resources.
We also hope that they'll be 'share-able' and that lots of people will get to see them via our social media channels.
Q: Tell us why you've gone with some rather unusual looking cartoon-style dads…
DadPad aims to alter many different misconceptions whilst also educating new dads with evidence-based facts and skills information, in a space where there's not been this type of focus before; we're all about empowering dads at the crucial time.
The currently-available animations that we've seen being used for (e.g.) the NHS and other health-related videos are very similar to each other in style, and we wanted to come up with something a bit more unique.  We worked with a young animation studio, who are used to producing 'explainer' videos with more angular and edgier characters.  Again, we've tried to be inclusive, as you'll see as we release more in the series – we've tried to depict various different 'types' of dad, from dads with a disability, to dads from diverse backgrounds, and dads of different ages, and sizes.  We want to make sure that as many 'real' dads as possible can see themselves in these animations (within the obvious limits of this medium).  Whatever the look/size/character of the dad portrayed, though, the overriding impression we want viewers to take away is that dads are seen playing a vital role in the care of their new baby, right from the word 'go', and not think their role as a new father starts later on which has, until recently, often been the established point of view.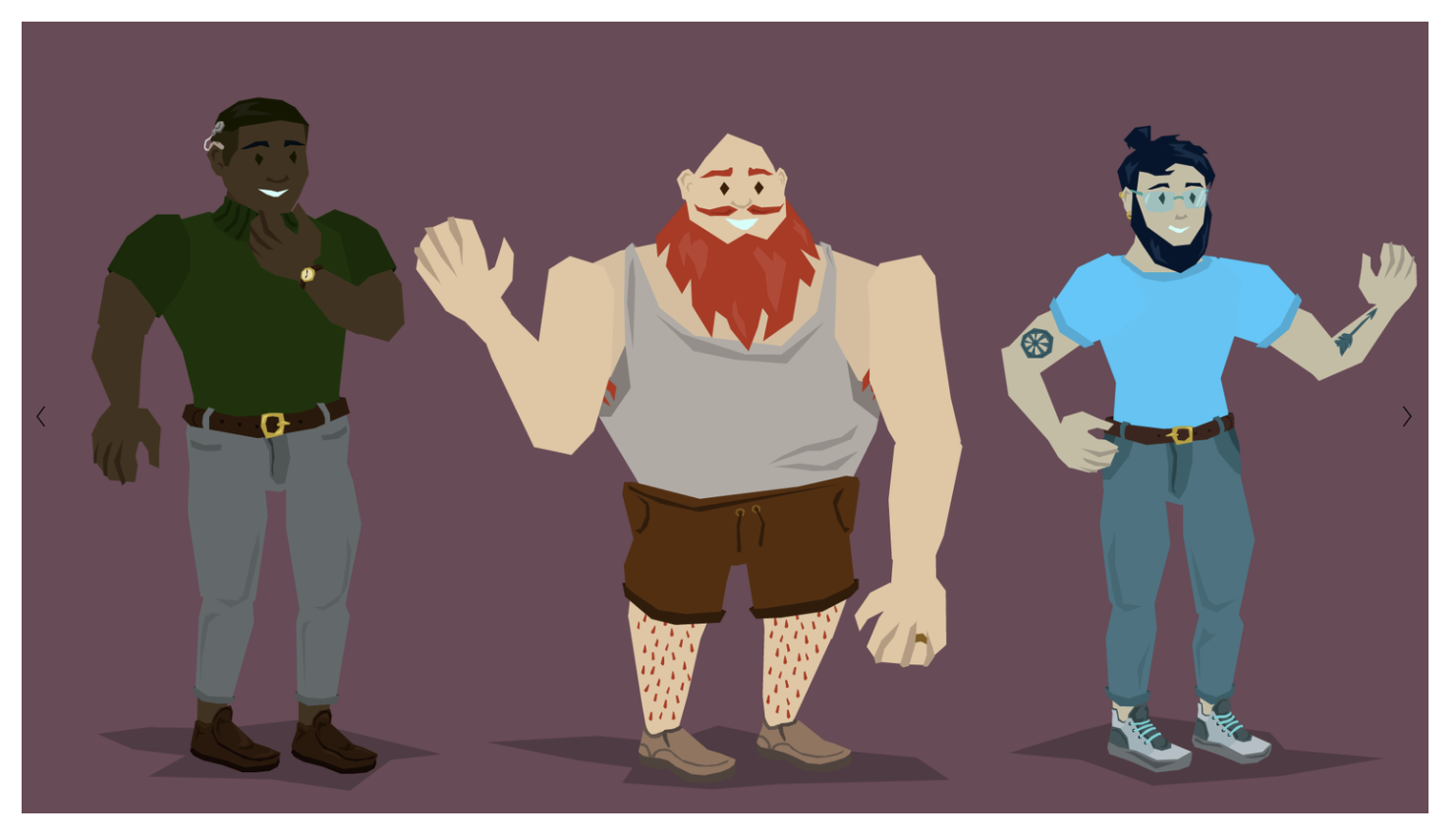 Some of the 'dad characters' created by End of Night Productions for the DadPad explainer videos.
Q: Tell us about End of Night Productions, who you worked with on these animations, and why you chose them?
I've always considered Falmouth University, here in Cornwall, to be a great hotbed of creative talent and reputation.  They've been reaching out to businesses for some time and, through their Launchpad outreach programme, we have got to know about some of the brilliant skill-sets available within their recent graduate cohort and companies from this course.
We happened to come across two recent graduates who were already established as a company and who had recently completed work for the Red Cross.  Matt and Rebecca seemed the perfect fit, and soon came up with the style and characters for our animation series.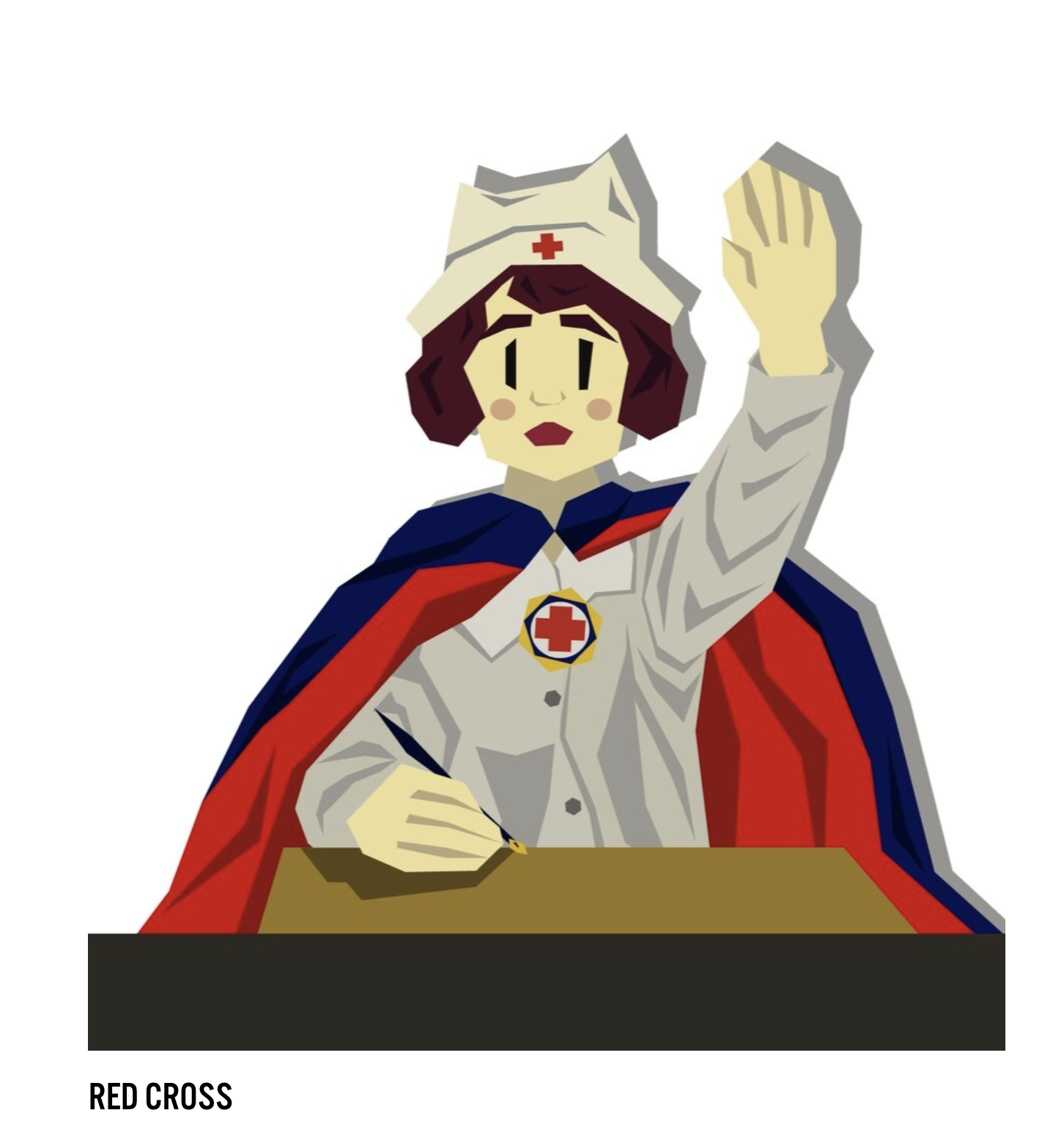 A screenshot from the End of Night Productions' Projects webpage, showcasing their work for the Red Cross.
Q: How did the production arrangements go?
It's been great to have had our two newest team members – Adam and Georgie – on board to help with this project.  Adam has been working closely with the animators to ensure all necessary alterations have been made, after Georgie had collated feedback from her established nationwide new parent and health professional focus groups.
Q: Are there any more new developments in the pipeline?
Yes. Continuing with content creation, and as part of our ongoing commitment as a CIC to reinvest in our work, we have commissioned international media company, Vitamin, to make a film that will explain DadPad and its aims in an effective and engaging way.  The intention is for the video to be used by all DadPad commissioning areas (both established and forthcoming) to ensure that those on the frontline and in touch with families buy into and understand the 'DadPad ethos' of positive early engagement with new fathers.  We have been longing to paint this picture for a few years and video delivery of this is particularly important now, during Covid, with the lack of opportunities to get out, meet with and chat to people, for both us and the health professionals.  as it is for us to really make the shift to including fathers as an embedded process.  I've actually been up in London this week, getting involved with the filming (there's a little taster photo, from the filming, below), and we're hoping that the video will be ready for release this autumn.
We're really excited about all the new developments that we're hopefully getting out there this year – now, more than ever, it's essential to work on getting support out to dads-to-be and new dads in innovative ways.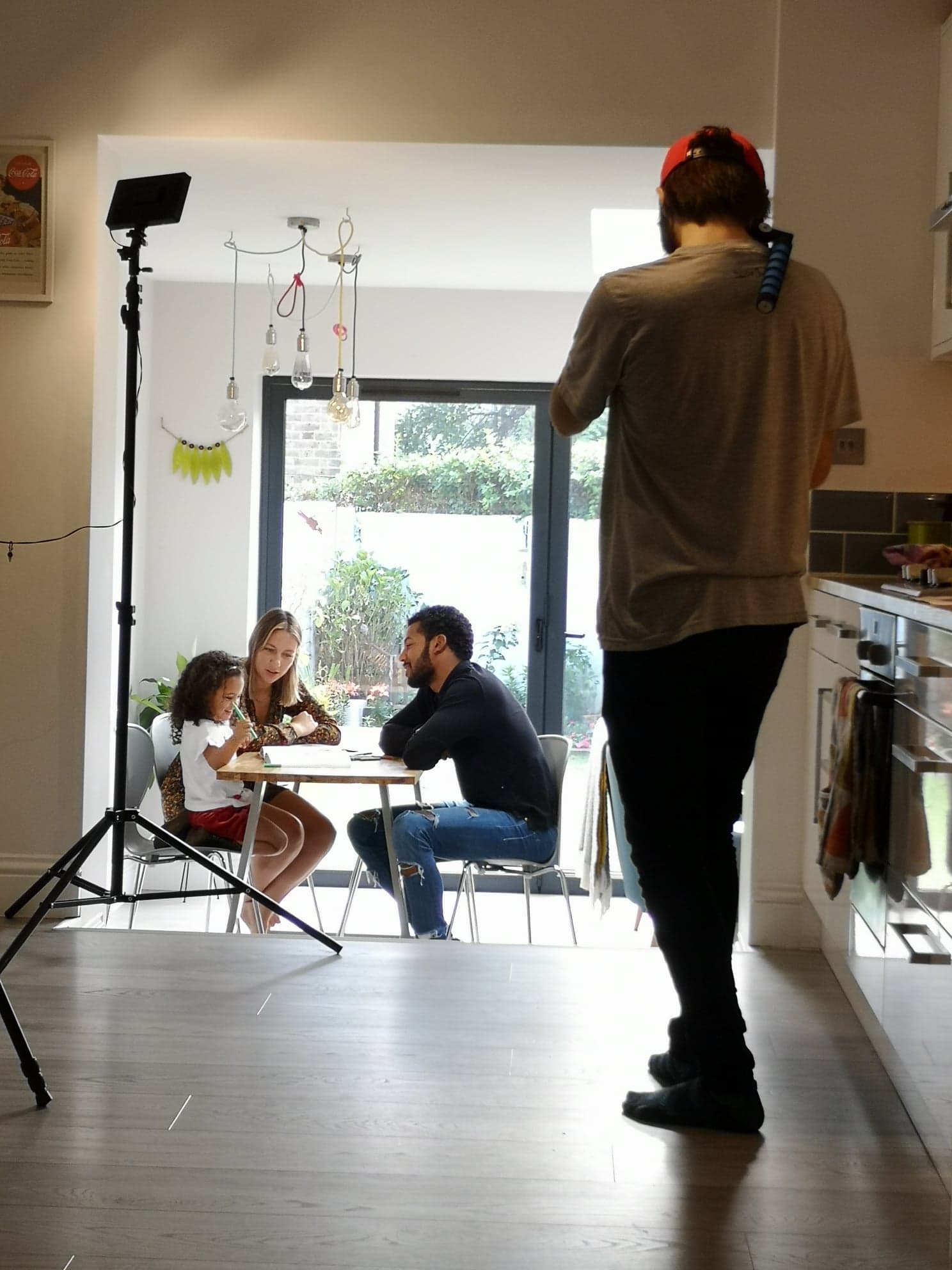 Photo taken by Julian, on-set as the team from Vitamin film our new DadPad video – coming soon!
To view the first of our #DadPadAnimations video, pop over to our Facebook page… (and make sure you've unmuted it so that you can hear, as well as view!).