About DadPad, Being a Dad, Long Read
About DadPad: Why dads?
Posted on 20th November 2020
Our blog from 28 August argued that DadPad – far from being a sexist idea – could actually be seen as a feminist concept, as it helps achieve gender equality for both mum and dad. Today we're looking at another linked topic: why we have chosen to focus on male dads and not also provided help for other non-birth-parents.  We occasionally find ourselves charged with the accusation – via email, on social media, etc – that, by not also catering for non-dad parents, we're failing to acknowledge significant sections of the population and, by calling it the DadPad rather than the ParentPad (for example), we're being discriminatory.  We disagree, and we're hoping to address those concerns below, delving deeper into why our unapologetically dad-specific product has been developed.
So, why did we develop it as 'the DadPad'?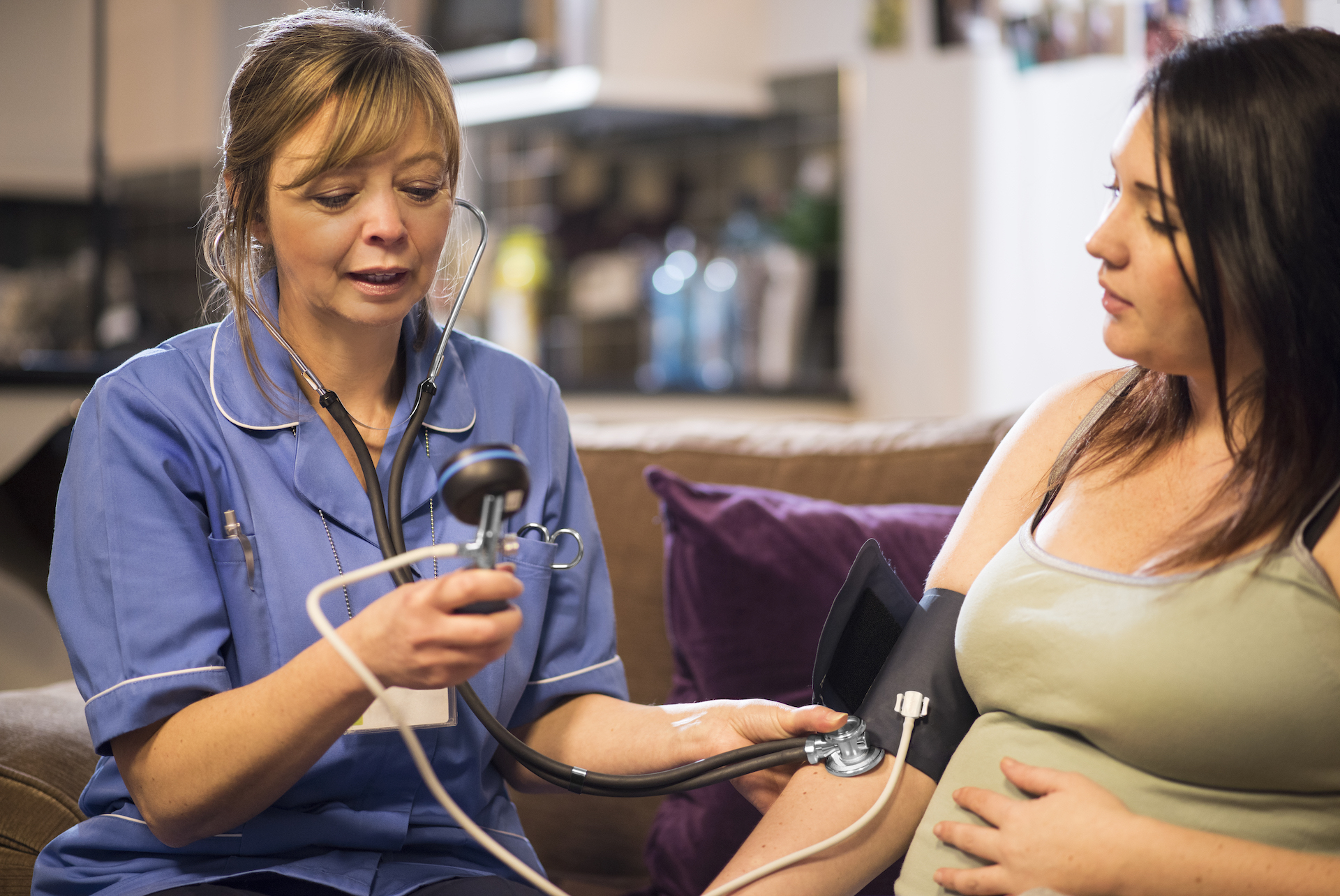 Health professionals wanted the DadPad
The DadPad wasn't something that we dreamt up by ourselves: we were commissioned by our local perinatal and public health teams, for delivery via the maternity and health visiting services, with the specific aim of developing a resource which would engage and include dads-to-be and new dads, a group that were acknowledged as lacking targeted provision, resources, involvement and engagement during the perinatal period.  In other words, it was the health services who were beginning to recognise the need for a resource to help them engage with dads and it was them who encouraged its development.  With this aim in mind, the concept was developed by Julian and, with the help of various experienced health professionals, the DadPad was written for and with input from male-dads in order to meet their specific needs and requirements.
This reflects government initiatives, including the acknowledgement in the Every Child Matters report (shown with our underlining added) from 2003 that (among other things) there needs to be:
a stronger focus on parenting and families. We need to pay more attention to the critical relationships between children and their families and provide them with better support. 

We should recognise the vital role played by fathers as well as mothers

.  When children cannot remain with their birth parents, we need to ensure they can develop stable, loving relationships with carers
The report also noted that "the Government would like to develop more and better universal services, open to all families as and when they need them", which could include (again, among other things):
support programmes for fathers

as well as mothers so that all children, but especially those who are living apart from their fathers, develop positive relationships with both parents
ensuring better communication between parents and schools to help support children to learn.  We need to look at opportunities for families,

and especially fathers

, to become more closely involved in school life through parents' associations, as school governors, and as a result of home-school contracts
Subsequent to this, we can look at the House of Commons Health and Social Care Committee's 2019 First 1000 days of life report, which included a recommendation that the best way to ensure that healthy attachments are formed and adverse childhood experiences (ACEs) are prevented or mitigated, "depends on involving the whole family" and that all "health professionals, and particularly health visitors, need to understand a child's health and development in the context of their family environment." Drawing upon research and reports from the Fatherhood Institute and Action for Children, it was recognised that fathers felt "excluded in the antenatal period, with potentially worrying consequences for the child of the family" and also that "perinatal services have focused largely on mothers presenting with severe mental health problems, and less on the child and fathers or partners."
The Parent-Infant Foundation's 2019 Development and Implementation Toolkit includes the comment that:
Despite good evidence that the engagement of fathers is highly beneficial for children, mothers and the whole family even where parents are separated, fathers are more likely to be overlooked or inadvertently excluded by services supporting children.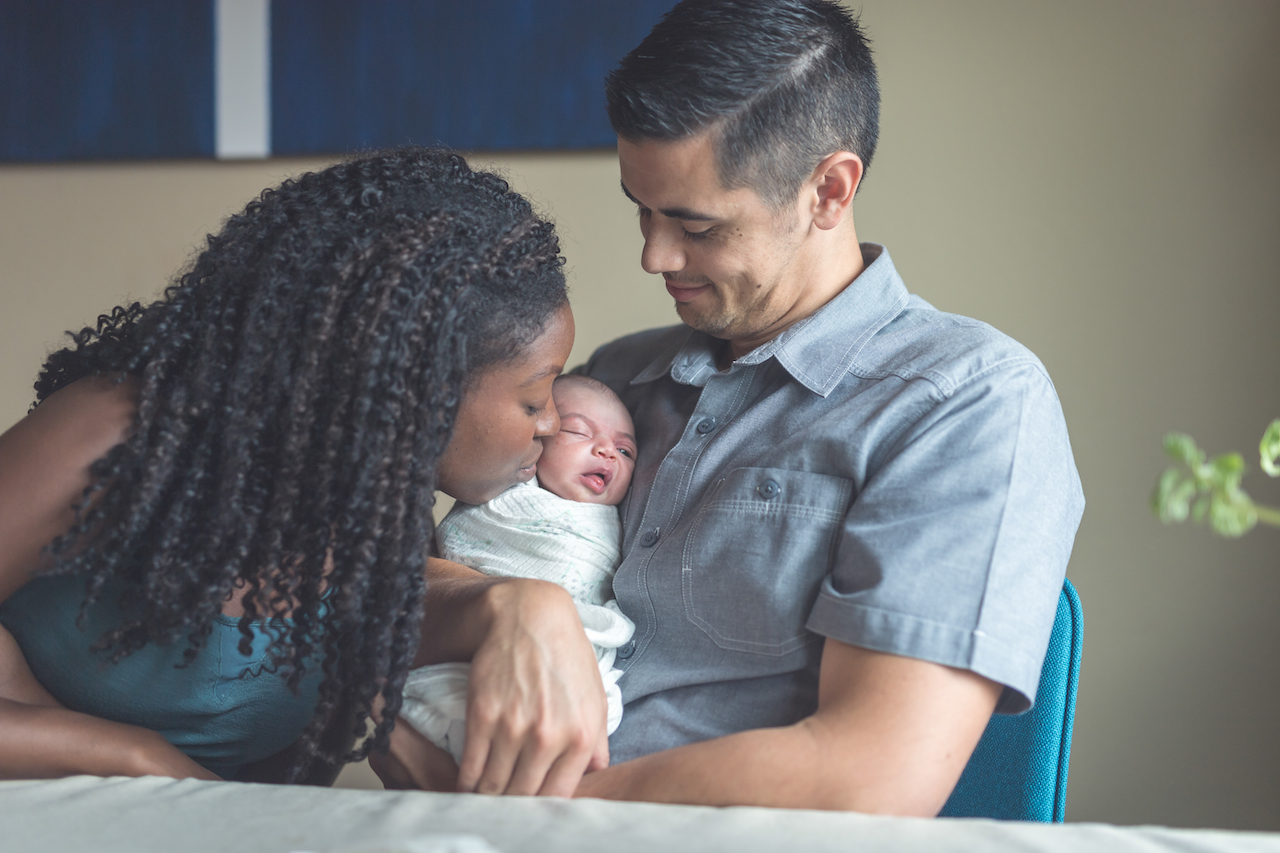 The numbers support it
Getting to grips with the detail on what modern families look like is tricky, but the Office for National Statistics (ONS) is always a good place to start.  Delving into their published statistics is not an easy task, but there is data readily available in relation to 'family type' in general.  Looking at the statistics published for 2015, for example, we can extrapolate that, of the 4,704,000 families in the UK that year with dependent children:
75% of them were headed by parents in a heterosexual relationship, whether they were married or cohabiting;
just under 25% of them were headed by a 'lone parent'; and
a little over 1% of them were headed by an opposite sex couple who were married, in a civil partnership or cohabiting.
Looking at these figures, then, we can already see that the vast majority of children in the UK are – despite definite changes – being raised by a father and a mother living in the same house.
This information is supported by the findings of The Fatherhood Institute, in their "Who's the Bloke in the Room?" report from June 2018.  Written by Adrienne Burgess and Rebecca Goldman, the report is part of their 'Contemporary Fathers in the UK' series and, within the section on 'Family structure at the time of the birth' (at p17), they report :
[A]lmost all the 'partners' [of the mother] at the time of the birth are the infant's biological fathers. Even among teenage mothers only 2.2% have a new partner at the time of the birth (ONS, 2014). Among older mothers this is virtually unheard of, and just one baby in every 1,000 is registered to two women (ONS, 2016c). Nor can one assume, even if an infant is registered in the mother's name alone, or the mother has a new partner or the birth is registered to two women, that the biological father is absent. A survey of over 5,000 mothers found that only 2% had not told their baby's father of his impending parenthood (Redshaw & Heikkila, 2010). One small qualitative study of lesbian-identified mothers found that two-thirds had opted for a known male donor, with varying degrees of involvement in parenting by him (Touroni & Coyle, 2002).
It's also worth, at this point, quickly putting to bed another myth surrounding fathers – that a lot of them are absent from the lives of their child(ren) and/or the mothers of their children.  Again, we can turn to The Fatherhood Institute's 2018 report for statistics on this (at p16):
What is clear from the birth registration data and from substantial cohort studies ... is that at the time of the birth there really are hardly any 'single mums'. Throughout Britain, almost all births (95%) are now registered by mother and father together with around 85% of parents living at the same address (married or cohabiting). Among the 15% living separately, two-thirds are 'romantically involved' or 'friends'; and among the 5% who say they are 'not (or no longer) in a relationship' (Kiernan & Smith, 2003), one in ten of the fathers attends the birth; one in four enters his name on the birth certificate; and one in four is still in touch with infant and mother nine months later (Kiernan, 2006).
What this all goes to show is that male-dads-who-are-involved-to-a-greater-or-lesser-extent-with-the-biological-mother-of-their-child form a very large and significant majority when we are considering who the pregnant woman's partner/baby's co-parent is, and they deserve the right to have their needs in relation to all aspects of the perinatal period addressed – without apology, excuse or dilution.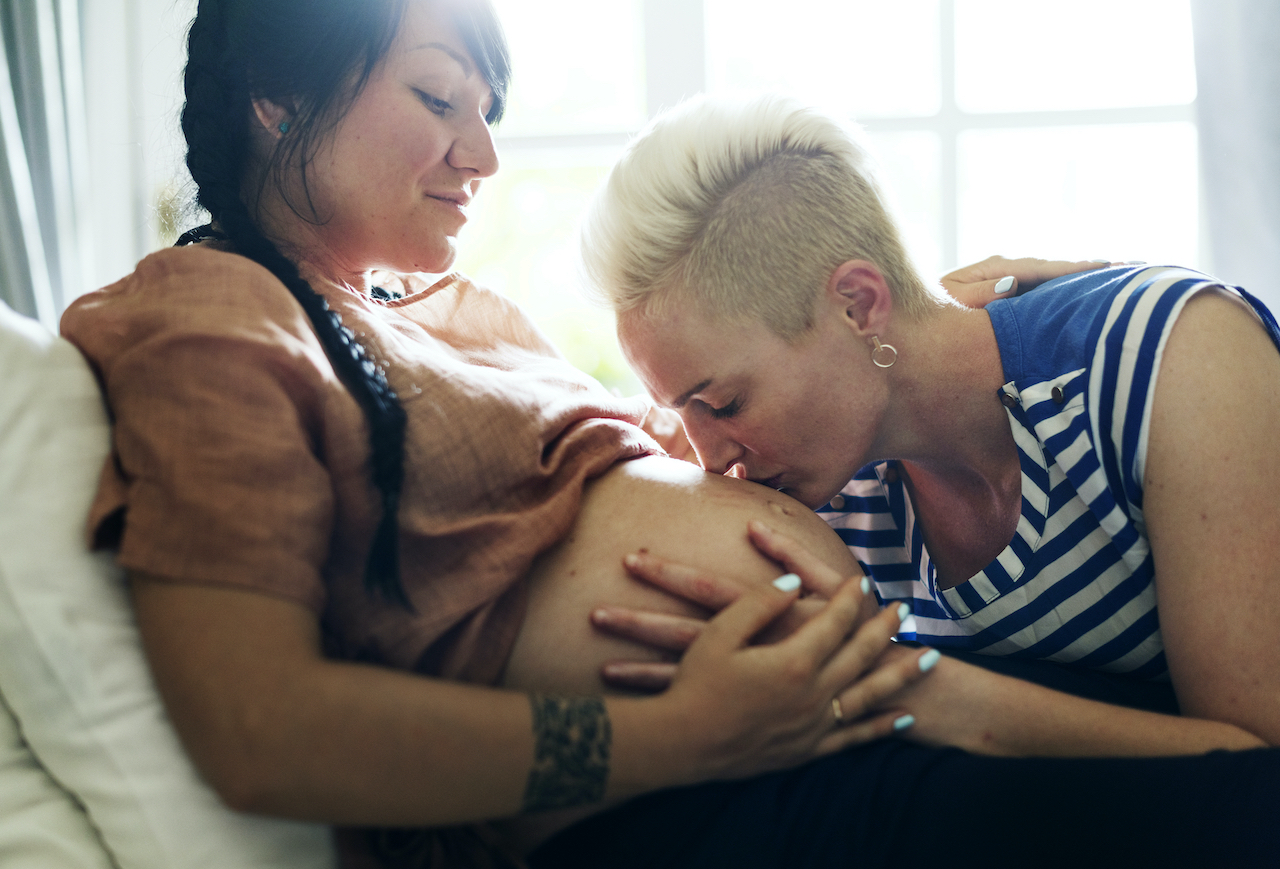 We're not saying that same-sex parents don't exist…
Just because we're responding to a real and genuine need to provide specific, evidence-based support to one, significant group of the population whose needs are currently not being met, that doesn't mean that we're failing to acknowledge that there are other parent demographics out there.  For years, it's been widely accepted – and with good intentions – that the primary focus of all maternity support has been on mum-and-baby.  By and large, all others involved in the reproductive process have been ignored. Traditionally, this has meant male biological dads, but it also of course extends to encompass all others with the potential to be involved, such as: same-sex couples becoming parents via adoption, surrogacy, birth and being a non-birthing partner; individuals becoming parents or step-parents to children who are not biologically theirs but who are being born to their partner; and heterosexual couples becoming parents via adoption and surrogacy [and we looked at aspects of being an adoptive dad in a recent blog post].
One of the core points that we are continually trying to demonstrate through our work is that, to support mum and baby properly, then whoever is their co-parent is just as important to engage and involve to ensure that the 'maternity' support being provided is robust and effective, and not subject to the continued insistence that mum provides, holds and imparts all the information, a burden that mums seem to have been expected to bear since time immemorial. As we move, as a society, to more equal relationships and shared responsibility, surely there should also come a respect for the ability of every parent or parent-figure within that baby's life to be provided with and have an understanding of critical issues that affect both parties?
However, we think that there are two key points to acknowledge here. First, just because equality of help and support is not currently available to all parent demographics, that should not preclude anyone from attempting to provide this to one such group – why should dads not have the assistance with all aspects of parenthood that they have long been missing? (And, further, shouldn't those who are trying to provide this be supported and championed for what they are doing, rather than pilloried for what they are not?).
Secondly, to try and be "all things to everyone" is to fail to acknowledge that the perspective of each parent demographic will differ…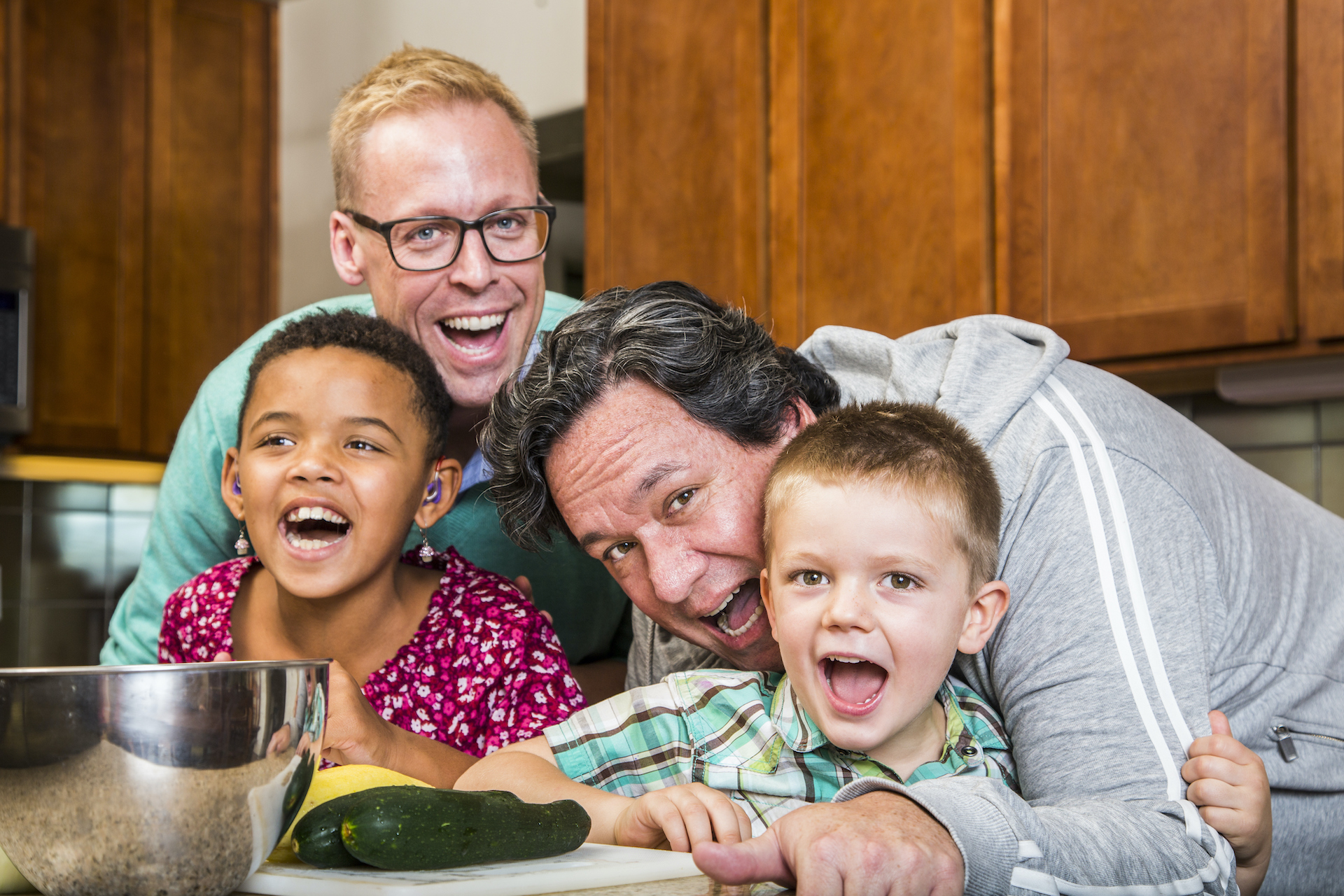 One size doesn't fit all
To adopt a 'one-size-fits-all' approach would also be to do a severe disservice to other new-parent demographics.  It is obvious that men's postnatal needs will be quite different from those of the mum who has just given birth and/or may be breastfeeding baby.  Men-as-dads will also potentially behave differently to same-sex-partner non-birth-parents, for example, in terms of their openness, willingness and potential to act as a positive agent for birth-mum during the perinatal period.  The DadPad has been written explicitly for, and with feedback and input from, male dads: information on things like mental health, the law, and relationships and sex, for instance, have all been written with the purpose of suiting the perspective of a male reader who is/has been in a relationship with the birthing woman.  Products for same-sex partners and other parents do, we believe, need the same focused, evidence-based and expert approach in order to be similarly successful, authentic and valid.
The DadPad is grounded in research
Further, from the beginning and as we continue, our work is based upon and grounded in research evidence concerning aspects of fatherhood – including:
their role in the lives of their partner and their child,
their mental health and the impact of poor paternal mental health on their families, and
the barriers and challenges that can be faced when trying to engage with and offer support to male dads
Although initially scant, the volume of research into aspects of fatherhood has been growing in recent years, and this has enabled us to really identify the areas where focus is needed.  These include:
1. Male-dad engagement:
As we have seen documented through research, men – although often, and nearly always, present – are not being engaged with and involved during pregnancy, birth and beyond to the same degree that mums-to-be are.  This, of course, raises issues regarding the duty to provide equality of care for men during the perinatal period, which we explored in the first blog in this series.  Whilst we would like to think that the majority of dads-to-be are ready to be totally and positively involved as a co-parent, the evidence shows that this is just not the case.  We acknowledge that, often for cultural reasons and expectations, men may not necessarily put themselves forward to help support their partners and babies.  We cannot ignore the fact that men continue to disengage with education and support, and this is why we provide a dad-specific resources – in order to normalise the experience and support the shift towards a more equality-driven parenting culture.  If we can achieve this, then we will be able to relieve the pressure that is being placed on female-mums to predominantly be the sole caregiver; in turn, this will support the development of positive attachments between the child and the male caregiver for the wider benefit of all.
This point is supported by Jeszemma Garratt, Head of Training at The Fatherhood Institute, who tells us:
One of the points we stress in our work is the importance of actively using the 'F' word (father) in any letters, posters, papers, briefings, tender documents or other communications you produce. Unless you explicitly address fathers, they are overlooked and implicitly excluded: most people (mothers and fathers, practitioners, policymakers, researchers etc) see the word 'parents' and read it (consciously or subconsciously) as meaning 'mothers'. This is important because it helps create a situation where dads (by which we mean the full diversity of men with a significant caring role in children's lives, including biological and other fathers and father-figures), as well as mums (in a similarly diverse sense), feel comfortable and valued – in the context of a culture which still privileges women as more naturally suited to caring, and more important as parents (and by extension, less important in other contexts, e.g. the workplace).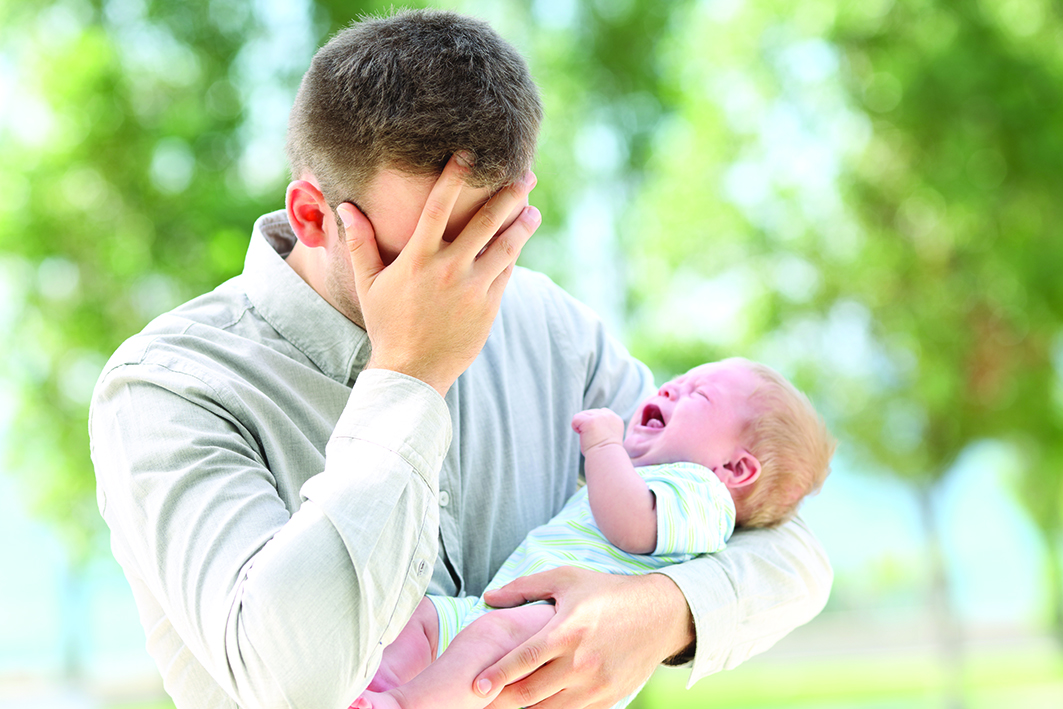 2. Paternal mental health:
The research evidence is clear on the fact that dads can and do suffer from perinatal mental health conditions – including post-natal depression – in the same way that mum can.  However, for a whole host of reasons – including in particular cultural expectations of masculine behaviour, and a failure by the health services to offer the same degree of support, screening and assessment to dads during the perinatal period – dads are often not receiving support when they start to become ill, sometimes leading to tragic outcomes. For example, we know from perinatal mental health expert Dr Jane Hanley, that "…with the reticence of fathers to express how they truly feel, it is not always possible to predict their behaviour. Studies have identified the risk of suicide in the postnatal period as almost 5% higher compared with fathers without depression."  By using the DadPad (alongside our social media, blogs and other outreach work) to raise awareness with dad of the fact that he could suffer with his mental health when he becomes a father, what symptoms to look out for, and where to go to seek help, we hope that we will be doing our bit to help.
3. Safeguarding concerns:
Whilst we could quote a range of statistics, two key sets of numbers here are that:
According to figures quoted by the UK's ICON – Babies Cry, You Can Cope campaign, approximately 70% of shaken baby syndrome incidents have male perpetrators.  Further, a report published in the US National Center for Biotechnology Information journal last month suggests that the perpetrator of incidents of abusive head trauma in infants under the age of five years is "usually a caregiver or parent, with 65% to 90% being male"; and
According to the Confidential Enquiry into Maternal and Child Health (CEMACH), and as reported by the BMA's Report on Domestic Abuse (from 2007, updated in 2014), "It has been estimated … that around 30% of domestic abuse begins during pregnancy."  Further studies suggest that the overall prevalence of domestic abuse during pregnancy in industrialised countries ranges from between 0.9% and 20.1% (although there are also some – albeit limited – studies which suggest that pregnancy could actually act as a protective factor within some domestically-violent relationships), with the domestic abuse charity Refuge noting on its website that, in 2017-18, 20% of women using their services are pregnant of have recently given birth. They also go on to identify that pregnancy can be a risk factor for domestic violence. [NB. Whilst we acknowledge that domestic abuse can happen in all relationships, regardless of gender or sexual orientation, ONS figures quoted by the Women's Aid charity indicate that "…the vast majority of… domestic abuse is experienced by women and perpetrated by men. A woman is killed by her male partner or former partner every four days in the UK. In the year ending March 2019, the majority of defendants in domestic abuse-related prosecutions were men (92%) and the majority of victims were female (75%)."]
These are two core reasons why it is important for health professionals to become more aware of the importance of seeking to engage with the dads-to-be, in order to better understand what the new baby's family situation is and can be.  If dads are reluctant to, and health professionals do not, engage with each other, new dads and dads-to-be are able to remain 'hidden' and unsupported during the maternity period, occasionally with disastrous outcomes for the family.
Conversely, though, this is also one of the best opportunities to attempt to influence dad to acknowledge, get-to-grips with and also potentially change ingrained, learnt patterns of negative and destructive behaviour.  Evidence-based research shows that the stage of their child's lives when men are most motivated and most likely to become actively engaged is the 0-2 year period; it has in fact been called the 'golden opportunity' moment for engagement by The Fatherhood Institute.  Now is the time to share positive public health, mental health and child development messages with men; positive engagement during this time period can bring huge short-, medium- and long-term rewards for both the family and wider society but, to be successful, tailored engagement is needed.
4. Dad's value:
As Jeszemma has indicated above, the academic research clearly demonstrates that – in order for a male-dad/dad-to-be to successfully engage with resources/support/professionals during the perinatal period – he needs to feel that those resources are specifically aimed at him ('dad') and that he is not taking away from and/or getting involved in 'territory' that is intended for his partner or baby ('mum' or 'parent'-focused resources). In fact, The Fatherhood Institute actually advises:
Unless you explicitly address fathers, they are overlooked and implicitly excluded: most people (mothers and fathers, practitioners, policymakers, researchers, etc) see the word 'parents' and read it (subconsciously or unconsciously) as meaning 'mothers'.
A key way to try and engage a reluctant new dad or dad-to-be, then, is to tell him that he is important and has a vital role to play; having a resource that has been written specifically for him helps to support that.  Reassuringly, in the various NHS areas where the DadPad is currently being used, we have had interactions with same-sex commissioners and health professionals who understand and fully support our argument that changing the wording to be generic (i.e. from 'DadPad' to 'ParentPad') would only lead to non-engaged dads failing to identify with the resource, and thus completely defeating its primary purpose.
What are we going to do about it?
As a relatively small Community Interest Company, we have not – until recently – had the resources available to do anything about the fact that we're not also providing resources for other parent demographics.  It is very difficult to be "all things to everyone" right from the start.
The good news is that, over the summer, one of our new team members (Georgie) has been working with Maternity Voices Partnerships, commissioners and other organisations and individuals with appropriate experience and expertise across the country to help us understand the specific information requirements and approach needed by those other sets of parents. Our aim, over the next six months, is to then co-produce a same-sex partner version – together with a mum version – to accompany our existing DadPad resources.  We'll talk to you a bit more about those new products in our next blog post in this series, following in the new year.