News: Cracking Podcasts and Discussion
Posted on 13th November 2020
We've managed to get Julian to step away from his computer for a short time to talk to us about DadPad's recent work with Alright Mate? CIC, including in particular their 'Cracking' play, the recently-released audio podcasts of the play, and last evening's online panel discussion about dads' mental health.
Back at the start of March – when these things were still allowed (I know – it feels like another lifetime, doesn't it?!) – I spent the evening at The Old Library in Bodmin, watching Cracking, a play by Cally Hayes from Alright Mate? CIC.  Cracking is "about love, loss and parenthood [and] takes an intimate look from a father's perspective about what happens when you survive the worst but now risk losing everything."  I was delighted to attend as a sponsor to showcase the amazing power of performing art – in this case, drama – as a means of highlighting the ins and outs of lived mental health experiences during the perinatal period for both parents.  The ability of live theatre to engage audiences from all walks of life, and bring them together in their understanding of such important subjects, strikes me with awe each time I witness it first-hand.
The play had received fantastic reviews from its London run.  For example, Kate Pettigrew in the London Pub Theatres Magazine gave it five stars, saying:
It is billed about men's mental health, and little is spoken about the subject of how dads cope, but there is certainly a lot about Rachel's trauma. This woman wanted a child but is now scared to touch him, doesn't want her partner to leave and is descending into an unimaginable black hole of despair and possibly worse… Cally Hayes' script forensically covers the joy, terror and fatigue that probably all parents experience at the birth of a baby, but then for some the slide into illness and the complications of any recovery.
During lockdown and over the summer, we got together with Hugh McCann and Cally from Alright Mate? to work on turning Cracking into podcasts, to build on the success of their fatherhood installation, featuring portrait photos and recorded conversations with 22 people about their ideas and experiences around the topic of 'fatherhood and mental health'.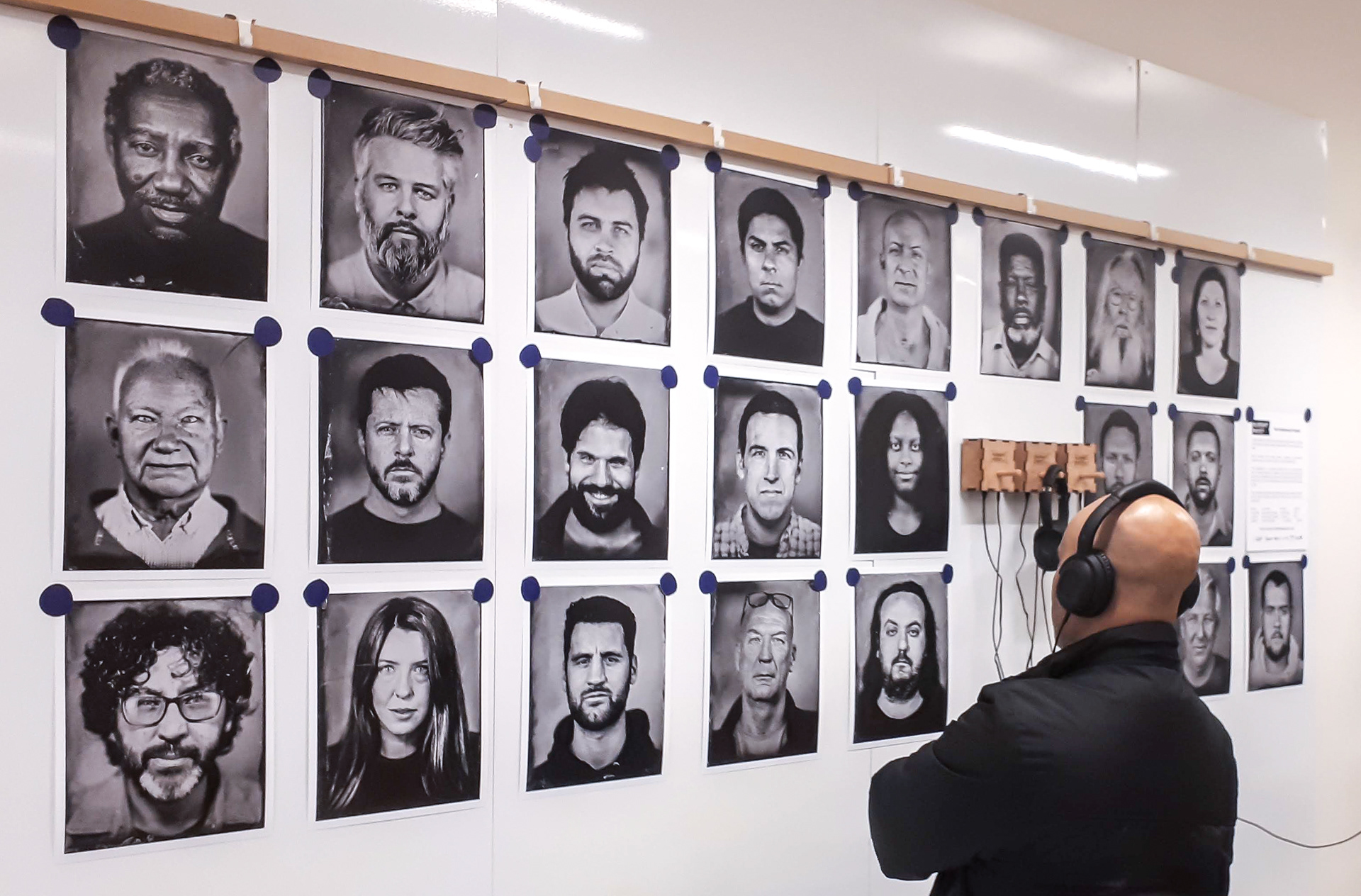 The resulting audio play has been split into three podcasts, each of which is accompanied by discussions with experts on aspects of men's mental health, exploring the issues raised.  The shared expertise of Kieran and Nick from Dad Matters, Rob from Acacia and Andy and Stefan from Dads in Mind comes from years spent in this emerging field of work.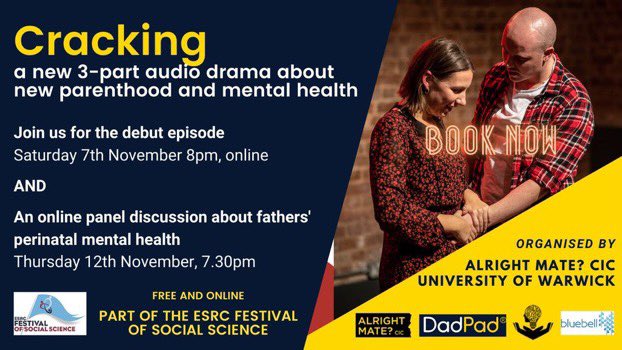 The Cracking podcasts are a fantastic, engaging resource for healthcare professionals working with families in the perinatal period.  I have no doubt that Cally and Hugh are the right people to help their professionals make the most out of this learning tool, considering their past enormous success with workforce development. We would certainly recommend Alright Mate? CIC and will actively promote their work wherever we have influence. It is our collective hope that, by hearing the messages these kinds of projects deliver, with such impact, men (in particular) can start to feel that they are not alone in dealing with difficult thoughts and emotions as they become fathers. The next step is for these men to be able to reach out for help as soon as possible.
The podcasts were launched last Saturday, as part of this year's ESRC Festival of Social Sciences.  The launch was followed by an online panel discussion last night, all about fathers' perinatal mental health.  I was on the panel, along with individuals with lived experience, Cally and Hugh from Alright Mate?, and representatives from The Delicate Mind CIC, Bluebell Care and the University of Warwick.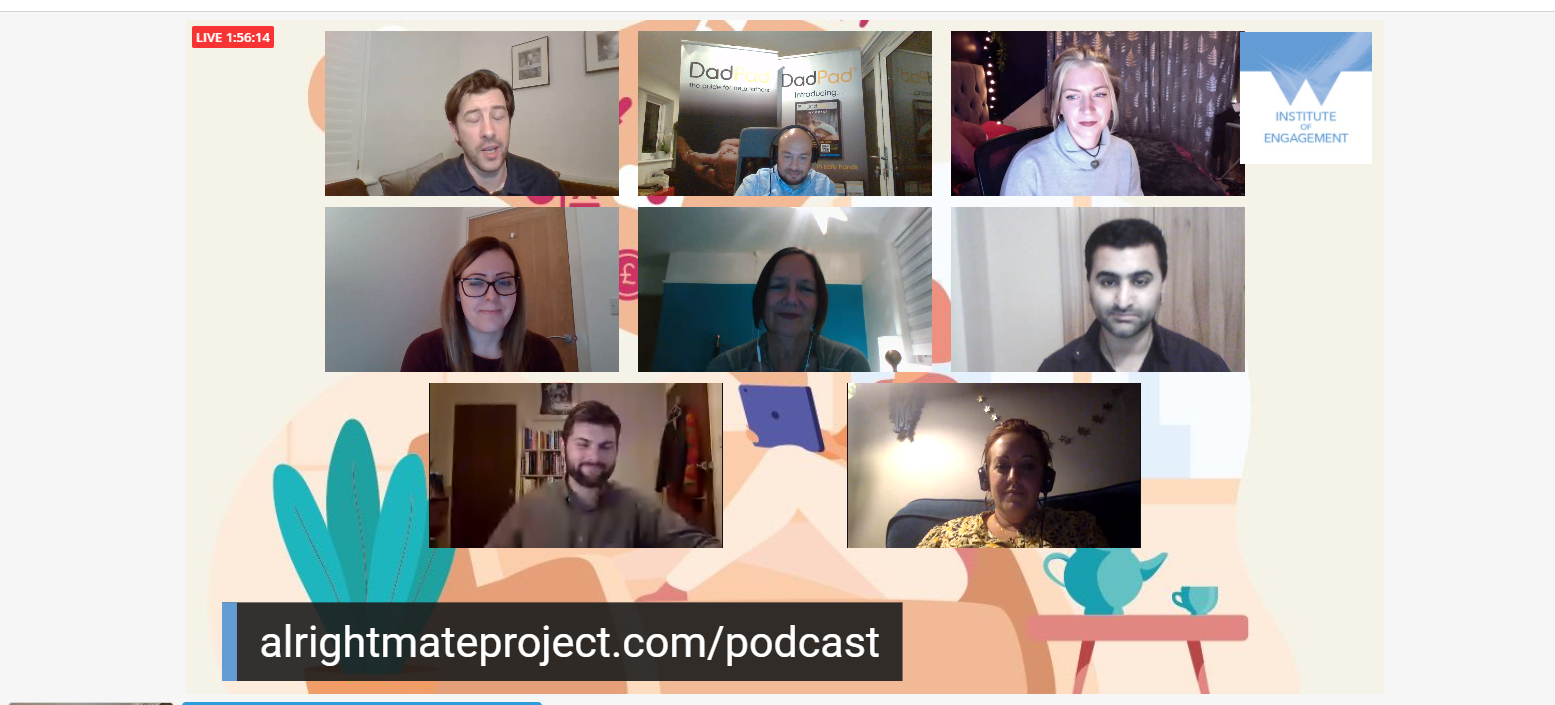 It was a privilege to be involved with these brilliant people who were so open and honest about their experiences which have all helped shape them as individuals and I think – like myself – it has shown us what is going to be the focus for us in our working lives for a considerable amount of time. There seemed to be a lot of general agreement that we will soon reach 'tipping point' where:
fathers and partners will get the support and care that they also need
this support will happen as early as possible
fathers and partners are encouraged to provide input on the care that they would need
fathers and partners are provided with the information that they need to understand what is happening to them and why it occurs
more staff and resources become available
new organisations will inevitably have to come into existence to build the essential infrastructure
Speaking with the panel has affirmed for me some of the more recent ideas I have had around the need to have a focus on fathers to enable fathers to focus, and what we resoundingly had in common – particularly from those contributing mothers – was an understanding that there was a complete lack of ability to help, reach out and/or empathise by the partners of the men whose mental health was suffering when they themselves were overwhelmed by their own mental ill-health.  This had the effect of compounding the mums' own struggles, as they  experienced guilt in not being able to support their partners themselves, as well as not knowing where their partners could go to seek that support elsewhere.  As just one example of the complex and nuanced relationship difficulties people have during this already life-changing time, this shows us that – as long as this gap in support continues to endure – we are effectively allowing it to continue.
Finally, on a positive note, I am meeting more and more people and organisations who get this and make it their mission to work in this area with really positive intentions and significant impact: we just want more of it!
You can watch the online panel discussion in full below:
With the exception only of the screenshot image from the online panel discussion, all images are from the Alright Mate? CIC website.