News: New Crying content
Posted on 29th September 2023
Keeping our DadPad content fully reviewed and up-to-date is never an easy task, but it's something we work hard to achieve.  We're also always keen to seek out the help and support of the undoubted experts for each area, to ensure that the dads that we support – and the health professionals who support them – get the best advice possible, and continue to have faith that DadPad provides them with quality information that they can trust.
We were therefore delighted when long-term friend of DadPad, Dr Suzanne Smith, kindly offered to undertake a full review of the DadPad content on Crying for us, which we've finalised this week.  As this week is also ICON Week, the timing seemed perfect to us!
Dr Suzanne Smith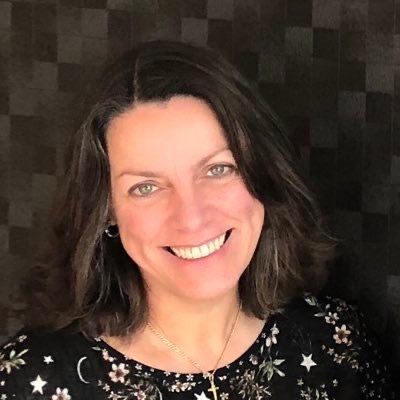 Sue is the founder of and programme advisor for the ICON programme which aims to provide information to parents and professionals on coping with baby and infant crying.  We spoke with her about her role, and the ICON: Babies cry, you can cope programme, back in 2020.
As a Registered Nurse and Health Visitor who has specialised in child protection since the mid 1990s, Sue saw first-hand the devastation that Abusive Head Trauma causes to babies and families.  She was keen to explore how to prevent it and started to research the topic.  Her PhD focused on the prevention of Shaken Baby Syndrome, as it was known at the time.  In 2016, she was lucky enough to be granted a Winston Churchill Memorial Trust Fellowship and travelled to USA and Canada to see how the prevention programmes that she had researched for so long were being put into practice.  She had some ideas about what she wanted a programme to look like before she went, but seeing it first-hand made all the difference.  When she returned to the UK, she then weaved together the best bits of all the programmes she had seen into something she thought would be easily integrated into an effective and efficient UK health service programme – and that is the ICON programme that is being used and is so well-respected today.
The team have a group of professionals and a group of parents/family members who comment on and approve all the ICON materials.
The ICON: Babies cry, you can cope message and programme
Sue explained the ICON message and programme to us in more detail, confirming that ICON stands for:
Infant crying is normal and the crying will stop.
Comfort methods will sometimes help and the crying will stop.
It's OK to walk away for a few minutes if the baby is safe and the crying is getting to you.
Never ever shake or hurt a baby.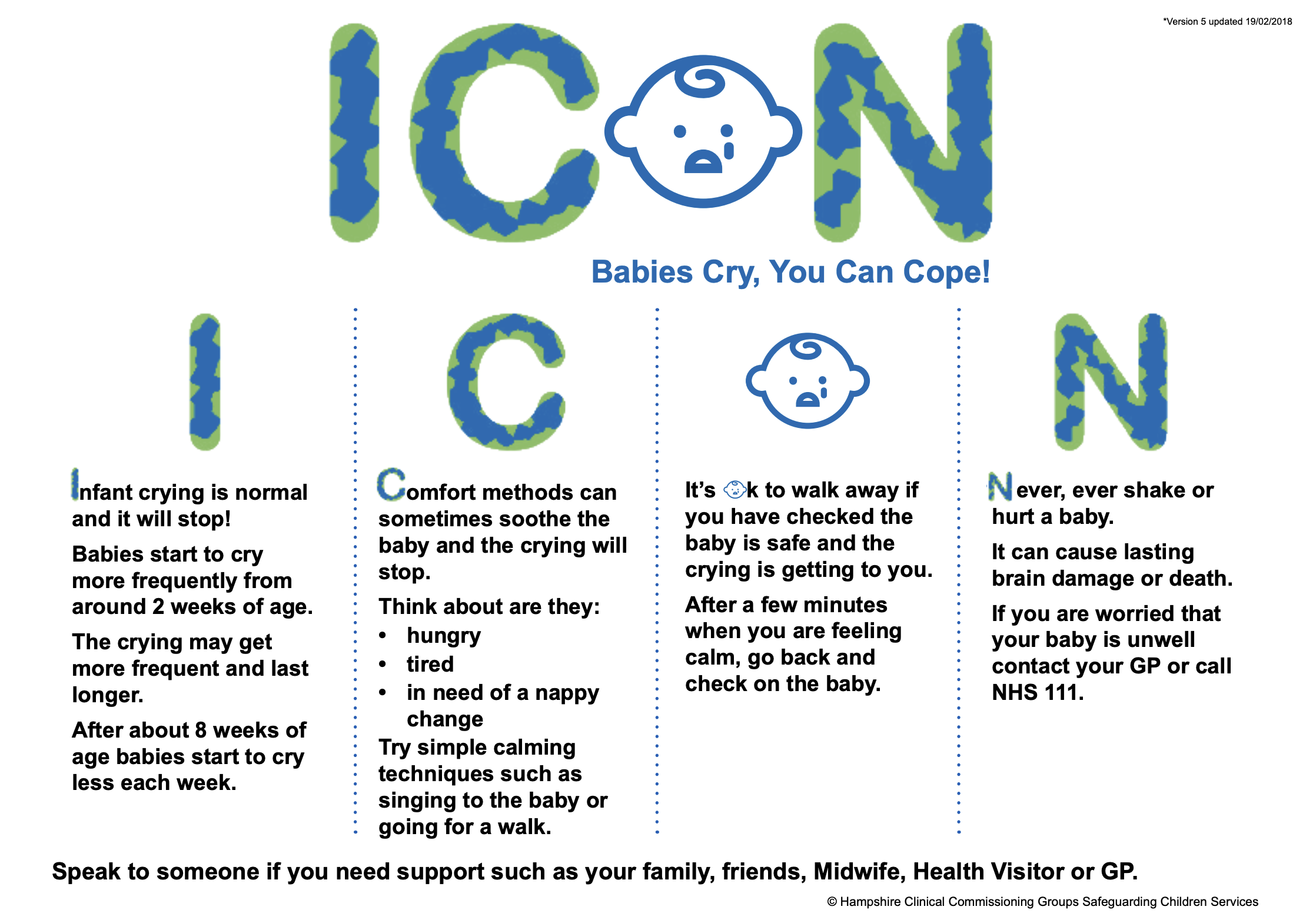 She said:
This simple message is delivered soon after a baby is born, before discharge from hospital, and is accompanied with a leaflet.  The message is repeated several times by a Community Midwife and Health Visitor as a reminder, until the baby's 6-8 week check (when the crying is likely to be at or reaching its peak) when the GP goes through the message again.

The ICON message is especially important for sharing with expectant and new dads, as all the research evidence indicates that most babies who are shaken are shaken by men.  Preventing this from happening is incredibly important as the damage caused by shaking a baby can be catastrophic.  Although not well understood by everyone, with many potentially thinking that they are not causing/will not cause baby much damage, shaking can very quickly cause major brain injury, bleeding behind the eyes and bone injuries.

Babies who are shaken are shaken because parents/carers have become frustrated with their baby's crying. ICON therefore encourages parents to share the information with everyone who will be caring for their baby because not all babies who are shaken are shaken by their parents.  Their hope is that, by providing more parents and carers with the information about coping with crying and also by raising awareness of the dangers of shaking a baby, more people will recognise what is happening when they start to lose control, will remember the ICON message, and will walk away and calm down.
The ICON team have also produced this fab video – new last month and specifically aimed at dads – which helps them understand how to better cope when baby's crying starts to get too much:
Updated DadPad content
So, because Sue is such a core expert in this area, and because we're so keen to always share and promote the ICON message as much as possible, we were so pleased when she generously offered to review our content with us.
The good news is that we've now got a much clearer focus on the ICON messaging across all our DadPad resources – the hard copy versions and also the app content – and have fully refreshed all the existing content to better reflect current messaging and 'best practice'.
We've also flagged up to dads in more detail the concept of the 'crying curve', developed by Dr Ronald Barr and included by ICON in their messaging and on their website.  It's a useful concept to be aware of for all new parents – the idea that new babies will gradually cry for longer and more often during the first few weeks of life, eventually reaching a peak at around eight weeks before gradually starting to ease off.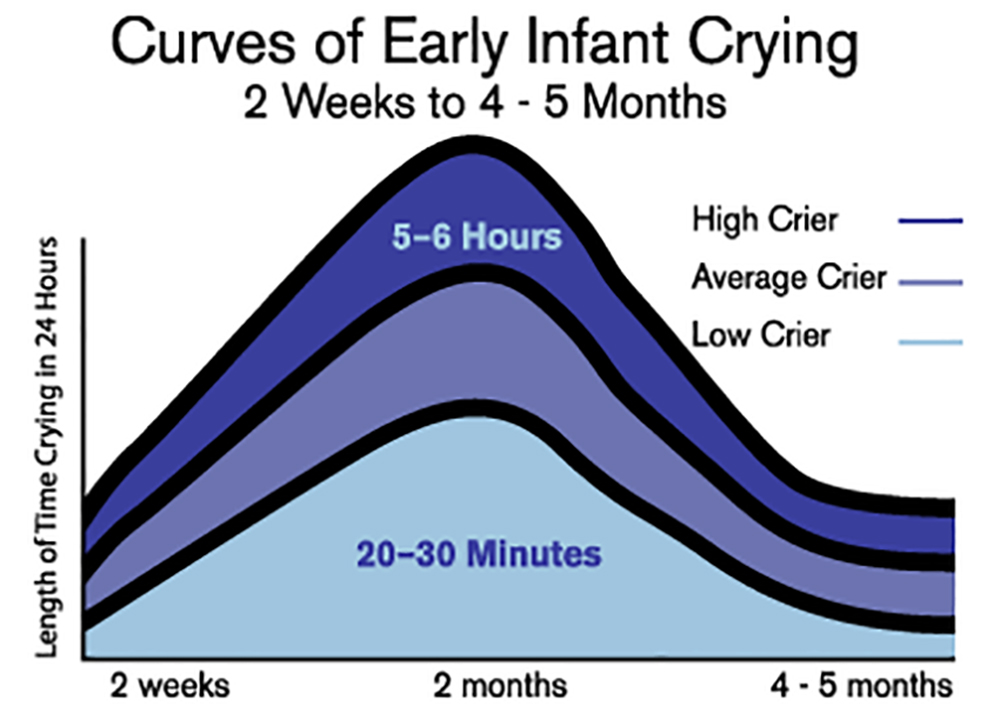 Image from ICON, showing the Infant Crying Curve [link]
Taken from: Barr RG. The normal crying curve: what do we really know? Developmental Medicine and Child Neurology 1990;32(4):356-362.
We looked at the 'crying curve' – also sometimes referred to as the 'period of PURPLE crying' – in more detail in our Why does my baby cry? blog from earlier in the summer.
The new content for the hard copy books will be incorporated into our newest version, going to the printers early next month, so forthcoming copies will have the new information in it.
All apps running on the new app platform – being launched in November for the first time with the lovely Action for Children Torbay team – will also have the updated content on it, and all areas running on the existing app platform will be invited to have their content updated, too.  In the meantime, if any commissioners from existing app areas want to get in touch to ask for information about the new content, please email us.
One thing to note is that, in the meantime, there's absolutely nothing wrong or incorrect in the existing Crying sections of any of our DadPad resources – the information is all good, sound advice; we've simply taken the chance to remove some things which potentially aren't especially helpful to struggling parents, and added in more emphasis on some elements that can be more useful.
We'll end with a comment from Sue, confirming why she wanted to work with us on this review and rewrite:
ICON: Babies cry, you can cope was first launched in 2018 and right from the start we have had a mutually supportive relationship with DadPad.  We have always recognised that helping dads to cope with a crying baby is a key part of the parenting support, education and information provided by DadPad, so it made perfect sense to collaborate in the review of the DadPad materials.  The revised content on crying reflects the learning and enhanced materials that ICON have developed since those early days which we know will help dads feel confident in their parenting, help them cope with crying and which will ultimately prevent some babies being shaken.