News: DadPad Launches in First Quarter 2021
Posted on 9th April 2021
After a relatively quiet second half of 2020, as areas continued to cope with the increased challenges brought by Covid, we're delighted to have started 2021 with a bang.  Following the launch of the West Sussex DadPad app at the beginning of the year, we've seen a further four new DadPad areas go 'live' in March.  Excitingly, a lot of these launches – all of which, of course, have had to take place virtually – have involved new ideas and new 'services' that we're pleased to be able to offer to help support the success of other DadPad launches in future. Here's a quick summary of our new areas:
West Sussex launch
Working with contacts within the Sussex NHS Commissioners and the West Sussex Safeguarding Children Partnership over the past year, we've been able to put together a DadPad app for dads-to-be and new parents in the West Sussex area.  The app officially went live on 1st January, following training events for health practitioners in November 2020 which Julian was an integral part of.
The training events covered the launch of both DadPad and ICON within Sussex.  ICON is a programme that we're always pleased to be connected with, sharing as it does essential information for new parents on coping with crying.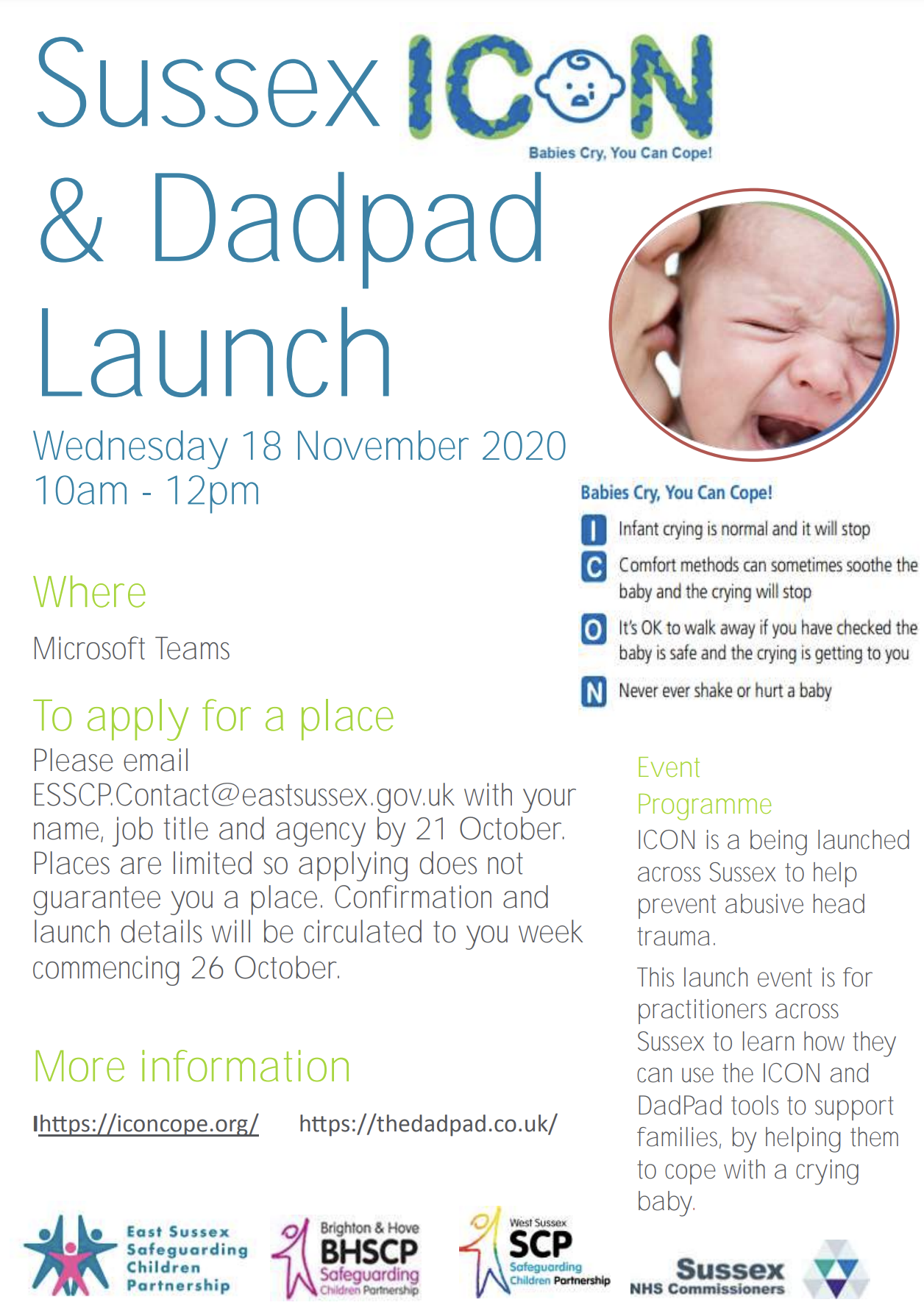 The WSSCP have also provided information about the DadPad – including links to both the app download and our website – on their website, which is a great idea, ensuring that the resource is properly embedded within their organisation.
Lincolnshire
Our next launch took place on 1st March, with the perinatal team at Lincolnshire Partnership NHS Foundation Trust.  Again, this was supported by two training events for health practitioners which preceded the launch, and again Julian was delighted to be invited to take part.  Providing workforce development input on DadPad, how it is intended to work, and the ethos and evidence behind it, as well as being available to address any questions or concerns that health professionals may have, is a service that Julian is more than happy to provide to commissioning areas, either as part of a launch and/or at a later date.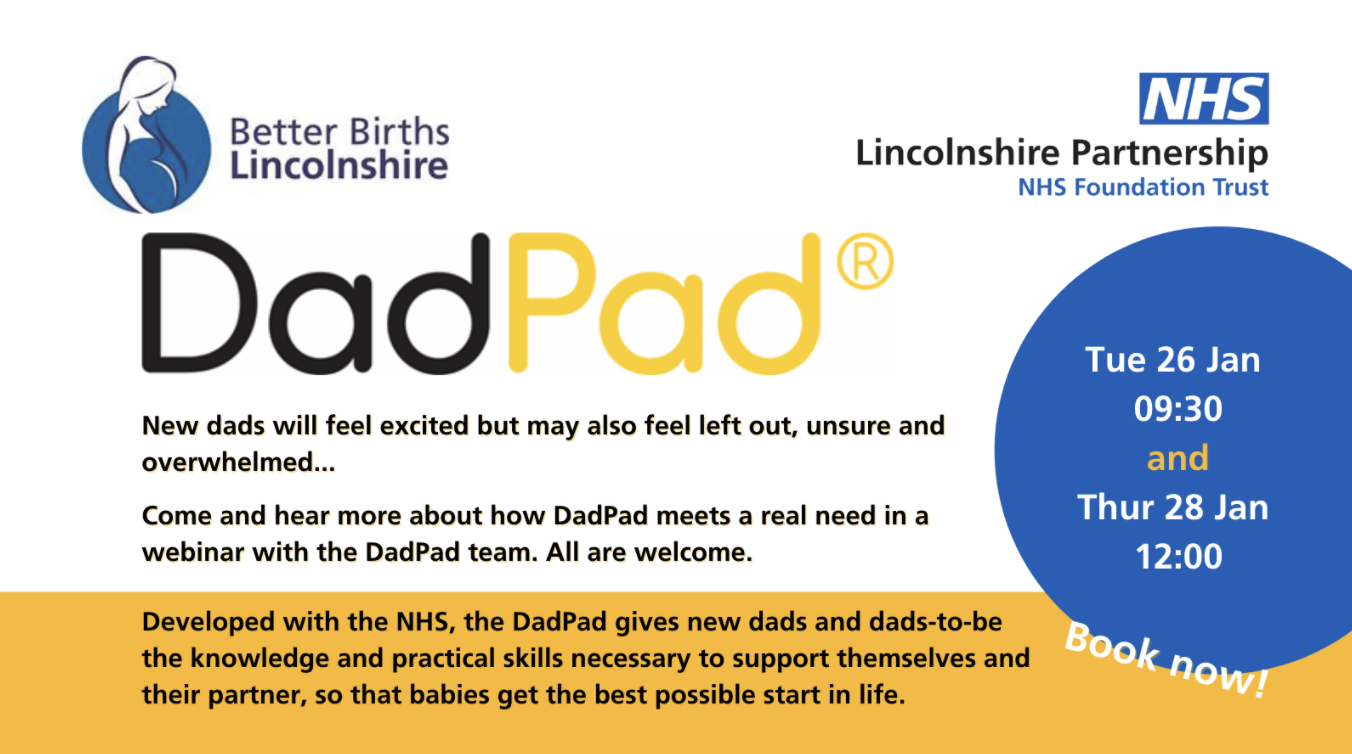 Berkshire launch
Just two days' later, we were back launching again, this time with the perinatal mental health team within Berkshire Healthcare NHS Foundation Trust.  It's been great to see that this team have appointed one of their PMH Community Nursery Nurses – Dianne D'Cruz – to also work as their "Carers' and Partners' Support Champion".  We think it's a fabulous idea to have the needs and interests of non-birthing partners recognised and supported in this way.  We're also looking forward to working further with Dianne this year, to help us develop some new resources to support the use of DadPad by health professionals.  We'll let you know more about this in due course.
Derbyshire Community Health Services NHS Trust
As with all of our 2021 launches so far, the Derbyshire DadPad is another one that's been a long time in development, thanks largely to Covid! We've worked hard with their Children and Families team since just before Christmas to ensure that the Derbyshire DadPad app was up and ready for launch as soon as we could get it sorted, though.
The team at Derbyshire had great support from their Comms Team with this launch, which occurred on 30th March, including a targeted awareness-raising/advertising campaign across Facebook.  DadPad's Adam is currently working with them to analyse the impact that this has had on things like traffic to our website and (most importantly) app downloads, but it's looking really positive so far.  In the light of this, we're now getting Adam to develop a social media support package for all new-to-launch areas, going forward, to really help spread the message about DadPad and, again, we'll have more information for you on this as soon as it's available.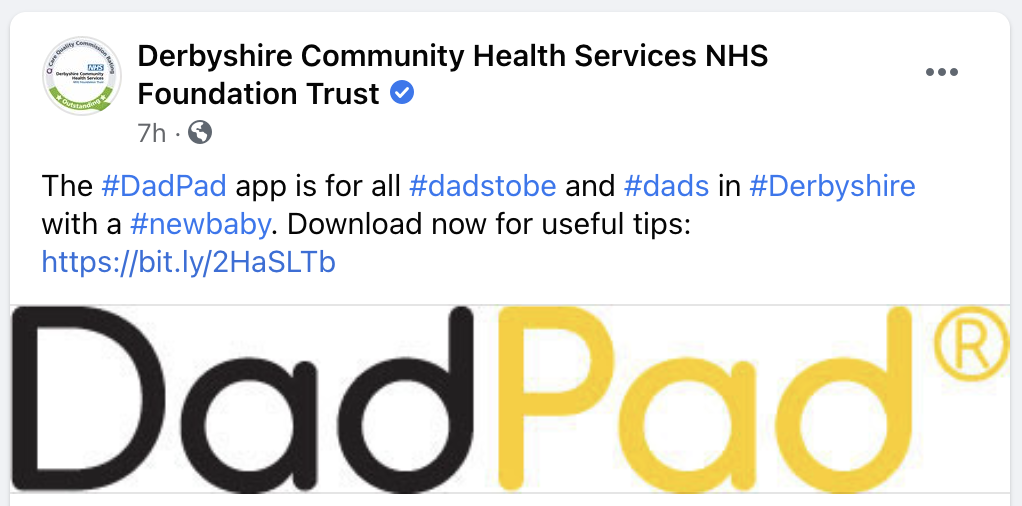 Claire Scothern, who's the Professional Quality Lead for Children and Families within Children's Community Services at DCHS had this to say about DadPad:
We know that dads want important information on how to care for their new baby, and what to expect. The DadPad® can help, by giving them the knowledge and practical skills that they need in order to give their baby the best start in life, look after themselves and support their partner.
Luton & Bedfordshire launch
Our final app launch so far this year took place on 31st March, with the DadPad app for men in the Luton and Bedfordshire area.  This app has been developed with the help of the East London NHS Foundation Trust perinatal mental health team.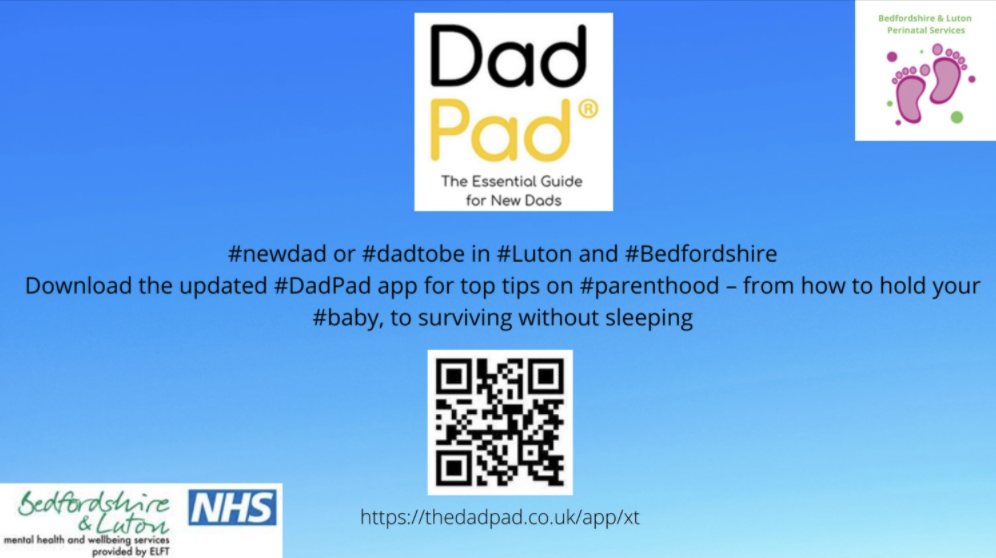 Summing up this fantastic start to the year, Julian, CEO at DadPad, commented:
After an intense and worrying 2020 for us all, our early launches this year are a taste of things to come; with big plans and key collaborations in the offing, the only way is up!