News: A World Prematurity Day Announcement
Posted on 17th November 2017
Friday 17th November is World Prematurity Day, and we are marking the occasion by announcing our new product – DadPad Neonatal.
The DadPad was created to fill a gap in services and support for new dads, helping them to prepare for the life-changing experience of having a child. The pack of laminated cards provides information and guidance on everything from holding and handling a baby to seeking support with anxiety and mental health issues.
The new neonatal version of the information pack will be available in early 2018, initially in Poole Hospital Neonatal Unit in Dorset.
DadPad Director Julian Bose explain the idea behind the innovation:
"Becoming a new dad is already difficult enough to come to terms with. However, being a parent of a child in neonatal care potentially comes with a whole lot of other emotions and problems, and there will definitely be more information to understand about your new baby.

"Sometimes, when a child is in neonatal care, medical attention may be required for both baby and mother, initially leaving the dad completely alone to come to terms with the situation. This can be traumatic and we hope that DadPad Neonatal will become a valuable tool to offer support and advice during this sensitive time.

"World Prematurity Day is the natural occasion on which to share the news of this new product, as the day highlights the work our wonderful neonatal teams do."
DadPad Neonatal was written by the DadPad team in partnership with Prof Minesh Khashu, Lead Consultant Neonatologist at Poole Hospital, Dorset. Prof Khashu's team had identified a need for better communication with and support for dads of babies in neonatal care. Following funding from the National Lottery's Awards4All, DadPad Neonatal has been developed, ready for launch in two units: Royal Cornwall Hospital Treliske and Poole Hospital.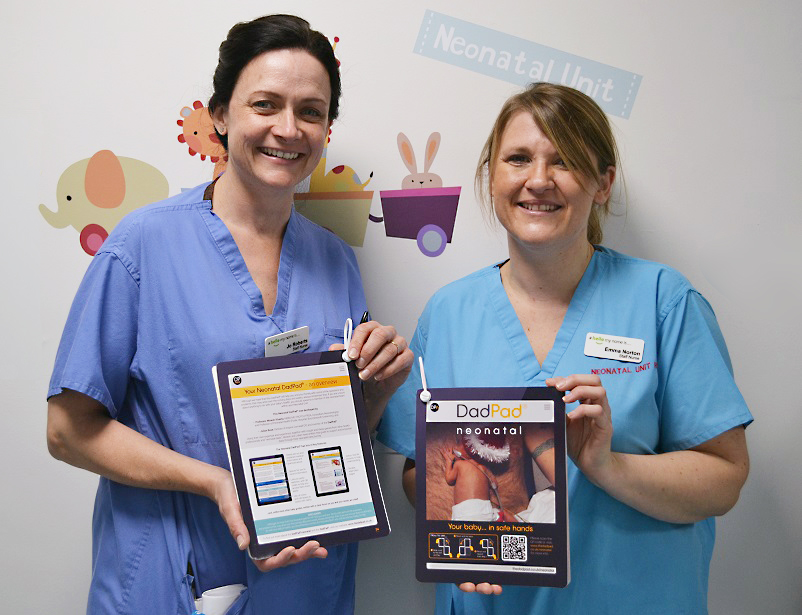 Jo Roberts (left), staff nurse, and Emma Norton (right), neonatal nurse at Royal Cornwall Hospital Treliske, with preview copies of the DadPad Neonatal. [Picture from Business Cornwall]
Emma Norton, neonatal nurse at Royal Cornwall Hospital Treliske, commented:
"DadPad Neonatal is the perfect device to bridge the gap between neonatal services and dads, helping them understand the terminology and process their child may be involved with. The DadPad cards are a perfect communication device for neonatal units, where the sensitive nature of the units means that it is extremely important for dads to understand what is happening, be able to ask for help and therefore feel supported.

"We are so thrilled to be one of the first two units in the country to be utilising DadPad Neonatal and feel it will be a huge asset to our teams and our parents. I look forward to developing our version with Julian for the local Unit once the one for Poole goes out."
Following the launch of DadPad Neonatal in 2018, we hope to see the resource available across all 178 neonatal units in the country, and generate a community of dads who can discuss and share their problems, questions and anecdotes.