News: Devon DadPad app launched
Posted on 5th March 2019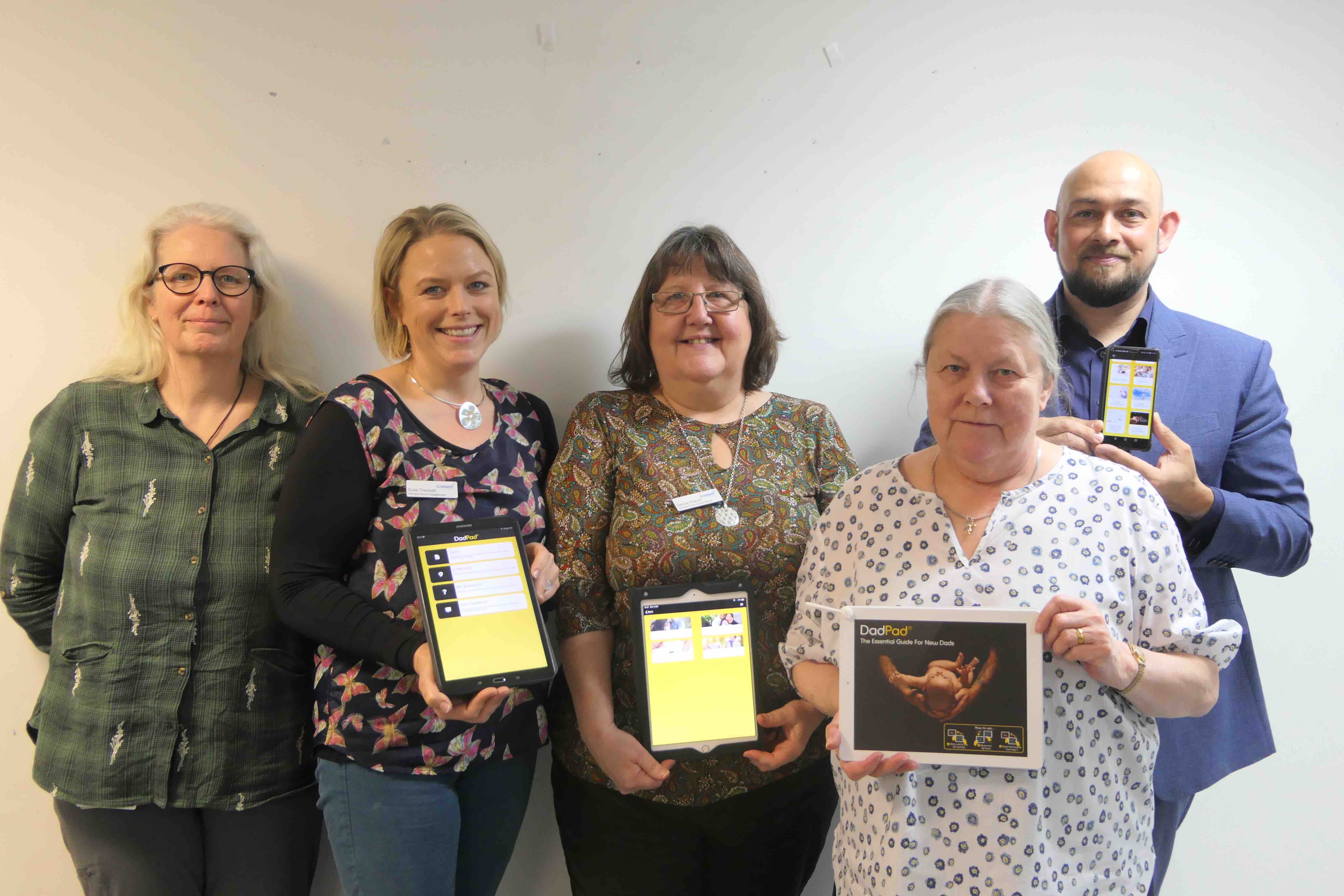 Pictured (l-r): Lin Walton, Mental Health Commissioner, Devon CCG; Susie Theobald, Perinatal Clinical Team Manager, Livewell Southwest; Denise French, Perinatal Family Support Worker, Livewell Southwest; Anne Prue, Locality Manager, Livewell Southwest; and Julian Bose, Director, Inspire Cornwall CIC.
DadPad app
The DadPad app is a relatively new development in our range of products.
Julian explained:
"With technology playing such a big part in everyone's lives today, developing an app to complement the existing DadPad seemed the obvious next step. This has opened up a world of possibilities in delivering new content and features and, crucially, getting updates and news out to the dads quickly and easily.

"The Devon DadPad app is the fourth such app that we have developed. It joins our portfolio of DadPad apps for Gloucester, Wiltshire, Bath & North East Somerset and Greater Manchester & Eastern Cheshire, with more currently in development."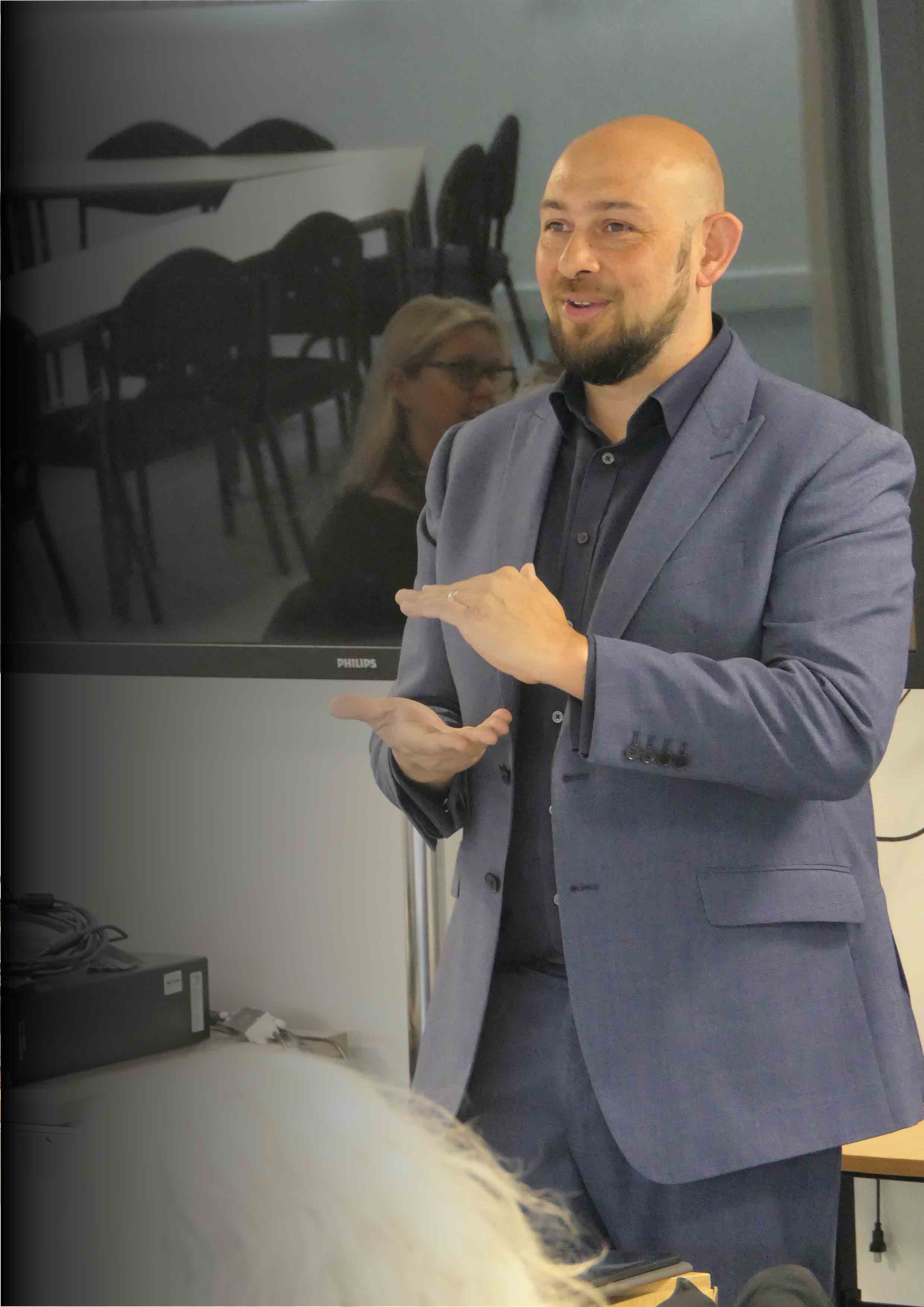 Julian talking at the launch of the DadPad app for Devon.
Antenatal information
The team in Devon also helped us develop new sections on the antenatal period. The Devon DadPad app contains more information on the role of the Midwifery Service, as well as detail on the different antenatal appointments and scans which mums-to-be will be invited to attend.
Building strong families
Tracy Clasby, Head of Children Young People and Families Services at Livewell Southwest, said:
"We're delighted to have been involved in developing the DadPad online resource. It is full of helpful advice and will be a valuable resource for men and families.

"Through co-production we learnt that men worry about how to bond with their baby, how to support new mums and how to adapt to their new responsibilities. It's normal to have those concerns. DadPad is brilliant, providing information not just about caring for baby but also about caring for each other as parents.

"It's a perfect fit with our goal of helping to create and support healthy communities, and building strong families to give children the best possible start in life."
Clear focus on supporting good mental health
As with all commissioners, the team who helped us develop the Devon DadPad app were keen for there to be a clear focus on ways in which dads can help support their partners and themselves in maintaining good mental health, both before and after the birth of their new baby.
Lin Walton, Mental Health Commissioning Manager for NHS NEW Devon CCG, said:
"The NHS Long Term Plan has identified the need to better support not only the mental health of new mothers, but also of the partners of women experiencing poor perinatal mental health.

"This app goes a step further in offering early help and support to all new dads and partners, not just those whose partners are under the care of mental health services. It offers convenient and easily accessible support and advice to people who may be unable to attend appointments and can help them identify when they need to seek extra support for their partner, with the aim of also making them feel less isolated or alone."
Clare McAdam, Perinatal Services Manager at Devon Partnership NHS Trust, said:
"It's a great new resource that can support dads, partners and new mums to give their baby the best possible start in life."
For further information on the DadPad app, please contact Julian via the website.