News: DadPad supporting NHS #LiftTheBaby safer sleep campaign
Posted on 20th September 2019
Today sees the start of the 2019 Rugby World Cup in Japan. The event carries on throughout the rest of September and the whole of October, with the final taking place in Yokohama City on Saturday 2nd November.  Whether or not any of our home sides are still in the competition at that stage, only time will tell.  However, whatever happens, it will be an exciting few weeks for rugby fans and an important time for raising awareness of the value of team sports, not only in terms of physical fitness, but also the social, emotional and morale-boosting benefits that they bring.
Throughout the World Cup, as part of the NHS #LiftTheBaby campaign, we will also be running a little mini promotion of our own, with all DadPad orders placed via our website also receiving a free copy of the #LiftTheBaby infocard.
We are really excited to be supporting this campaign, which is aimed at first-time dads and which highlights the importance of safe sleeping for babies – something we're passionate about.
As well as the infocard and website, setting out key safe sleeping facts, there is also a great video, made with the assistance of players from the London Irish Rugby Club. The whole campaign is the brainchild of the teams at the various Clinical Commissioning Groups (CCGs) and NHS Foundation Trusts in Berkshire, and NHS Creative.  The teams worked with The Lullaby Trust charity who aim to raise awareness of sudden infant death syndrome (SIDS – what used to be called 'cot death') and provide expert advice on safer sleep for babies, as well as offering emotional support to bereaved families.
Sadly, over 130 babies die each year as a result of unsafe sleeping practices, which is why it is so important that we al keep working to share safe sleeping messages.
We all know how exhausting it can be as a new parent – especially in those first few days and weeks when a good night's sleep becomes just a distant memory. However, this is also the time to be even more vigilant in safe sleeping practice, as this is when the danger of 'dipping off' in an unsafe situation, or risking a dangerous sleep position, is even higher.
The key messages being shared as part of the #LiftTheBaby campaign are:
NEVER to sleep on a sofa or armchair with your baby, as this increases the risk of infant death by 50! Instead, if you feel tired, you should #LiftTheBaby to its own, safe, sleep space (such as a cot or Moses basket).
NEVER to sleep in the same bed as your baby if:

You've recently drunk any alcohol
You or your partner smoke
You've taken drugs that make you feel sleepy or less aware
Your baby was born prematurely or very small

Give your baby a clear, safe sleep space, in the same room
Always put your baby on their back for sleep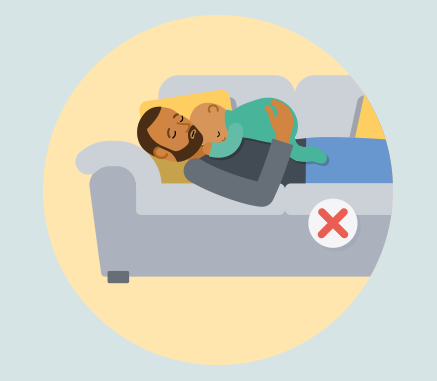 NEVER sleep on a sofa or armchair with your baby!
[Image from www.liftthebaby.org.uk]
Guidance is also given on safe bed-sharing tips, for those parents who choose to share a bed with their baby.  The key pieces of advice here are to:
Keep your pets away from the bed
Not have any other children sharing the bed
Keep pillows and adult bedding away from the baby
Make sure that there is no risk of the baby falling out of the bed or getting trapped between the mattress and the wall
The website also contains links to lots of mini-videos which give an insight into the 'making of' the video itself.  We especially enjoyed the short interview with Debbie Hartrick, Associate Director of Safeguarding at NHS East Berkshire CCG, and Liz Stead, Head of Safeguarding Children at NHS Berkshire West CCG.  Debbie explains that:
We want to really push this message to fathers in particular because we need to recognise that fathers need to hear the antenatal advice from health professionals directly to fathers - which is really important because we tend to traditionally give the message to fathers via the mothers of the babies. We held focus groups and all the fathers have told us that this would be a good idea - so here we are!
It's great to see more and more organisations recognising – as we do – the value in speaking to dads direct; for too long, antenatal, baby and childcare advice has gone to the new mum only, and this means that many dads could be missing out on the information, support and help that they need to enable them to be the best dad that they can be.
To stay up-to-date with the campaign, follow and use the #LiftTheBaby hashtag on Twitter, and remember to pass on the message to all new parents that you might know to always #LiftTheBaby to a safe sleep position whenever they feel tired.