2021 Guest and Q&As, Mental Health, Q&A
Q&A: Simon O'Mara from Action on Postpartum Psychosis
Posted on 14th May 2021
This week's Friday #DadPadblog post is again a Q&A, as we speak with Simon O'Mara, Partner Peer Support Facilitator at the Action on Postpartum Psychosis charity.  We've chosen to speak with him during May for a number of reasons, including:
this week is Mental Health Awareness Week;
last week was Maternal Mental Health Awareness Week; and
Hannah from DadPad is also currently undertaking a walking challenge during May to raise funds for the charity and awareness of this serious perinatal mental health condition (find out more about that here).
Hi Simon.  Thank you for taking the time to speak with us today.  Can we start by asking you to please tell us a bit more about postpartum psychosis, as we suspect many people will never have heard of it?
Postpartum Psychosis (PP) is a severe but treatable form of mental illness.  It usually starts within the first couple of days to weeks after childbirth.  Some women develop symptoms very quickly whereas, for others, symptoms can be more gradual, or come and go.  50% of women experience postpartum psychosis "out of the blue", with no pervious history of mental health problems.
We know that dads are often best placed to look out for, and can be the first to spot, signs of possible perinatal mental ill health in their baby's mum, because they are usually the person closest to that woman, and most familiar with her 'usual' behaviours.  What sort of signs, symptoms and possible indicators, then, should a new dad (and, indeed, anyone close to a new mum) be alert for in his partner?
Symptoms often include:
confusion or racing thoughts
feeling unusually high or elated
being unable to, or not needing to, sleep
beliefs that are unusual or concerning to others
seeing, hearing or sensing things that others can't
anxiety
There are a great many other symptoms that can be experienced, and you can find out more information by visiting the early symptoms page of our APP website.
It's really important that postpartum psychosis is always regarded as a medical emergency, which requires rapid intervention, and is best treated in a specialised Mother and Baby Unit (MBU). With the right treatment and support, women with postpartum psychosis do make a full recovery and families are able to move on with their lives together.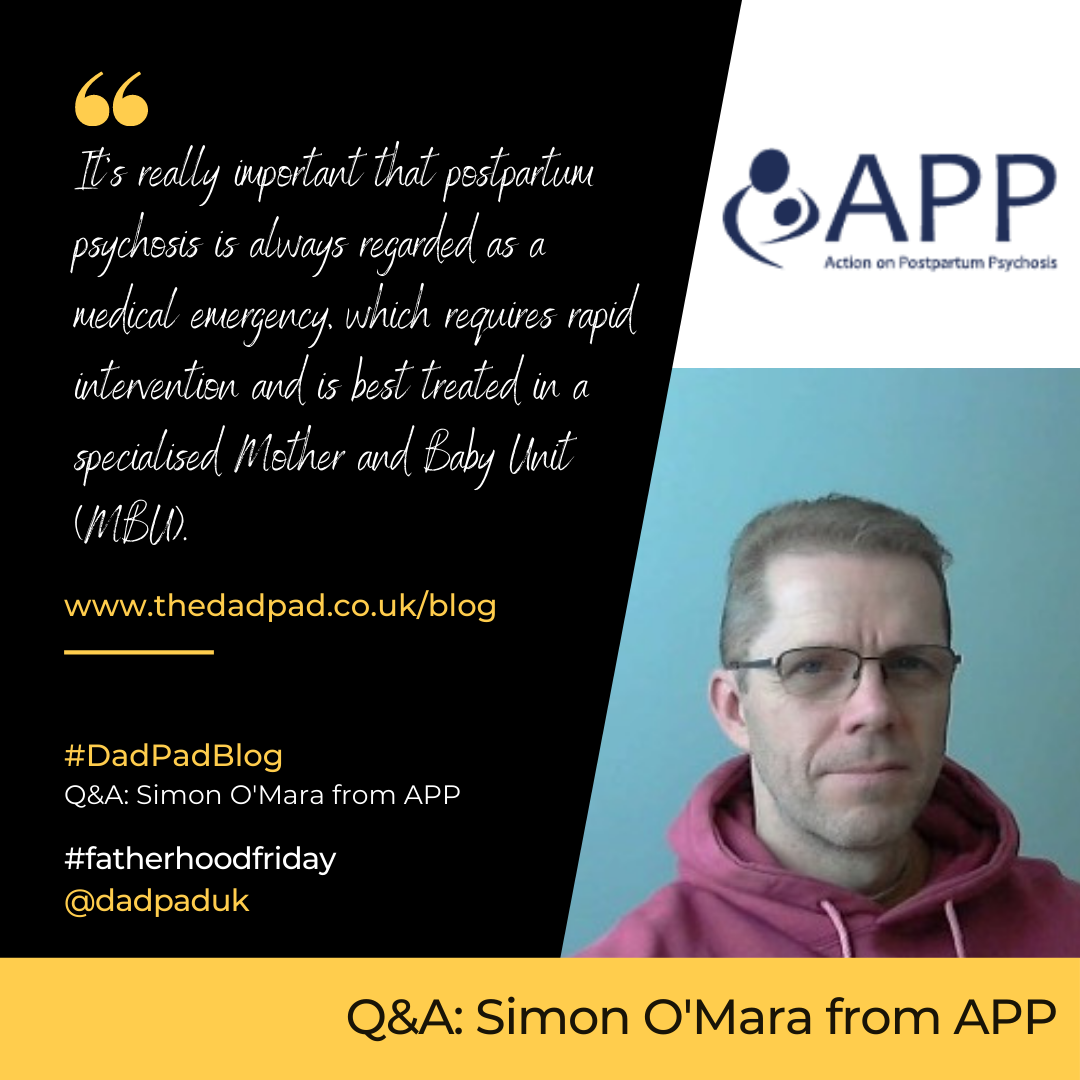 What's the role of the Action on Postpartum Psychosis charity, then, and what do you do there?
APP is the leading charity supporting women, partners and families affected by postpartum psychosis.  It's a collaborative project run by people who have lived experience of PP, specialist health professionals and academic experts from Birmingham and Cardiff Universities.  Our aims include:
to provide up-to-date information to women and their families who have experienced postpartum psychosis;
to facilitate a peer support network for women and their families;
to increase awareness of PP, its symptoms, management and impact among health professionals and the general public;
to facilitate research into all aspects of PP; and
to advocate for improved services for women and their families.
I am the Partner Peer Support Facilitator, working on the partner project for APP.  We know how hard it can be for partners and families to watch a loved one go through postpartum psychosis and we're developing our support channels specifically for partners, to ensure that APP is available to support them.  We have a fantastic bunch of volunteers, all with lived experience, including partners, who we can link people to.  I also work on raising awareness of postpartum psychosis and the effects that can be felt across the whole family.
What led to you becoming involved in this work?
I'd never heard of postpartum psychosis but, following the birth of our first child, my wife suffered with PP and I found out how frightening and traumatic this illness could be, and how it could be felt across the family.  I didn't really know what was 'usual' after childbirth, so any small mood or subtle behaviour changes didn't ring any alarm bells.  Within a few weeks, these changes took a turn for the worse and saw her waking in the early hours, 'ghost-like'; her mood also became extremely low, she was anxious and confused, pacing around the house, having delusions and hallucinations, all of which finally led to a 999 call.
I felt as though I went through every emotion, at times feeling terrified, isolated, even guilt ridden for decisions I had to make.  However, the support received from family, friends and, eventually, the specialist health professionals treating my wife, was vital.
I wanted to help raise awareness of postpartum psychosis and eventually found APP.  I later became involved in supporting other partners who were also on similar journeys.  We know how frightening this illness can be for the women that tread its path, but also how terrifying it can be for partners, grandparents, and families alike.
APP supports women, partners and families.  I now work on the Partner Project which focuses on supporting the partners of women affected by PP.
Postpartum psychosis has, of course, had its profile raised in recent years by being featured in soap opera storylines.  How has this impacted your work at the charity?
APP have been so pleased to be able to support scriptwriters, researchers and actors with some of these storylines including, most recently, Liberty's story in Hollyoaks, as well as Stacey's story in EastEnders, back in 2015.  TV shows like these play a key role in awareness raising, due to their huge audience numbers, enabling us to reach viewers who might not necessarily be proactively looking for information about mental health.  Today, many programme makers take their responsibilities incredibly seriously when it comes to mental health stories, and it's great to see the work that they put in to ensure storylines are authentic and accurate.
As many will already be aware, I'm currently doing the #MilesforMumsandBabies challenge to raise funds for APP.  Can you please tell us a bit more about the challenge?
Each mile reflects the journey that mums, babies, partners and families travel to be together whilst mums receive care in Mother and Baby Units.  We're encouraging individuals to walk, run, or cycle 10 miles, 20 miles, 500 miles or even 1,000 miles in 2021!  We're looking for more people to take part in the challenge and, if you're interested, you can find out more and/or sign up here.
What are APP's main goals and biggest challenges for the next few years?
To continue our campaign for more specialist MBU services to be made available across the UK, as these are vital, life-saving facilities that greatly improve the chances of recovery.  Our campaigning work is informed by our body of research which we will continue to grow and, of course, we will be continuing to fund-raise, with support from our many passionate and dedicated volunteers.  Growing our peer support network and raising awareness of postpartum psychosis is always a priority for us, to ensure that nobody feels alone, and that health professionals and policy makers are equipped with the knowledge needed to help people get the right support at the right time.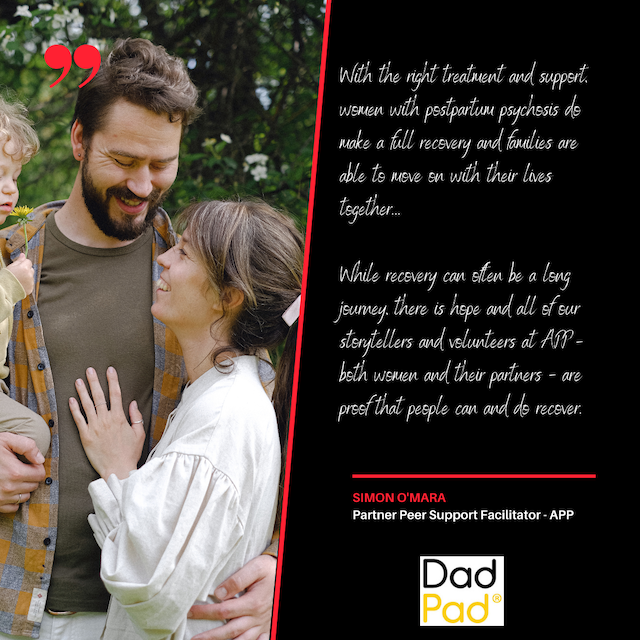 What's the outlook for a family that has experienced PP?
Extremely good. With the right treatment, the majority of women go on to make a full recovery and return to their normal selves, embracing motherhood and enjoying family life.  While recovery can often be a long journey, there is hope and all of our storytellers and volunteers at APP – both women and their partners – are proof that people can and do recover.
And, finally, where can a dad/partner go to get more information about postpartum psychosis?
We know that partners contact us at many different stages throughout their journey – whether in the early days of the crisis, partway through the journey or, in some instances, even years later.
APP are here to support you along the journey, no matter when you feel you need it.  Our website has lots of information, guides and links to getting help, including:
Please do get in touch if we can help you.  Visit our website or email us on APP@app-network.org.
Huge thanks to Simon for his time in getting this blog post sorted with us.  Information on postpartum psychosis is included within both the DadPad and the DadPad app, and we also discussed the symptoms of postpartum psychosis, and what to do if you suspect that your partner might be suffering from this condition, in our Q&A with Mandy Raywood from the Cornwall Perinatal Mental Health Team, back in Sep 2019.