About DadPad: DadPad in 2020
Posted on 18th December 2020
2020 has been quite the year!  We're fortunate, though, that DadPad has kept busy, continued to grow, and that we've also been able to take on two new members of staff.
💙
January
Our highlight in January was launching the DadPad in Somerset. Julian got to meet up with the county's Maternity Voices Partnership Team at their Dads' Saturday morning Breakfast Club, and was especially grateful for his bacon butty!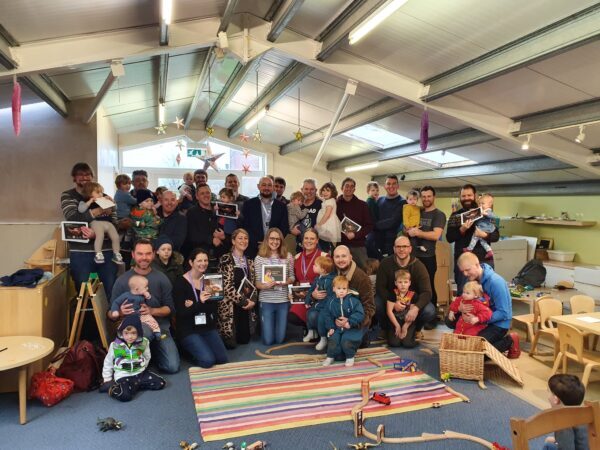 Julian with attendees at the Somerset Dads' Breakfast Club (shared with permission – via Gaynor Woodland).
February
In February, Julian battled his way through the floods which were affecting the south-west at the time, in order to speak in Worcester at two of the Worcestershire Perinatal Mental Health Team's Perinatal Mental Health Roadshow Masterclasses, as part of the DadPad launch for Herefordshire and Worcestershire.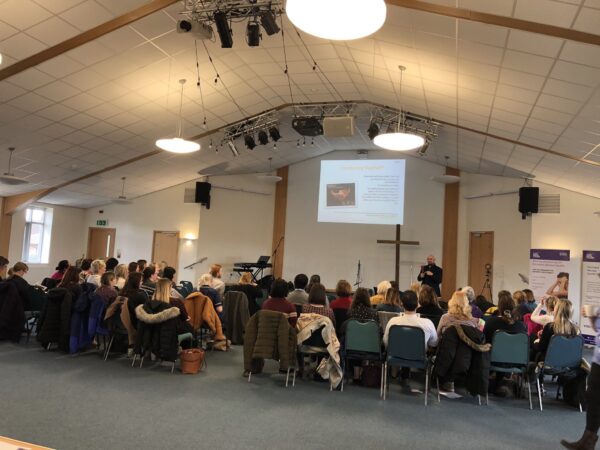 Julian addressing the Perinatal Mental Health Roadshow Masterclass at St Peter's Baptist Church, Worcester (shared with permission – via the Worcestershire PMHT)
We were delighted to see that the Team had also commissioned their own DadPad banner, to help advertise the app's availability across their two counties.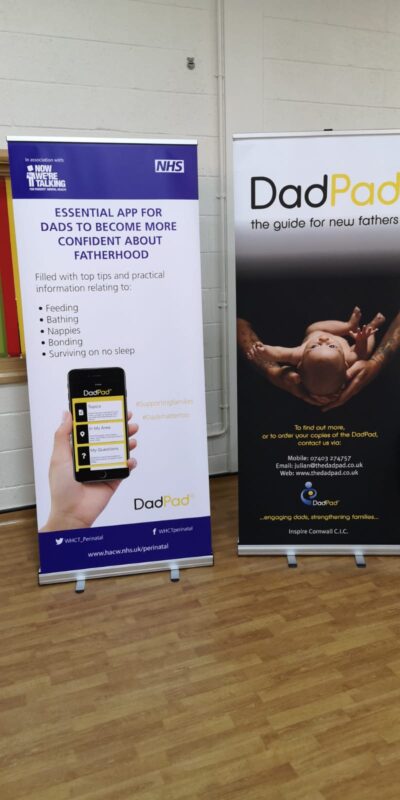 March
The month started positively, with Julian attending Alright Mate? CIC's play, Cracking, at The Old Library in Bodmin.  Looking at love, loss and parenthood from a dad's perspective, with a focus on postnatal illness, it was a great production, and Julian also got the chance to speak to the audience at the end, telling them all about DadPad and all the other initiatives taking place across the south-west for new dads and dads-to-be.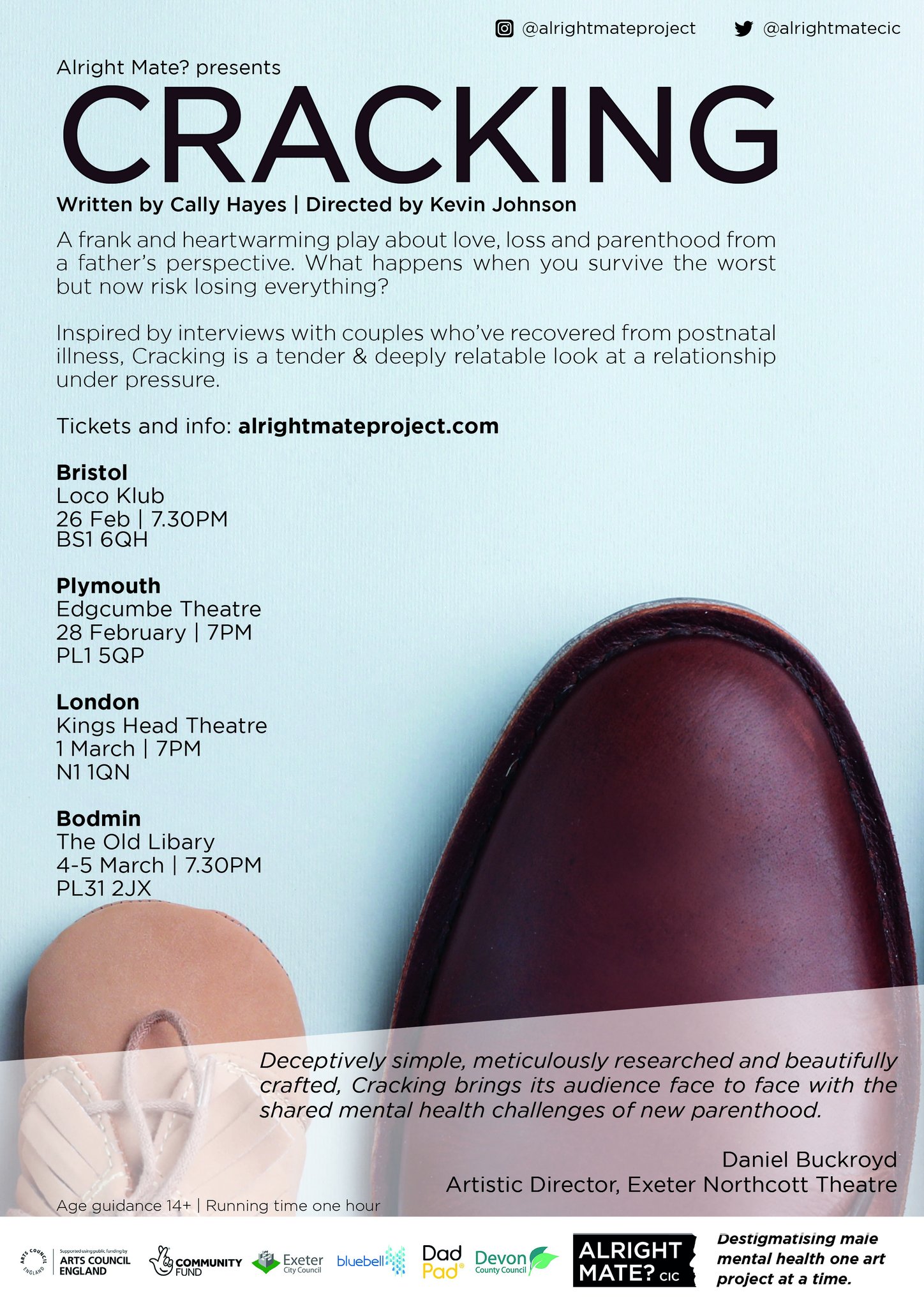 March was also, though, when everyone's world started to change, and we headed into lockdown, but not before Julian had managed to squeeze in one more launch (and, as it turned out, the last attendance-in-person launch for the year), this time for the SHIP (Southampton, Hampshire, Isle of Wight and Portsmouth) area, our biggest area to launch so far.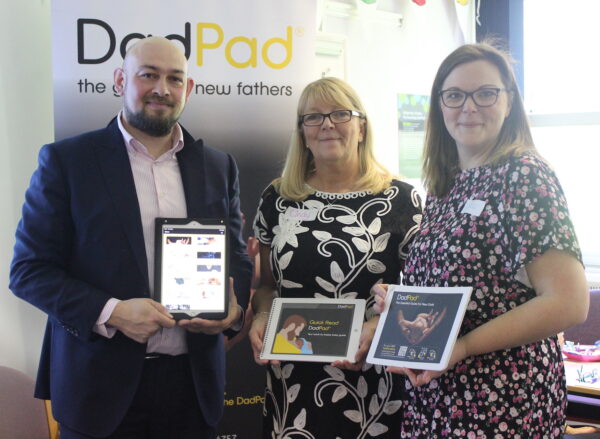 Julian with Dr Cindy Shawley and Vikki Pragnell, community midwife matron, at the Hampshire DadPad launch.
Julian last real 'escape' from the office came just hours before the government started the moves towards lockdown, when he attended Public Health England's South West Conference at Taunton RFC, which looked at ways of improving outcomes in pregnancy and postnatally for the most vulnerable mums and infants.  It was a great chance to team up with our good friend Mark Williams once again, sharing the #dadsmatter message far and wide, and also to receive so much positive feedback on DadPad and the impact that it is having on dads-to-be and new dads.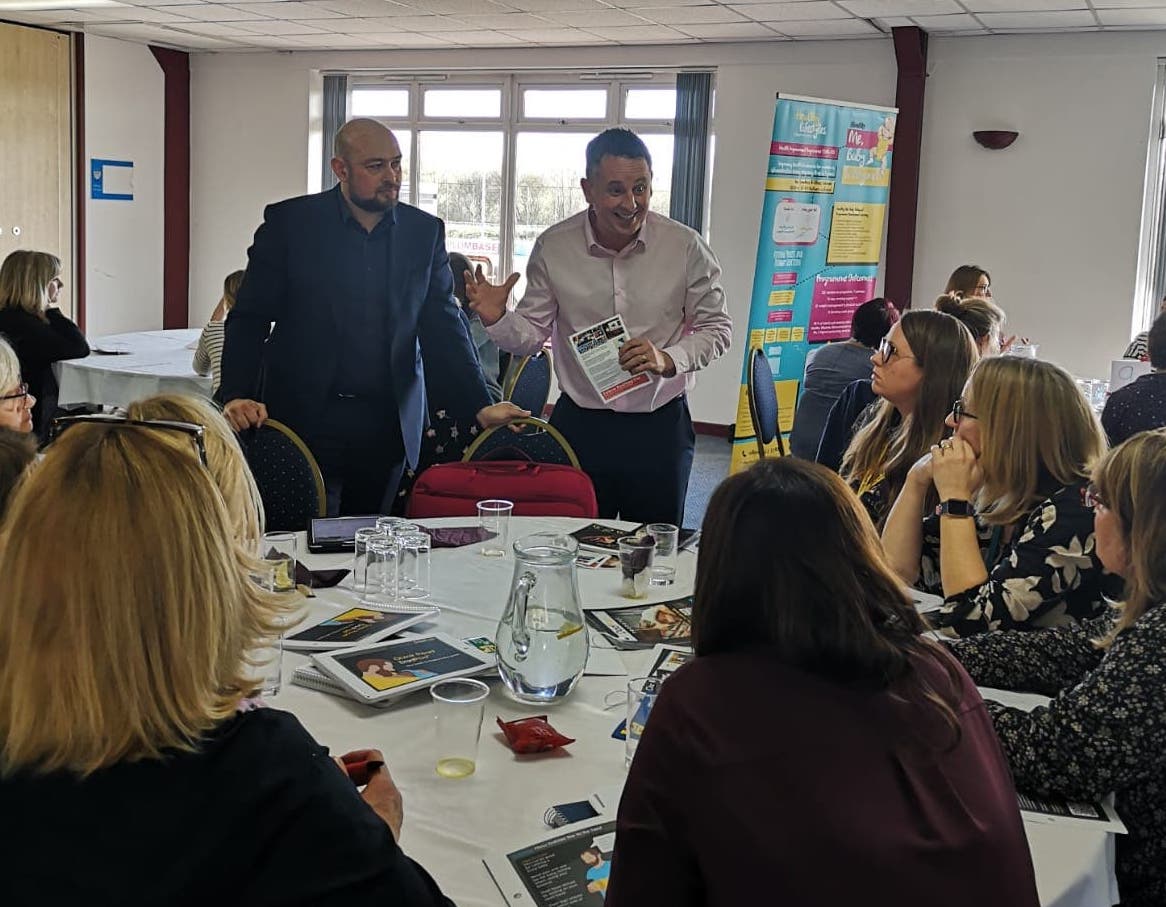 Julian and Mark Williams at the PHE South West Conference.
April
On 1st April, Adam and Georgie officially started working for us.  Due to circumstances, we've still not had the chance to all get together in an office setting and get a proper 'team photo' done, but we're grateful for the wonders of technology which have enabled us all to keep in touch and tasked via phone calls, Zoom meetings, emails and all other forms of messaging!
They've both made a fabulous start, with Georgie working with MVPs and other interested individuals from across the country on our planned new versions of the DadPad which we are looking forward to launching in 2021 – the first will be aimed at same-sex partners, and the second will be for mums.
Adam's supported Julian on all sorts of technical projects, alongside helping him get both the DadPad and the Quick Read DadPad onto Amazon (no mean feat!).  With his armed forces background, he's also been invaluable to us in helping us to continue to develop our planned 'Military DadPad'.
We'll have more about these projects, and all the other things that Georgie and Adam have been working on with us, in the New Year.
May
In May, we got back to launching more areas – albeit all online now – with Surrey Heartlands getting their DadPad app out on Monday 4th May.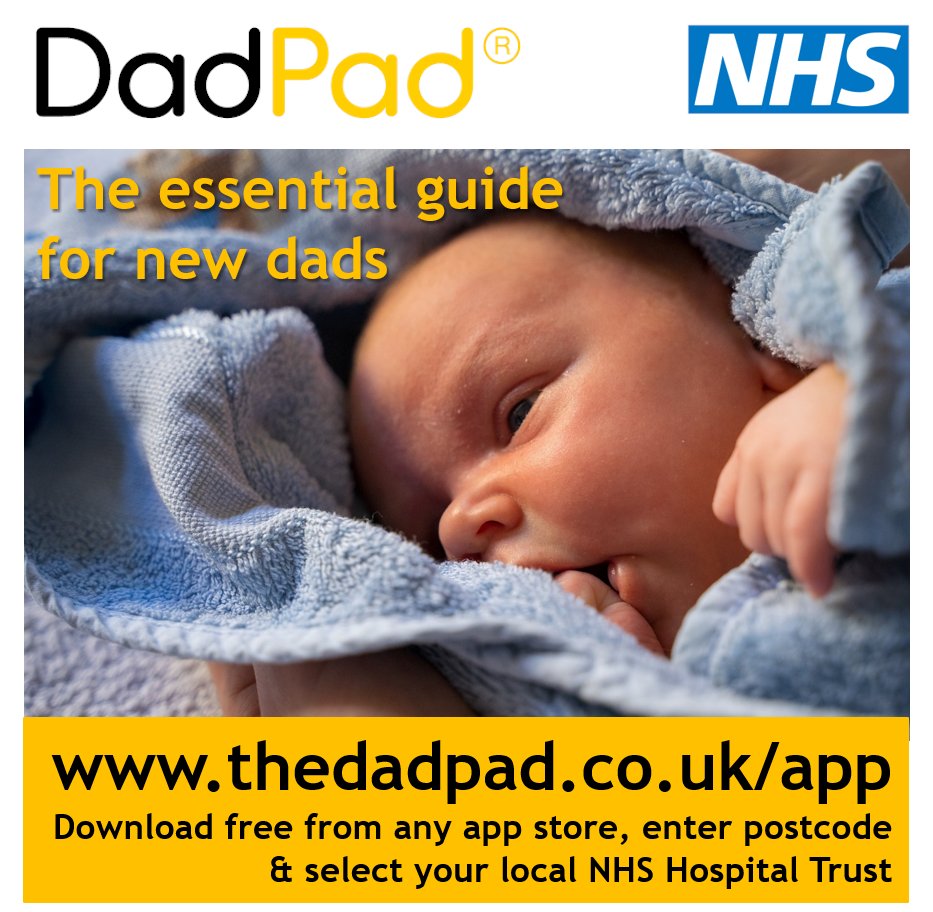 Surrey Heartlands' Twitter ad for their DadPad app.
We then had two more 'virtual' launches in the month, firstly in the West Yorkshire and Harrogate Partnership area, and then – as the month drew to a close – across Gloucestershire.
We're delighted to have worked with @dadpaduk to launch this fantastic resource for new dads in Gloucestershire today. The FREE app covers a range of issues and hands-on advice #DadPad #supportingparents More: https://t.co/8ZYwtYnEmz pic.twitter.com/Shl9iWM5rV

— Better Births Gloucestershire (@glosbetterbirth) May 27, 2020
May also saw the start of us getting back to more regular blogging, starting with a post aimed at helping men cope with becoming a new dad during lockdown.
June
In June, we carried out what would turn out to be our last launch for the year; it was great to work with the team at Tees, Esk and Wear Valleys NHS FT to get DadPad available in our most northerly location (so far!).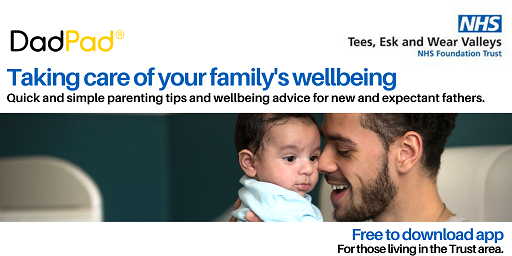 July
Developing our output – both in terms of quantity and (we hope) quality – via the blog became one of our key aims for 2020, when it became apparent that there were going to be limits outside of our control which would prevent us achieving many of the other things we would have liked to have done.  We hope that this 'added value' from DadPad – both for dads and for health professionals – is something that will be appreciated and will continue to help us 'build our brand' as being a source of regularly-updated, informative and interesting content related to all things fatherhood.
Blog highlights this month included a Q&A interview with Errol Murray from Leeds Dads. Following a fabulous local news report to support the West Yorkshire and Harrogate DadPad launch back in May, we became aware of Errol and were keen to talk with him.
We also published our first infographic blog post, looking at Group Strep B, and a 'long read' packed with ideas for dads on how – and, crucially, why – they can bond with their baby.
August
Another little project that Adam had been working on for us was the development of a set of animations which help support our various messages for dads-to-be and new dads.  We launched the first of these, via our YouTube channel, back in August and will be releasing more in the New Year.
Over on the blog, we worked with Prof Minesh Khashu and also Georgie to produce a series of four articles, all aimed at helping dad becoming the best supporter that he could be of a breastfeeding mum.  Topics covered included colostrum, being a breastfeeding supporter, the breastfeeding myths and an 'explainer' article, helping dads understand how breastfeeding works.
We were also interviewed about our work by James Millar for his workingdads.co.uk website, and Julian managed a flying visit to London, where the team from Vitamin were busy filming our DadPad explainer video.
This was something that we have long dreamed of having in our marketing toolkit, as a means of helping prospective commissioners and health professionals appreciate the aims, ethos and intentions behind DadPad.  We'll be formally 'launching' this video in the New Year, with a blog post giving all the background info, but – as it's Christmas – we thought you might want a quick look now…
September
The end of the summer was an especially busy time for us, as we worked with Mark Williams to help him get his 10-year report written, edited and published.  The report summarises and highlights the information Mark has gathered and the work that he has carried out into fathers' mental health, and we were delighted to be able to help him and sponsor the production of the hard copy documents.
Julian was back in London for the day on 10th September – World Suicide Prevention Day – with Mark and team, dropping the report off at various key locations, including NICE (the National Institute for Health and Care Excellence) and the Houses of Parliament, as part of Mark's aim to get fathers' mental health recognised and supported in the same way that maternal mental health is.  It was a non-stop day, with press calls along the way, but the team of 'dadvocates' had an amazing time! We look forward to sharing more paternal mental health developments with you in 2021.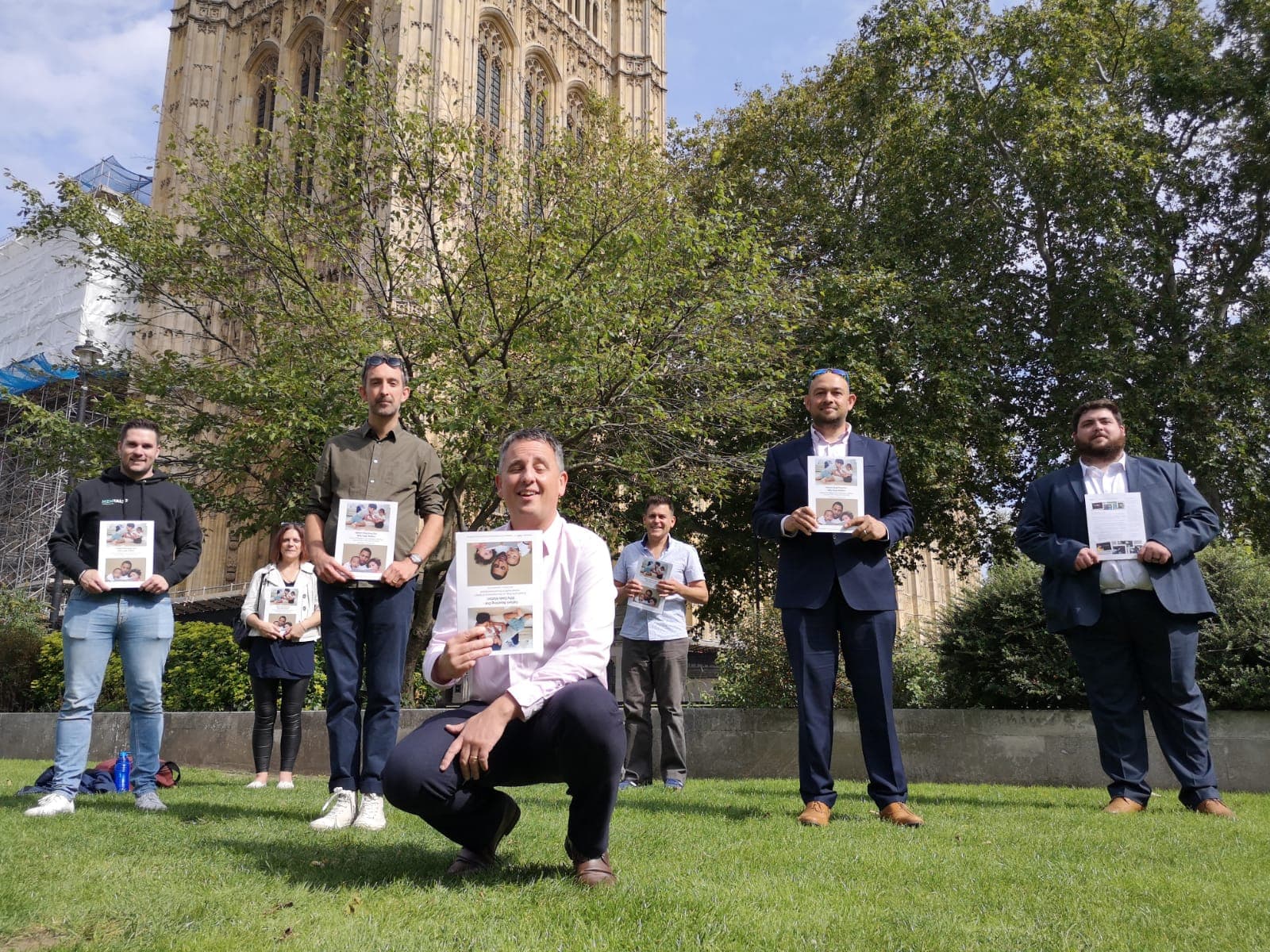 Julian with Mark Williams and team at the launch of Mark's Fathers Reaching Out Report in London, 10 September 2020.
On the same day, Hannah, Georgie and Adam were equally busy back in Cornwall, attending (virtually) the AIMH 29th Annual Infancy Conference. With this year's focus being Being a Dad is Difficult – 'Challenges & Complexities of Fatherhood', it was perfect subject matter for us!  We really enjoyed the various talks, including in particular those given by Dr Anna Machin on 'The Science and Anthropology of Fatherhood' and Raq Ibrahim on 'How to pique dads' interest in a parenting programme', and all came away enthused and excited about more ways in which we can continue to reach out to and support new dads.
October
A big advantage of lockdown has been – as with the AIMH Conference, above – the ability for us to 'get to' more conferences and training events than we'd perhaps otherwise be able to.  Living in Cornwall means that pretty much any out-of-county event necessitates at least one overnight stop, so the cost of attendance is always quite high.  Putting events online this year has meant that we've been much more easily able to get involved.
One big benefit in October was that Hannah was able to attend a 'Train the Trainer' event for the Hampshire Safeguarding Children's Partnership Every Sleep Counts programme.  As always, it was great to get the chance to learn more, and we put the information to good use, in another new blog post.
Over on the blog, we were delighted to publish our first guest blog post, written for us by Rich from Shoebox of Memories, for Baby Loss Awareness Week.  We also got the chance to speak with Dr Suzanne Smith, founder of and programme adviser for the ICON programme which aims to help new parents cope with a crying baby.  We've been privileged to work alongside the ICON team for some time now, and always try and promote each other's resources whenever we are approached by or launching in a new area.
November
In November, as well as getting to grips with a second lockdown, we also celebrated World Prematurity Day with another guest blog post, this time from Wolverhampton Health Visitor, Joanne King.
Hannah attended another online training event – an amazing webinar from Prof Helen Ball from the Durham Infancy and Sleep Centre, all about What is normal infant sleep? The view from anthropology. Again, there was so much to learn – so much we wish we'd known when our children were still teeny-tiny! – and we're looking forward to sharing some of this info with you in our first blog post for 2021.
Another highlight this month was the launch of the Cracking podcasts.  During lockdown v1 and over the summer, we got together with Hugh McCann and Cally from Alright Mate? to work on turning their Cracking play into podcasts, to build on the success of their fatherhood installation, featuring portrait photos and recorded conversations with 22 people about their ideas and experiences around the topic of 'fatherhood and mental health'. The resulting audio play was split into three podcasts, each of which was accompanied by discussions with experts on aspects of men's mental health, exploring the issues raised.  The podcasts were launched – like the infant sleep webinar, above – as part of this year's ESRC Festival of Social Sciences, and the launch was followed by an online panel discussion about fathers' perinatal mental health, with Julian honoured to be asked to be involved.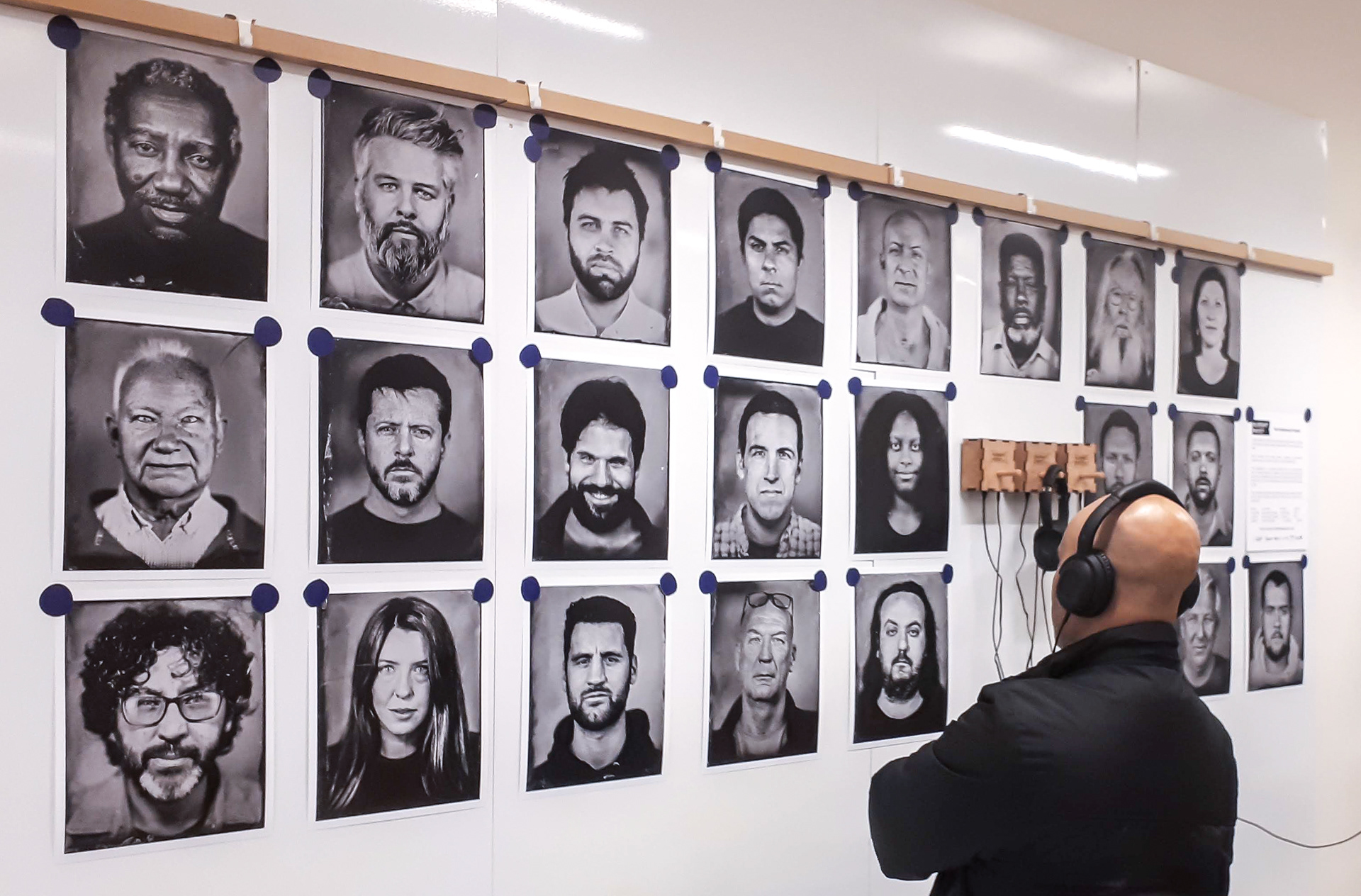 Picture from: https://alrightmateproject.com/fatherhoodinstallation
December
And that brings us to December – it's been quite a year!
One thing that this year – with all its curve-balls and challenges – has given us is a little bit of space to keep on 'dreaming big'.  We're delighted to have managed to achieved so much already in terms of new areas which are getting ready to launch and other new developments, all of which we're going to continue to share with you in 2021.  But we've got even more ideas bursting out of us, ready to nurture, fine-tune and bring to fruition, and we look forward to sharing those with you, too.
Another thing that 2020 has taught us is that you never know or can plan for what's going to happen next – adaptability is key! – but it's also shown us that dads-to-be and new dads are even more in need of support.  We are therefore going to keep on working to get dads engaged with and involved in all aspects of fatherhood, with their mental health needs recognised and supported, alongside continuing to develop new initiatives, build our brand and improve our service to all.
All that remains is for us to say an enormous THANK YOU to all who have supported DadPad in any way in 2020:
all the individuals who have purchased DadPads from us;
all the NHS commissioners who have worked with us to get DadPads and/or the DadPad app for dads in your area;
the organisations – big and small – who we work with to produce all aspects of our products;
everyone who follows us on social media, and/or who has taken the time to like, share, comment on or retweet one of our posts;
everyone who's taken the time to read one of our blog posts;
all those who've given up their time this year to help us with content for blog posts; and
anyone who's recommended us…
…all of this means the absolute world to us.  We wish you all a happy Christmas, and send you our very best wishes for the New Year.
From all the team at DadPad 💙