2021 Guest and Q&As, Mental Health, Q&A
Q&A : Helen Birch from the Paternal Mental Health Alliance
Posted on 7th May 2021
For #MaternalMentalHealthAwarenessWeek2021, we wanted to make sure that our #FatherhoodFriday #DadPadblog post had a good mental health focus.  As Saturday will have a paternal mental health focus (see below), we decided that it would be the perfect opportunity to speak with our good friend Helen Birch, one of the founding members of the new Paternal Mental Health Alliance (PMHA), to not only find out more about the PMHA itself, but to also chat with Helen about her own perinatal mental health experiences.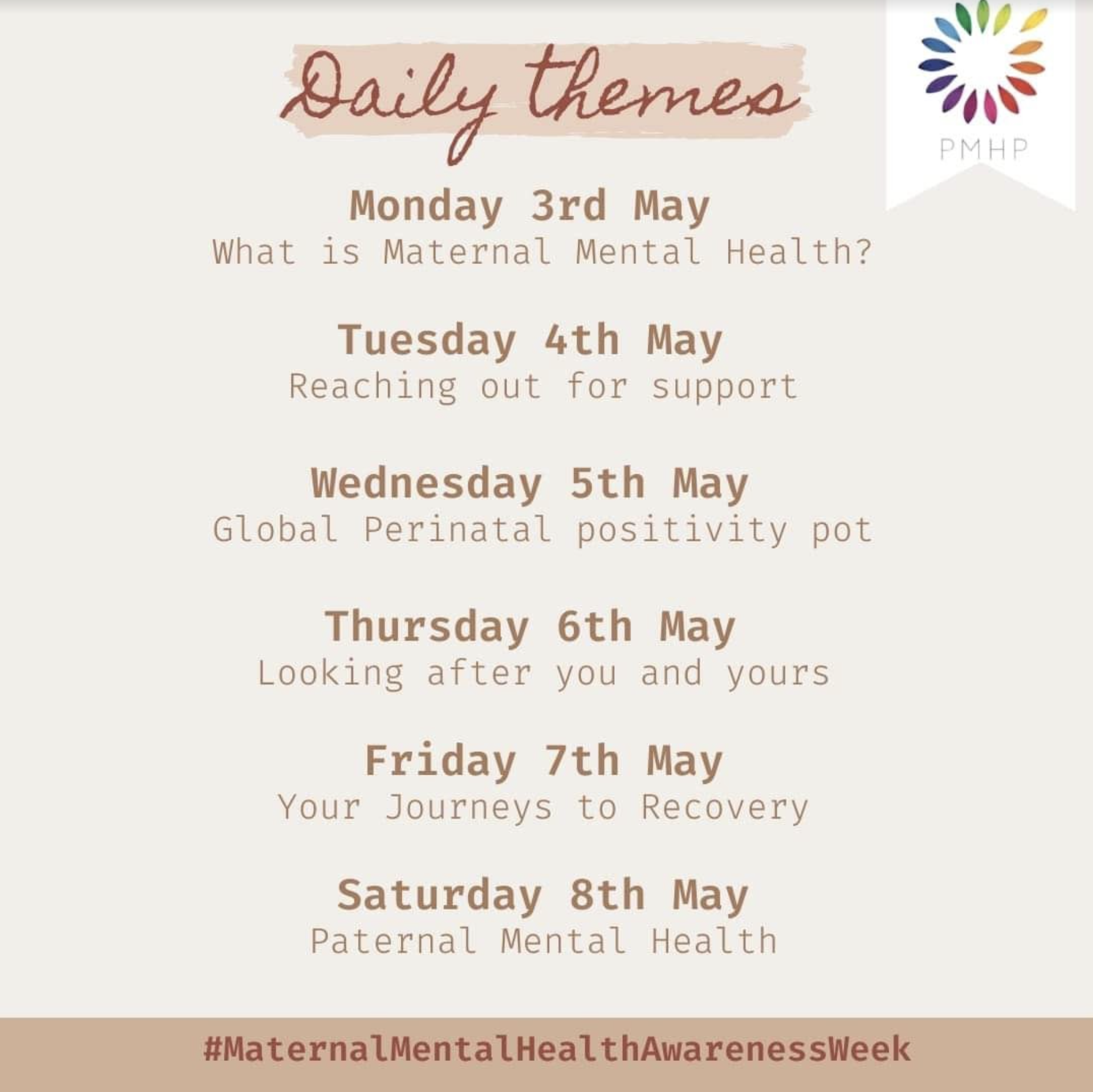 Daily themes for Maternal Mental Health Awareness Week 2021, from the Perinatal Mental Health Partnership.
Hi Helen.  Thank you for taking the time to speak with us today.  Can we start by asking you to tell us all about the PMHA – when and why was it established?
Hi DadPad.  Great to be speaking with you, and thank you for the chance to share what we at the PMHA are up to and all about.  It's actually a great little story that came about on 10 September 2020, which is also World Suicide Prevention Day. A group of passionate paternal mental health campaigners came to London's Westminster to hand in Mark Williams' 10 Year Gathering Report to Chris Elmore MP.  We also handed in a copy to NICE (the National Institute for Clinical Excellence) as the office was nearby.  Throughout all of this we were followed by a film crew, making a documentary about men's mental health.  There were lots of excellent opportunities for tweets, and we used each one – anything to get the message out there that dads need and deserve equality of care during the perinatal period.
Now to the fun part: the pub, a place where many great ideas have been formed! We were all on a high after such a fantastic and momentous day, treading the streets of London, that we definitely deserved a celebratory drink and to hear the 'ching' of glasses as we all sat in perfect harmony with smiles on our faces, calling out 'cheers' in the shadow of Westminster.  And that's where the idea for the PMHA was formed…
So that's the 'when' and the 'where' covered – but what about the 'why'? Although we were experiencing a joyous occasion, we never forgot the serious matter – of life and death, in fact! – which had led to us being there in the first place; that we are all working towards a society and a system that looks after the family unit during pregnancy, recognising the part that the partner plays, and the fact that men's mental health can be affected during the perinatal period.
Many of the members of our group have lived-experience of this, covering a large range of mental health illnesses, tragically including loss to suicide. We want to protect parents, the family unit and the child from the lifetime of challenges that a serious mental illness can create; we believe that dads and partners deserve to be protected from suffering any perinatal mental illness and from the disproportionately high risk of suicide.  The statistics for this are frightening, and we need to do more to reduce these; the systems and pathways need to change to reflect this.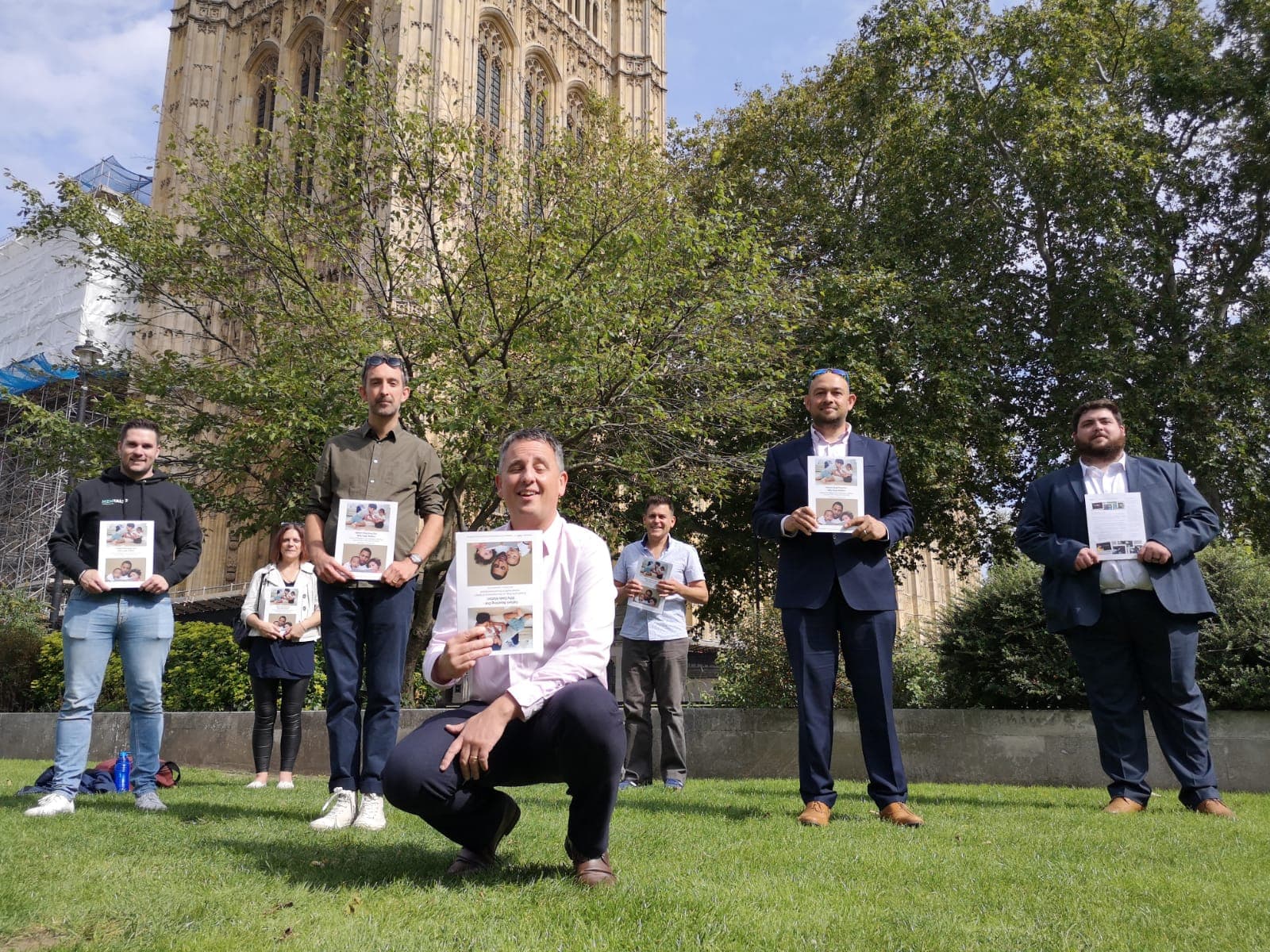 The group of paternal mental health campaigners – including Helen (second left), Mark Williams (centre) and DadPad's Julian (second right) – in Westminster on 10 Sep 2020.
So, what are the aims and intentions of the PMHA?
Our precise aims and intentions are still being formulated, but – at the moment – our overarching goals are along the following lines:
To gain equality within the perinatal period via mental health screening for the partners of the pregnant mother on a minimum of two occasions, pre- and post-natal – we will help achieve this by:

driving system-wide change within the perinatal field which focuses on the partner (fully inclusive) of the pregnant person;
developing the implementation and evaluation requirements needed for change; and
encouraging collaboration and information-sharing between all stakeholders to build the right approach towards inclusivity and parity for all new families.

To look after the family unit and, in doing so, reduce family breakdown and protect the children of the future from the cycle of poor mental health – we will help achieve this by:

identifying priorities and views, and looking to push these forward at a national, UK level;
educating Government to consider new, innovative ways of allocating services and resources within the already-existing perinatal field, along with any new requirements;
providing initiatives and ideas for health promotion campaigns, at both Government and grass-roots levels; and
offering strong governance and leadership to ensure a co-ordinated approach across all sectors.

To ensure that all professionals who are in contact with dads and partners during the perinatal period have adequate and up-to-date mental health-focused training in this area – we will help achieve this by:

developing and highlighting best-practice training materials, systems and processes; and
building and maintaining a holistic set of accessible and effective mental health resources, to suit all demographics.

To see a reduction in the numbers of men-as-new-dads who are losing their lives to suicide – we will help achieve this by:

looking at ways to improve the accuracy of recording suicides, enhancing national morbidity indicator plans to enable more targeted approaches and resourcing;
analysing the suggested link between paternal mental health and suicide;
working to reduce the stigma around perinatal mental health; and
providing strategies to the Government on the wide-ranging inclusive perinatal mental health policies required.
Who have you got on board so far?
We are incredibly lucky here, as we have a great group of passionate individuals with an incredible wealth of knowledge for us to be able to call upon.  We have academics, health care professionals, and those with lived experience, including (in alphabetical order!):
Kieran Anders from Dad Matters UK
Gemma Ballard, a PhD student, looking at paternal mental health
James Bhattacherjee, an expert by experience
Me – Helen Birch, an MSc student and expert by experience
Julian Bose, founder and CEO of DadPad
Ash Curry, an OCD campaigner and expert by experience
Jeszemma Garratt, Head of Training at the Fatherhood Institute
Dan Hall, a Masters student of psychology and Executive Director at Perinatal Mental Health Training CIC
Dr Jane Hanley, founder and CEO of Perinatal Mental Health Training CIC
Emma Humes, a Health Visitor
Scott Mair from PMH Support, an expert by experience
Dr Andrew Mayers, academic psychologist at Bournemouth University with a special interest in perinatal mental health
Chris Meizitis, Co-Director of Fathers' Network Scotland
Dan Rowe from Andy's Man Club
Colin Sym from Blackpool Better Start/NSPCC
Mark Williams, campaigner, Executive Director at Perinatal Mental Health Training CIC and expert by experience

Photo from Helen Birch, showing the team (many of whom are now part of the newly-formed PMHA) delivering copies of Mark Williams' Fathers' Reaching Out Report to the NICE Headquarters in September 2020.
What are your plans for this year?
Good question! With all new alliances, the definitive direction takes some time to establish. We've been engaging in lots of conversations over the winter (all via Zoom in the evenings, whilst drinking tea, trying to stay awake and hoping that the kids stay in bed!) in order to work towards our common goal of equality of care for dads/partners. Finding out exactly what this looked like took us a while, but we are now on a roll! This year's goals, then, are:
to gain All-Party Parliamentary Group support for the PMHA, its mission and vision;
to get ourselves known in the perinatal field (our Twitter account is already helping in that area – social media has lots of advantages when it is used safely and appropriately); and
to become an advisory board/critical friend to the paternal perinatal mental health sector.
We are currently working on something which we think is really exciting – so watch this space during Maternal Mental Health Awareness Week 2021!
And where do you want to be in the next five, and ten, years?
In a dream world we would love not to be needed.  However, we would hope:
to become the 'go to' advisory board for all matters paternal perinatal mental health, highly visible and trusted; and
to be seeing on-the-ground changes to the way in which maternity services look after the family unit as a whole, removing the concept of dad as an 'add on' and instead seeing him as an integral part.
Thankfully, the latter is already starting to happen; however, we still have a long way to go.  If we could achieve – or, at least, make a noticeable dent into – our aims and objectives within this timeframe, that would be amazing.  The wheels of systemic change can be slow, but – as we have seen throughout this pandemic – when they are really needed, changes can be pushed through at pace.  We would always want to ensure that any changes made towards achieving equality of care are done to a very high standard, as the stakes are far too high to take any risks.
Admittedly, this is a hard question to answer as you never know what the future will bring, and we will always move with those changes with the ultimate goal of protecting the mental health of dads and partners within the perinatal period in a manner that is person-centred and holistic, which has outcomes that can be measured, and which ensures a healthy life in which families (however they are structured) can thrive rather than simply survive.
So what's your story? How did you end up getting involved with all of this?
I lost my partner to suicide during the perinatal period.  At the time, my two older children were aged 7 years and 11 months, and I was also 8 weeks pregnant.  Prior to this, we had also suffered a missed miscarriage.
We will never know what ultimately lead to my partner taking his own life, and I do not blame any service or person, but I do believe that – if the system were different, and dads were cared for in the same manner as mums are after the loss of a baby, and throughout the pregnancy and birth process – that outcomes could be changed for many families.  A screening process for dad's mental health could have flagged up something, could have stopped my partner from taking his life and could have stopped our loss.
The care I received throughout my journey was exceptional and gave me the tools I needed to survive and, although the journey was and still is an incredibly hard one, it is one I choose to fight.  From that moment on, I knew I had to stand up and be a voice ensuring that ALL receive the same standard of care that I did, and that includes dads.  I need to show my children that, no matter what happens, you can make good in your life and in the lives of others. I also need to make sure that, when and if my children decide to become parents, they are all cared for equally.
My journey to the PMHA started at the House of Commons' 2017 event: Mental Health During Pregnancy, at which I was volunteering.  I heard Mark Williams speak on fathers' mental health and knew I had to speak with him.  Since then we have done some work together and he has become a great friend.  Becoming immersed into the world of paternal mental health has enabled me to meet other amazing people who all want the same thing.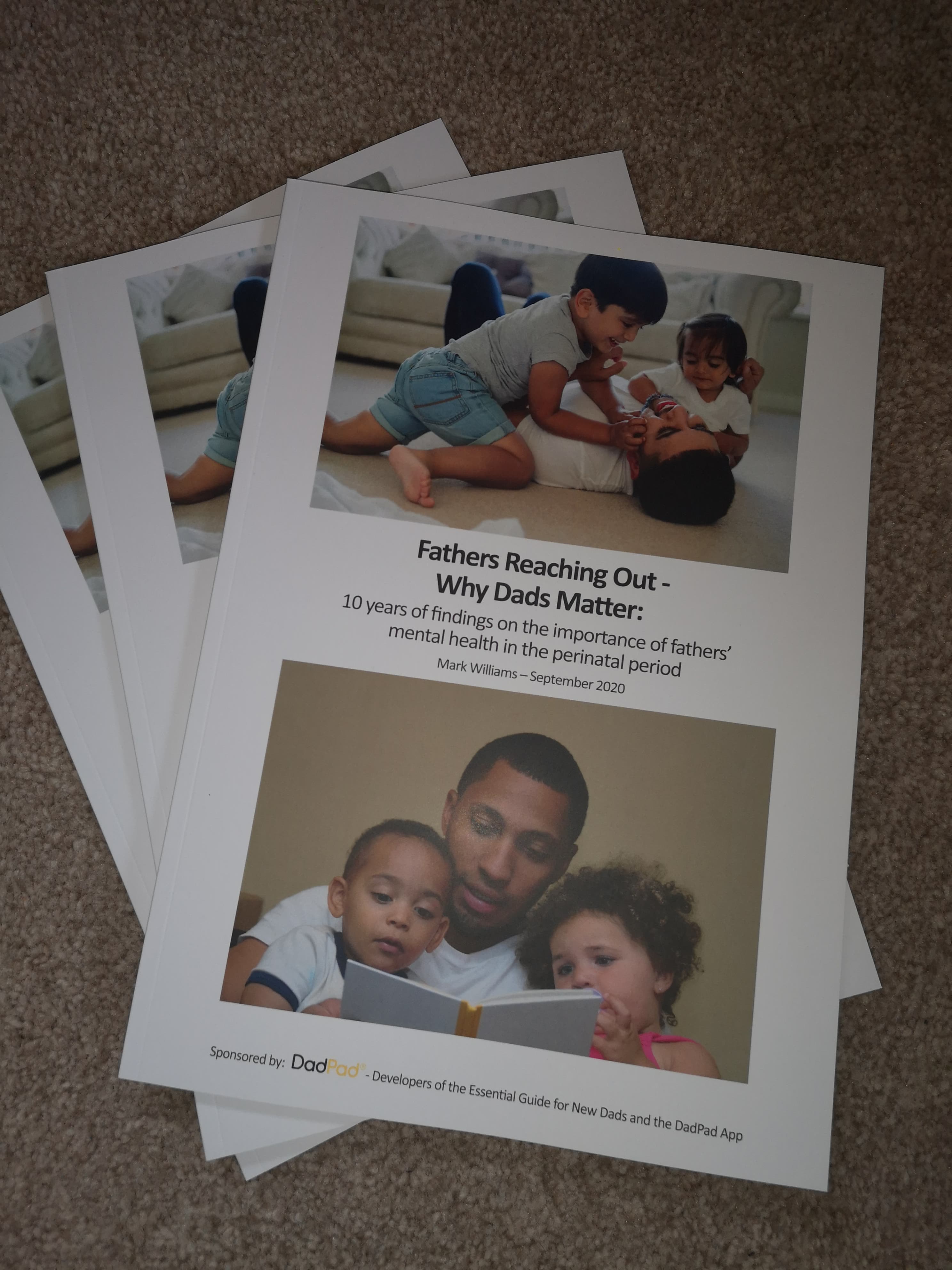 What would you say are the biggest challenges at present for dads-to-be and new dads in relation to their mental health during the perinatal period?
Without a doubt, stigma; then, a lack of education around paternal mental health within society; society's expectations of what a man and dad is/should be; and a lack of specialist services and/or peer support for dads to be referred or to reach out to.  But stigma is No 1.
And, finally, what do you think are the biggest challenges which will face the PMHA in achieving its goals?
Again, it's stigma.  We need to remove societal stigma, creating a workforce that is fit-for-purpose – and by that I mean getting more men into roles such as social workers, health care professionals, midwifery, health visiting and specialist perinatal mental health.  As previously said, we are starting to see changes in all of these areas and the conversation around male mental health is becoming a more highlighted topic, which opens the door for the conversation around paternal mental health to become more visible.  Again, the conversation around suicide is also becoming more visible, but we have huge steps still to take here as, in reality, this conversation only happens occasionally on TV or in the mental health arena, and most often by those who have been bereaved by suicide.  In my area of the country alone, in 2018 over 6,000 people died by suicide, 59% of whom were men. What percentage were dads or within the perinatal period is not known, and this is something else that we would like to see changed, as stated in our aims and objectives.
Time is another barrier – we are far from short on passion and drive, but time, however, is another matter. When we have this much collective drive and urgency, though, we will make it work; we will drink as much tea as needed to get the work done!
Thank you so much for your time, Helen – we know how busy you are! – and for sharing your story so openly and eloquently.  We look forward to seeing how the PMHA develops over the coming years, and to the change that it will hopefully help to bring about. 
If you want to follow the work of the PMHA, please do follow their Twitter account.